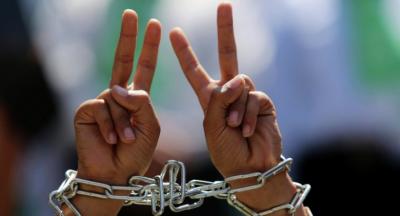 Palestinian political prisoners in Israeli prisons launched a mass hunger strike on 17 April 2017, on Palestinian Prisoners' Day. The call for hunger strike came as a result of Israel's policies and practices towards Palestinian political prisoners, who continue to face punishments by the Israeli Prison Service (IPS). An estimated 1700 Palestinian prisoners announced the beginning of an open hunger strike. The hunger striking prisoners' demands include: an end to the IPS' abusive use of isolation for "security" reasons; an end to Israel's practice of detaining Palestinians without charge or trial in administrative detention, under which 500 Palestinians are currently detained; ending denial of family visits and better conditions within Israeli prisons and detention centers.
On 3 May 2017, significant Palestinian political leaders declared they will be joining the mass hunger strike. A joint press conference held in Ramallah on the same day declared that imprisoned Popular Front for the Liberation of Palestine (PFLP) General Secretary Ahmad Sa'adat will join the strike along with dozens of leaders from several Palestinian political factions such as Nael Barghouthi, Hassan Salameh, Ahed Abu Ghoulmeh, Abbas al-Sayed, Ziad Bseiso, Basem al-Khandakji, Mohammed al-Malah, Tamim Salem, Mahmoud Issa, and Said al-Tubasi.
Prisoners have all been punished for their hunger strikes by being placed in solitary confinement and denied family and attorney visits, in an attempt to isolate them from the outside world. The prisoners involved in the mass hunger strike have also already begun to face punishments by the IPS such as denial of recreational time; denial of access to the "canteen" (prison store); prohibition from participating in group prayers on Fridays; and seizure of salt during the first days of the strike. More troubling, the IPS has made it exceedingly difficult for independent doctors to visit the hunger striking prisoners and has provided prisoners with plastic cups in order to drink from the tap rather than the usually provided drinking water.
Addameer particularly condemns the IPS' restrictions imposed on lawyers to visit all prisoners following the increasing number of Palestinian prisoners engaging in the hunger strike. Addameer's attorney Farah Bayadsi was prevented today, 9 May 2017, from visiting PFLP leader Ahmad Sadaat, who was transferred to isolation in Ashkelon prison. Despite the Israeli High Court ruling to allow prisoners see their attorneys, the IPS frequently denied visits upon request. Addameer anticipates that the IPS will continue to use such tactics in order to systematically prevent lawyers from having access to the hunger strikers, such as moving prisoners to other prisons without informing their lawyers, in an attempt to further isolate the hunger strikers and undermine their strike.
However, Addameer's attorney Farah Bayadsi managed to visit hunger-striking prisoner in Ofer Ghassan Zawahreh, who informed Bayadsi that Israeli Special unit forces regularly storm and raid prisoners' sections confiscating personal belongings; only one blanket has been kept for each prisoner and one set of clothing in addition to the "Shabas clothing" or prison uniform. Hunger strikers have also been prohibited from washing their personal clothing and undergarments. In reaction to this, prisoners boycotted medical examinations. Zawahreh also added that four prisoners have been transferred to a hospital due to deterioration in their health condition, but he could not identify who those prisoners were. The relocation of several prisoners to other prisons has exacerbated their already deteriorating health due to a lengthy 'transfer' process.
As more prisoners are joining the hunger strike, Addameer Prisoner Support urges supporters of justice around the world to take action to support the Palestinian prisoners whose bodies and lives are on the line for freedom and dignity. Addameer urges all people to organize events in solidarity with the struggle of hunger-striking prisoners and detainees. Addameer calls on the diplomatic community to pressure Israel to immediately allow for hunger striking prisoners to have access to necessary healthcare and legal advisement. Addameer further urges all political parties, institutions, organizations and solidarity groups working in the field of human rights in the occupied Palestinian territory and abroad to support the prisoners in their hunger strike and demand that their legitimate demands be granted. Addameer will continue to closely follow the prisoner's strike and provide regular updates on the situation as it develops.