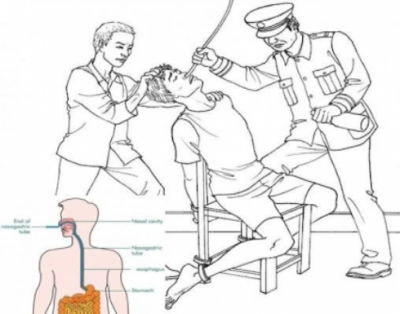 Ramallah, occupied West Bank 
Addameer Prisoner Support and Human Rights Association condemns the ratification of the force-feeding bill which provides a legal cover to the torture of Palestinian prisoners by the Israeli Prison Service (IPS). The force-feeding bill is a flagrant violation of international human rights norms and standards that explicitly forbid force-feeding of detainees. Addameer further stresses the necessity of respecting the freedom, dignity and rights of Palestinian prisoners.  
On the 30th of July 2015, the Israeli Knesset approved the so called "Law to Prevent Harm Caused by Hunger Strikers" that sanctions the force feeding of Palestinian hunger strikers in Israeli occupation prisons. The bill which was passed with 46 votes in favor and 40 against was proposed by the Israeli occupation's Minister of Internal Security "Gilad Erdan" to allow the IPS to force-feed hunger-striking Palestinian prisoners against their will.
The International Committee of the Red Cross (ICRC) is opposed to force feeding or forced treatment, and stresses the importance of respecting the choices and preserving the dignity of detainees. The World Medical Association (WMA) adopts a similar position to that of the ICRC as expressed in the 2006 revision of the Tokyo and Malta Declarations. The Malta Declaration which was adopted by the World Health Organization states that "Any decisions lack moral force if made involuntarily by use of threats, peer pressure or coercion. Hunger strikers should not be forcibly given treatment they refuse. Forced feeding contrary to an informed and voluntary refusal is unjustifiable. Artificial feeding with the hunger striker's explicit or implied consent is ethically acceptable… Forcible feeding is never ethically acceptable. Even if intended to benefit, feeding accompanied by threats, coercion, force or use of physical restraints is a form of inhuman and degrading treatment. Equally unacceptable is the forced feeding of some detainees in order to intimidate or coerce other hunger strikers to stop fasting."
Addameer warns that the force-feeding bill puts at risk the lives of hunger-striking Palestinian prisoners and detainees as had happened in 1980 while affording complete impunity to the IPS and its medical staff. Several Palestinian hunger-striking detainees were killed in the 1980s when the IPS resorted to the "Zonda" force-feeding method in Nafha prison. Among the martyred Palestinian detaineees was Rasem Halawa, who died on the 20th of July 1980; Ali Ja'fari, who died on the 24th of July 1980; and Ishaq Maragha, who died in 1983 in Beersheba prison as a result of the ill-treatment he faced during hunger strike. 
It should be mentioned that since 1967 more than 207 Palestinian prisoners and detainees died in the Israeli occupation prisons, 74 of whom were deliberately murdered, 73 died as a result of torture under interrogation, and 54 died as a result of intentional medical negligence by the medical staff of the IPS.