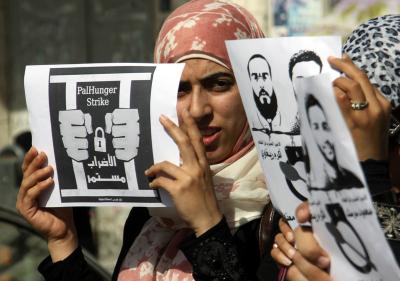 Addameer's attorney Farah Bayadsi visited two Palestinian prisoners on hunger strike in Ofer prison on 23 April 2017. Fadi Abu Attiya and Louay al-Mansi began their strike at the beginning of the collective strike on 17 April 2017. On the second day of the strike, they were removed from Section 15 in Ofer prison to Section 11 in the same prison.
The two strikers said that all of the strikers in Ofer – 119 prisoners in total – were transferred to Section 11 of the prison. The section contains 12 rooms, each with ten prisoners. All of the prisoners have been stripped of their possessions; only one blanket has been kept for each prisoner and one set of clothing in addition to the "Shabas clothing" or prison uniform. Prison administration also seized salt in the first days of the strike, and strikers have had to drink water from the tap as the administration does not provide them with drinking water.
The prison administration has also imposed several punitive sanctions on the hunger-striking prisoners. The most important of these is the denial of family visits, as well as the denial of recreation, denial of access to the "canteen" (prison store), and prohibition from participating in group prayers on Friday. They are also banned from washing their personal clothing and undergarments, so the prisoners boycotted the medical examinations to check their heartbeat, blood pressure and weight to put pressure on the administration to allow them to wash their undergarments.
The striking prisoners' section was searched twice, first on 20 April 2017 at 5 a.m., when special units broke into the section and inspected rooms three and four. The second time, on 21 April 2017, they inspected rooms one and six; the inspections continued for about an hour on both occasions.