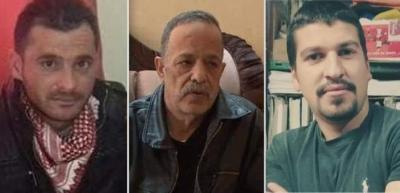 Addameer - Ramallah: Addameer has been following up, for three weeks, the hunger strike of three Palestinian prisoners protesting the repeated renewal of their administrative detention orders. Hossam Ruzza, 61-years-old, has been on hunger strike since March 19, while Mohammad Tabanga, 40-years-old, and Khaled Farraj, 31-years-old, began their hunger strike on March 25.
Khaled Farraj was arrested on 24 January 2018. His detention order was renewed twice, for six months each time. He has spent a year and two months in administrative detention. Hossam Ruzza was arrested on 17 April 2018. His detention order was renewed three times. This month, he will have completed a year in administrative detention. The occupation forces also arrested Muhammad Tabanga on 27 June 2018 and renewed his administrative detention twice, keeping him in administrative detention for ten months. The three prisoners are demanding to end their administrative detention.
Addameer highlights that the continuous use of administrative detention as a systematic policy, by the occupation forces, violates the provisions of international humanitarian law, in particular the Fourth Geneva Convention. It is also a form of torture and ill-treatment used against the prisoners and their families, and may amounts to a war crime.
Addameer reaffirms its condemnation of the administrative detention policy, as it holds the occupation authorities fully responsible for the lives of the prisoners Khaled Farraj, Mohammad Tabanga and Hussam Al Raza. Addameer also calls on the relevant international organizations and the contracting parties to the Fourth Geneva Convention to put pressure on the occupying power in order to release the aforementioned hunger strikers. As well as to end the policy of administrative detention in the occupied Palestinian territory.