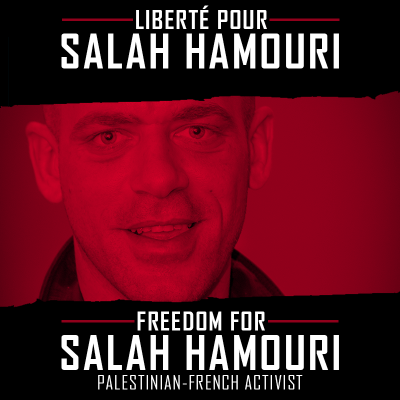 Addameer's field researcher and human rights defender Salah Hamouri, had his detention period extended by an Israeli judge at the Magistrate Court in Jerusalem for an additional three days for further interrogation. Addameer's attorney, Mahmoud Hassan, has submitted an appeal against the judge's decision to extend Hamouri's detention period. Hamouri, who was arrested by occupation forces in a pre-dawn raid on 23 August 2017, has been under interrogation for five days.  
Salah Hamouri, 32, is a Palestinian-French dual citizen and former Palestinian prisoner in Israeli jails. Hamouri was released in Wafa al-Ahrar exchange deal in 2011 after spending seven years in Israeli occupation prisons. In addition, he was banned from entering the West Bank by an Israeli military order until September 2016, and his wife Elsa Lefort is currently banned from entering Palestine. 
As a lawyer and legal advocate working with Addameer, Hamouri continues to campaign daily for the rights and freedom of Palestinian political prisoners and the Palestinian people. Addameer Prisoner Support and Human Rights Association reiterates its call for Hamouri's immediate release, as his detention constitutes an attack on Palestinian human rights defenders. 
Organizations, activists, and parliamentarians across France are mobilizing to demand Hamouri's freedom once again and to pressure the French government to take action on this case. Sign this petition directed to French president Emanuel Macron and European officials demanding them to act now.