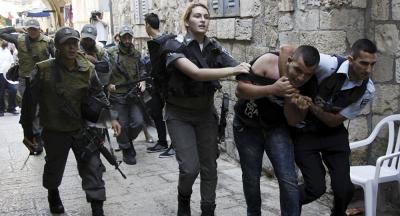 Palestinian prisoners' and human rights associations, the Palestinian Prisoners' Society, Al-Mezan Center for Human Rights, Addameer Prisoner Support and Human Rights Association and the Prisoners' Affairs Commission, issues a monthly report on Sunday, 5 February on the imprisonment of Palestinians in January 2017.
Occupation authorities arrested 590 Palestinians from the West Bank, Gaza and Jerusalem in January 2017, including 128 children, 14 women, a member of the Palestinian Legislative Council and a journalist.
Israeli occupation authorities arrested 156 Palestinians from Jerusalem, 90 from al-Khalil, 66 from Bethlehem, 64 from Nablus, 50 from Jenin, 56 from Ramallah and el-Bireh, 37 of Tulkarem, 27 of Qalqilya, 13 from Tubas, 13 from the Gaza Strip, 10 from Jericho and eight from Salfit.
There were 91 administrative detention orders for imprisonment without charge or trial issued in January 2017, including 29 new orders, including one against PLC member Ahmed Mubarak. Another such order was issued against journalist Nidal Ab Aker.
The total number of Palestinian prisoners in Israeli jails is around 7,000, including 52 women, of whom 11 are minor girls. There are 300 child prisoners, approximately 530 administrative detainees and 21 journalists in Israeli jails.
January also saw dozens of aggressive night raids against Palestinian prisoners inside Israeli jails, including the invasion of sections and rooms of the prisoners and ransacking their personal belongings. In addition, the policy of medical negligence continued against hundreds of patients, alongside the ongoing use of administrative detention, solitary confinement and isolation, the imprisonment of children and women prisoners, and the imposition of heavy financial fines against the prisoners. Hundreds were also deprived of family visits.
The institutions working in the areas of prisoners and human rights emphasized the seriousness of the current situation inside Israeli jails at all levels, heading towards an explosive situation, in light of the continued series of repressive actions against Palestinian detainees.
The four institutions also renewed their strongest condemnation of the grave Israeli violations of the principles of international humanitarian and human rights law. While expressing pride in the struggle of the Palestinian prisoners against their tormenters, they confirmed the continuation of efforts to defend Palestinian prisoners and expose the abuses against them. They also emphasized that the prisoners' issue is a Palestinian national issue as well as a humanitarian and moral issue that must compel Arab and international efforts to exert maximum pressure on the occupation state to stop its gross and systematic violations of international humanitarian and human rights laws and principles and to free Palestinian prisoners. In this context, they renewed their call for civil society organizations, international human rights organizations, political parties, and democratic forces in the world to work hard to expose abuses by the occupation forces.
They also urged the United Nations and the international community to take action to stop grave violations against Palestinian detainees, especially the continued practice of torture and cruel and degrading treatment. This also includes the continuing violation of the human rights of the child, through arbitrary arrests against children or during interrogation and detention procedures, and urged action to compel occupation authorities to recognize their obligations to respect the rights of detainees against torture and ill-treatment. They also emphasized that detainees must be provided with proper health care, family visits and communication with family, and they urged the release of Palestinian women, children and administrative detainees and the freedom of all Palestinian prisoners.
** The translation was provided by Samidoun Palestinian Prisoner Solidarity Network.