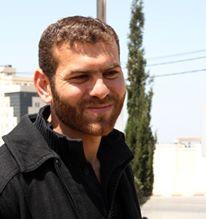 Today marks the twenty-first day that Bilal Diab has been undertaking a hunger strike against his administrative detention. Having been held without charge for a year and hunger striking for 78 days in 2012, Bilal was rearrested by occupation forces on 14 July 2017. He was given a six month administrative detention order, without being informed of the apparent reason for his imprisonment.
This barber from the village of Kufr Ra'i, outside of Jenin, is currently undertaking the third hunger strike since his initial imprisonment in 2012. These strikes add up to a total of 113 days spent without food.
Such a period, despite the fact that it has been split up, is currently having serious impacts on his health. From day 10 to day 21 of a hunger strike, the period termed 'decomposition' begins. This period is characterized by emaciation, and a sharp decrease in cognitive ability. The risk of long term health consequences, and death, severely rises after day 21. 
Hunger striking requires a huge measure of discipline and will. It amounts to a form of self-torture, which can bring the individual extremely close to death. We all must ask, why do Palestinian prisoners continually put themselves in such conditions. The answer inevitably is that, in the mind of these prisoners, perpetual detainment without charge or reason amounts to a fate worse than death. It is neither being really alive or really dead, but a kind of limbo.
Bilal is being held under a process known as 'administrative detention'. Under such a process, individuals can be held for an indefinite period of time without charge or knowing the reason for their detainment. Administrative detention orders are issued for up to six month periods, and can theoretically be renewed an infinite number of times. They are issued based on information provided to a judge by the intelligence services, which is meant to demonstrate the apparent security risk of the individual in question. This information does not have to be shared by the judge with the individual or with their legal representation.
Addameer considers administrative detention to be illegal under international humanitarian law. The scope and extent to which the policy is applied by the occupation authorities means that it cannot possibly be for "imperative reasons of security", as stipulated under Article 78 of the Fourth Geneva Convention. Currently, there are 463 individuals being held under this process.
As such, Addameer is calling for an urgent action regarding Bilal's case and the other two prisoners, Hasan Hasneen Showka and Hamze Marwan Boozea, who have been on hunger strike for 28 and 22 days respectively. More information on each of their cases will be released over the coming days.  
We call for the immediate release of these three prisoners in particular, and all administrative detainees in general. If the occupation regime wishes to detain these people, they should allow for due process and a fair trial.
In order to pressure the occupation authorities, we call on our supporters to do the following:
If from an EU country, we call on you to contact your EU parliament member and compel them to issue a statement in the Parliament against administrative detention.
If for any other countries, contact your local representative to compel them to do the same.
Share Addameer's information on both Administrative Detention, and our upcoming information on hunger strikes.
Change your profile picture on social media to the picture below in solidarity for the duration of the hunger strike.
In solidarity with the hunger strikers, Addameer will be publishing more information on the prisoners, hunger strikes, and administrative detention in the coming days.