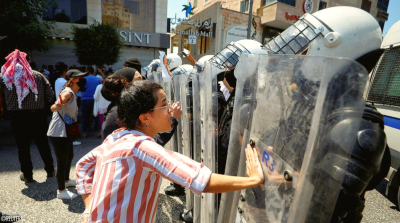 Introduction
Since the killing of activist and former Palestinian Legislative Council candidate Nizar Banat, on 24 June 2021, by agents of the Palestinian Preventive Security Forces (PSF),[1] the last period constituted an alarming deterioration of the Palestinian justice system. Serious human rights violations were committed by the Palestinian Authority executive branch (also referred to as the [PA executive authority), represented by the security forces (hereinafter: "PA forces" or "security forces"), including attacks on peaceful demonstrations, violations of citizens' right to liberty, freedom of speech and expression, freedom of assembly, and right to privacy.
Palestinian activists, political movements, and electoral candidates called for peaceful demonstrations condemning the killing of Nizar Banat, demanding that the perpetrators be held accountable and further protest the arbitrary arrest and repression of demonstrators, in addition to calls to have the postponed Palestinian legislative elections. Calls for demonstrations began Thursday morning, 24 June 2021, following the news of Nizar's killing: two marches took place that day, both of which were severely repressed by security and police forces deploying sound bombs, tear gas, and beating with batons. Several marches and peaceful assemblies followed, which totaled about 17 demonstrations in the period between 24 June 2021 and 25 August 2021.[2] Among them, 13 demonstrations took place in Ramallah; from the 17 documented demonstrations held in Ramallah, Hebron, and Bethlehem, nine were violently repressed by uniformed and plainclothes security and police forces (eight in Ramallah, and one in Bethlehem), in addition to civilian attacks on protestors.
Forms of repression ranged from weapons employed, including sound and tear gas bombs, assault and beatings by batons all over the body, dragging, sexual harassment, theft of phones, and notably, a phenomenon whereby security forces (and/or civilian perpetrators) access the stolen phones to violate protestors' privacy—particularly women—by publishing their private pictures to protestors' social media accounts. Several demonstrators sustained various injuries due to the assaults, leading some to require hospitalization for treatment.
Security forces, uniformed and in plain clothes, also targeted journalists covering the demonstrations, beating them, smashing their cameras, and stealing their phones. Broadly, such targeting aims to restrict the work of journalists, prevent them from covering violations committed against demonstrators, and was similarly mirrored by attacks on employees of local and international human rights institutions who were present to monitor and document violations.