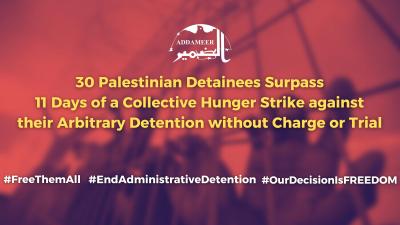 On 25 September 2022, 30 Palestinian detainees, held arbitrarily in Israeli occupation prisons, initiated a collective open hunger strike in response to the Israeli occupation's broad escalation of administrative detention targeting Palestinian human rights defenders, students, politicians, and former prisoners.
Following their announcement of a collective open hunger strike, the Israeli Prison Services punitively transferred all the hunger-striking detainees to isolation cells, away from the rest of the Palestinian prisoners and detainees. The hunger-striking detainees currently report extreme headaches, fatigue, weakness, and inability to sleep.
More than 80% of the Palestinian detainees joining this collective open hunger strike in protest of their detention are former prisoners, a phenomenon further highlighting the Israeli occupation's targeting of former Palestinian prisoners.
By the end of September 2022, around 800 Palestinian administrative detainees languish indefinitely in occupation prisons without charge or trial, including two women, six children, and three Palestinian Legislative Council members. From January through September of 2022 alone, the Israeli military commander has issued 1,570 administrative detention orders in the West Bank and Gaza, as well as at least 40 in Jerusalem and the 1948 occupied Palestinian territories.
If this trend continues through the rest of the year, the number of orders issued in 2022 will exceed the 1,595 issued in 2021, which was the highest recorded in the past five years. In fact, the number of administrative detention orders issued in 2021 outpaced the prior year by 40%. This surge illustrates the Israeli occupation authorities expanded use of arbitrary arrests and administrative detention orders against Palestinians engaged in solidarity protests across the occupied Palestinian territory.