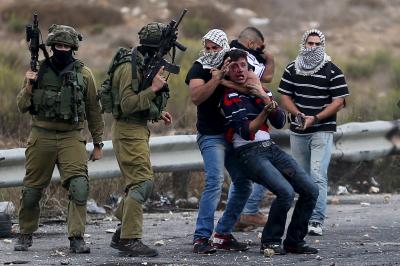 A joint report by Palestinian organizations working on prisoners' issues: Prisoners Affairs Committee; Palestinian Prisoners; Society; Al-Mezan Center for Human Rights and Addameer Prisoner Support and Human Rights Association, shows that Israeli occupation forces arrested 436 Palestinians in the West Bank and Gaza in September 2016, including 73 children and 11 women (including 3 minor girls.)
151 of those arrests took place in the Jerusalem Governorate, 81 in Al-Khalil, 40 in Bethlehem, 40 in Nablus, 35 in Jenin, 32 in Ramallah and El-Bireh, 23 in Tulkarem, eight in Qalqilya, six in Tubas, six in Salfit, five from Jericho and nine from the Gaza Strip.
There are approximately 7,000 Palestinian prisoners in Israeli jails, including 59 women, 12 of them minor girls. There are a total of approximately 350 children in Megiddo and Ofer prisons. There are 700 Palestinians held in administrative detention without charge or trial. 122 administrative detention orders were issued in September, including 44 new orders.
Battle of the empty stomachs in September:
Palestinian prisoners Mohammed and Mahmoud al-Balboul and Malik al-Qadi carried out hunger strikes of 79, 76 and 68 days against the administrative detention orders against them. They ended their strikes on 22 September after reaching an agreement for their release without renewal of their administrative detention, with the immediate release of al-Qadi to a Palestinian hospital and the release of the Balboul brothers on 8 December 2016, which came after popular, legal and political efforts for their release.
Palestinian prisoners Ahmad Abu Fara and Anas Shadid launched their hunger strike on 25 September against administrative detention while Jawad Jawarish and Maher Abayat announced their strike against arbitrary transfer and isolation.
A year on the popular intifada: the issue of prisoners
The popular uprising which began on 1 October 2015 has had a clear impact on the issue of prisoners. The number of daily arrests has increased over the past year and has included the arrests of different ages and social groups, children, women and men. At least 7955 Palestinians were arrested, including 1963 children, 229 women and girls, 41 journalists and five members of the Palestinian Legislative Council.
The highest number of arrested Palestinians were from Jerusalem; 2355 Palestinians from Jerusalem have been detained since last October, including 842 children and 128 women, including 24 minor girls.
There has been an increas in the number of administrative detention orders throught the year. For the first time since 2008, occupation authorities have issued 1436 administrative detention orders in 2016, including 546 new orders issued without charge or trial under the so-called "secret file." It is worth noting that many administrative detention orders were issued against young people and students who are not affiliated with the Palestinian political factions.
The Israeli occupation authorities have pursued since last October systematic and deliberate policies against Palestinian prisoners at all stages from arrest through transfer to imprisonment, to a dangerous extent that threatens Palestinian lives. Prominent among these grave violations are the use of excessive force and the execution and extrajudicial killing of Palestinians by Israeli soldiers, including the killing of dozens of Palestinians instantly, noting that these practices of shooting to kill Palestinians violate international law.
Human rights organizations also monitored the number of violations against Palestinian detainees, including an escalation on the use of torture and cruel and inhumane treatment, such as beating and assault during arrest and interrogation, as well as increased frequency and violence of raids and invasion of prison rooms and sections and the conduct of humiliating inspections. Prisoners have been arrested after being shot and did not receive necessary medical care and were subject to interrogation before and during medical treatment in hospitals, in addition to the abduction of wounded Palestinians from hospitals and ambulances.
The occupying power also enacted legislation and proposed draft laws against Palestinians, including laws that escalate prison sentences against "stone throwers," often children and youth, and expansion of the scope of administrative detention, in an effort to impose collective punishment against Palestinians. In addition, new charges were used to arrest hundreds of Palestinians related to publishing on social media, with sentences up to one year in prison; the year also saw an expansion by occupation forces of the policy of deportation and forcible transfer from the Jerusalem.
*The report was translated by Samidoun Palestinian Prisoner Solidarity Network.