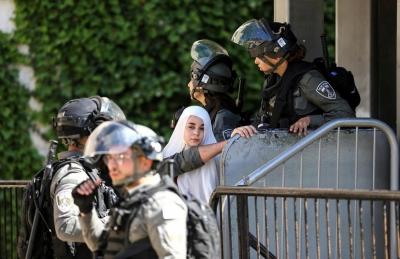 Addameer Prisoner Support and Human Rights Association, Al-Haq, Al Mezan, PCHR, and CIHRS submitted a joint written submission, ahead of the upcoming 47th regular session of the United Nations (UN) Human Rights Council, which will be held between 21 June and 15 July 2021. The submission, under Item 7, focused on Israel's latest large-scale campaign of systematic arbitrary arrest and detention of Palestinians on both sides of the Green Line. Affirming that these arrests are a continuation of a long-established policy used to intimidate and silence Palestinians, the submission further highlighted that these campaigns, carried out on both sides of the Green Line, are upheld by Israel's apartheid judicial system, which systematically grants impunity to Israeli occupying forces, police, and settlers, while upholding indictments submitted against Palestinian detainees and ignoring evidence of their physical assault.
Between 24 and 25 May 2021, Israeli police carried out a retaliatory campaign of mass arbitrary arrests against Palestinians in Jerusalem and inside the Green Line, under the announced "Operation Law and Order." In its statement, the Israeli police highlighted that the aim of this campaign is "to settle the score" with Palestinians for their political positions and activities. Dr. Hassan Jabareen, General Director of Adalah said "These raids are intended to intimidate and to exact revenge on Palestinian citizens of Israel – 'to settle the score' with Palestinians, in the Israeli police's own words – for their political positions and activities." At least 250 Palestinians were detained in those two days, with a particular focus on demonstrators, activists, and minors. 
On the other side of the Green Line, in the occupied West Bank, a campaign of arbitrary arrests began on 4 May 2021 and intensified on 12 May 2021, targeting freed prisoners, activists, and politicians. On 12 May alone, nearly 60 Palestinians, including journalists, activists, and candidates for the Palestinian Legislative Council were arrested. Overall, between 13 April and 26 May 2021, around 550 Palestinians in the West Bank, including 38 children, two journalists, six candidates for the PLC, and two former PLC members, were arrested in night raids that included the storming of their houses, attacks on family, and property destruction by the IOF. At the same time, Israel issued 155 administrative detention orders between 1-26 May 2021, including 84 new administrative orders, including eight Jerusalemites and two children. 
The joint submission further reaffirmed the complicity of Israel's judicial system in maintaining its apartheid regime, and urged the Council and its Member States recognise that in the context of the commission of the crime of apartheid, Israel persecutes Palestinian "organizations and persons, by depriving them of fundamental rights and freedoms, because they oppose apartheid". Palestinian's who mobilise to challenge Israel's policies, laws and practices of racial domination and oppression, are met with harassment, arbitrary detention, torture, and other ill-treatment on both sides of the Green Line.
Read the full joint written submission attached above