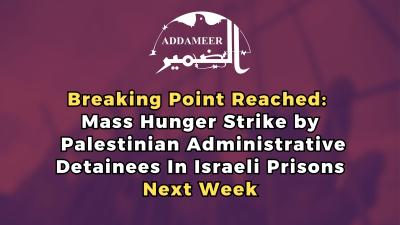 A breaking point has been reached; Palestinian administrative detainees who have been held without charge or trial under the Israeli policy of administrative detention have decided to embark on a mass hunger strike. Determined to challenge this oppressive system, Palestinians are committed to using their bodies as a means to demand justice. The hunger strike that is to begin on Sunday, 18 June 2023, exemplifies their persistence to shed light on the dire violations of their human rights under the Occupation's Regime.
The number of Palestinians subjected to administrative detention has witnessed a sharp and alarming increase, reaching levels unseen in the past two decades. Currently, there are 1,083 individuals languishing in Israeli prisons under this policy, denied the right to know the reason for their incarceration on the pretext of 'secret' information, marking a disturbing trend of indiscriminate detention without due process. Among the detainees are three women and 19 children, further underscoring the injustice and cruelty of this practice.
In 2022, Palestinian administrative detainees took a stand against the farcical nature of Israeli Military Courts and initiated a boycott. This courageous act of defiance aimed to expose the inherent biases and lack of fair proceedings within these courts: a military court of a civilian, a trial without defense, and a prison term without a charge. Despite facing great challenges, some detainees continue to reject the legitimacy of these military tribunals, refusing to participate in proceedings that perpetuate their unjust detention. However, the proceedings are held, and a military judge confirms or revokes the political prisoner's detention order, regardless of whether they attend or not.
Undertaking a mass hunger strike comes with dire consequences, including severe medical conditions that endanger the lives of the detainees. Tragically, history has shown the devastating toll such strikes can take. One notable case is that of Khader Adnan, whose health rapidly deteriorated during his hunger strike and ultimately led to his untimely death. The detainees fully understand the risks involved but are driven by their unwavering determination to challenge the oppressive policies of the Occupation's State, in particular, the Administrative Detention policy, a psychological torture that tantamounts to a war crime under international law.
This practice of oppressive detention of Palestinians in Israeli prisons is not an isolated matter but rather a pillar of a systematic policy orchestrated by the Israeli occupation regime. Such a policy paves the way for the arbitrary imprisonment of Palestinians without charge or trial, just for the mere thought of an Israeli occupation officer that a certain Palestinian could be a threat to its security, even if it was a university student-union activity. The Palestinian administrative detainees, through shedding light on this oppressive tool of the Occupation, hope to draw global attention to the plight of their people and demand an end to this odious policy. Therefore, Addameer Prisoner Support and Human Rights Association urges you to help raise the voices of the administrative detainees and spread awareness of their cause. Write to your representatives and to demand your respective governments to pressure the Israeli authorities to ban this systematic policy of oppression against Palestinians and to end this abusive policy. Make your statements and address them directly to the main Israeli policymakers who are responsible for the anguish of thousands of Palestinian families:
Israeli Military Central Command

– Yehuda Fuchs




Fax: +972 2 530 5741, +972 2 530 5724

Israeli Minister of War

– Yoav Gallant




Tel: +972 2 640 3874, Email:

[email protected]

Israeli Prime Minister Office

–

Benjamin Netanyahu




Tel: +972 2

640 3227

, Email:

[email protected]