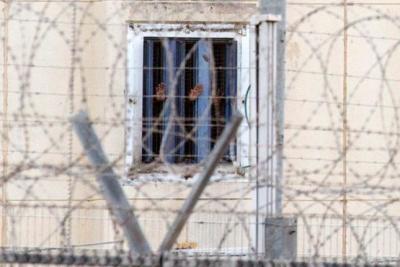 Today, 25 April 2107, Addameer's attorneys visited Nafha, Hadarim and Asqlan prisons, where they were not able to visit hunger-striking prisoners and detainees due to Israeli Prison Service (IPS) refusal. However, they managed to visit prisoners who were not on hunger strike that informed the attorneys of the hunger strike's recent developments.
During a visit to the Hadarim prison, prisoner Thabet al-Mardawi explained to Addameer's attorney Mona Naddaf, that the IPS started transferring prisoners from one section to another on the second day of the strike, 18 April 2017. He added, that Marwan Barghouthi and Karim Younis were placed in isolation in Al-Jalama prison, and Anas Jaradat and Mahmoud Abu Sorour were placed in isolation in Ela prison. He added that about 36 prisoners were transferred to Ramle prison, and the rest of the prisoners were placed in different prisons across occupied Palestine.
Additionally, sick prisoners were transferred to the cells of Section 5 in Hadarim, which is a civilian detention room located in the civil section of the prison. The prisoners live in a completely isolated situation, where there is no television, no electrical devices and were only given sleeping mats.
Prisoner Thabet explained that the IPS isolated 102 hunger-striking prisoners before placing them in different prisons. Special unit forces stormed and raided the hunger-striking sections confiscating personal belongings. All of the prisoners have been stripped of their possessions; only one blanket has been kept for each prisoner and one set of clothing in addition to the "Shabas clothing" or prison uniform. Prison administration also seized salt in the first days of the strike, and strikers have had to drink water from the tap as the administration does not provide them with drinking water.
The prison administration has also imposed several punitive sanctions on the hunger-striking prisoners. The most important of these is the denial of family visits, as well as the denial of recreation, denial of access to the "canteen" (prison store).
In Nafha prison, Addameer's attorney Samer Samaan visited prisoners Ayman Odeh and Raed al-Saadi, who told him during the visit that the number of hunger striking prisoners in Nafha is 250 from all political factions. The IPS also started isolating hunger strikers from their fellow prisoners, raided their sections and banned them from having attorney visits.
In Ashkelon prison, Farah Beyadsi visited prisoner Sharif Hamid, who is not on hunger strike. He informed her that the IPS transferred all the prisoners who are not on hunger strike to Section 12 of the prison. And transferred hunger striking prisoners to  Section 3 and placed them in isolation. 42 prisoners in Ashkelon prison are on hunger strike.
"In Ashkelon there are 5 rooms, each room has about ten prisoners, the prisoners are forbidden from communicating with anyone, and they are denied family visits and access to the prison canteen. They are not allowed to see their attorneys as well," Hamid added. The prison administration in Ashkelon also stripped hunger striking prisoners of their possessions, and strikers have had to drink water from the tap as the administration does not provide them with drinking water. They also prohibited them from participating in group prayers on Friday.
Addameer Prisoner Support urges supporters of justice around the world to take action to support the Palestinian prisoners whose bodies and lives are on the line for freedom and dignity. Addameer urges all people to organize events in solidarity with the struggle of hunger-striking prisoners and detainees. Addameer further calls upon the international community to demand that the Israeli government to respect the will of hunger strikers who use their bodies as a legitimate means of protest, which has been recognized by the World Medical Association (WMA) Declaration of Malta on Hunger Strikes as "often a form of protest by people who lack other ways of making their demands known."