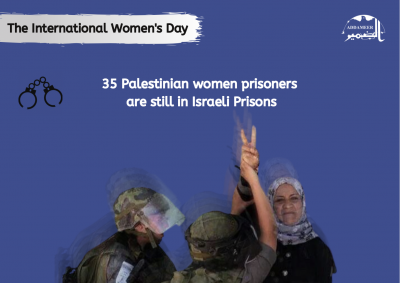 Today, as the world commemorates International Women's Day, 35 Palestinian women are yearning for freedom in Israeli prisons and detention centers. Amongst whom are 11 mothers, six wounded prisoners, and three administrative detainees. Palestinian women are subjected to many forms of physical and psychological ill-treatment throughout the process of their arrest leading up to their incarceration. The Israeli Occupation Forces brutally arrest Palestinian women during night raids, snatching many from their children and families.
During interrogations, the Israeli occupation authorities' subject Palestinian women to extremely humiliating interrogation techniques, including prolonged stress positions, sleep deprivation, physical assault, and numerous threats, as well as depriving Palestinian women of their basic necessities and needs, often using them as leverage. Palestinian female prisoners are held in Damon prison under harsh living conditions that do not align with the bare minimum of adequate living standards. It should be noted that Damon prison is located outside the 1967 occupied territory, in violation of Article 76 of the Fourth Geneva Convention, which states that an Occupying Power must detain residents of the occupied territory in prisons inside the occupied territory.
On International Women's Day, Addameer Prisoner Support and Human Rights Association honors Palestinian women for their integral role in throughout the history of Palestine, recognizes their persistent achievements, and acknowledges the injustices and prejudice. We urge the international community to demand the release of all Palestinian female political prisoners held arbitrarily in Israeli prisons and detention centers.
Palestinian Human Rights Defender Detained Without Charge: Khitam Sa'afin
The Israeli apartheid regime continues to place Palestinians under administrative detention indefinitely without charge based on secret material that can be disclosed to neither the detainees nor their lawyers; in an attempt to gain and maintain control over the Palestinian people. On 2 November 2020, Ms. Khitam Sa'afin, 56 years old, was arrested from her home, after which a four-month administrative detention order was confirmed against her ending on 1 March 2021. Nonetheless, the Israeli military commander renewed the administrative detention order for an additional four months ending in June 2021. The military judge confirmed the renewal based on Ms. Sa'afin's active role in civil activities.
Ms. Sa'afin is the Head of the Union of Palestinian Women's Committees (UPWC), a secretariat member of the General Union of Palestinian Women, and a prominent Palestinian human rights defender. Her work is well renowned at the regional and international levels. She is active at the World Social Forum and a regional Coalition for Women Human Rights Defenders in the Middle East and North Africa. Ms. Sa'afin has been a voice for underprivileged Palestinian women regarding social issues and believes that women's freedom is parallel to the Palestinian people's freedom. She is a mother of three and a grandmother.
It should be noted that Ms. Khitam was previously arrested on 2 July 2017. A week after her arrest, a three-month administrative detention order was issued against her. The military prosecution claimed that Khitam is an active member of the Popular Front for the Liberation of Palestine and requested that the court confirm the three-month order based on this accusation.
The criminalization of mere membership in or affiliation with a political party violates fundamental international conventions, ensuring such activities are protected under the freedoms of belief and association. It also allows Israeli military authorities to detain individuals without proving – or even alleging – any actual individual culpability for activities or resistance against the ongoing belligerent Israeli occupation that could be deemed legitimate offenses.
Such attacks and harassment are part of the Israeli occupation's aim to silence those who defend and express their opposition to the Israeli apartheid and illegal policies, at the foremost Palestinian human rights defenders.
Palestinian Legislative Council Member: Khalida Jarrar
On 1 March 2021, Ofer Israeli military court issued a ruling against Palestinian Legislative Council member Ms. Khalid Jarrar. The ruling included a 24-month prison sentence, a 12-month suspension for five years from the day of her release, as well as a fine. The military prosecutor amended Ms. Jarrar's indictment to limit it to her political role and work with the Palestinian authority. Further emphasizing that Ms. Jarrar has no responsibility or relation to any military, financial nor organizational activities.
Ms. Jarrar's last arrest was on 31 October 2019, as part of the Israeli occupation's campaign targeting dozens of Palestinian political activists and university students during the second half of 2019. Previously, on 2 July 2017, Ms. Jarrar was arrested, and a six-month administrative detention order was issued against her. A confirmation hearing was held at Ofer military court without the presence of Ms. Jarrar, who refused to attend the court hearing. The military prosecution claimed that Ms. Jarrar's administrative detention is based on secret information related to her alleged affiliation with the Popular Front for the Liberation of Palestine. Not considering that Ms. Jarrar is an elected Palestinian parliamentarian and a prominent human rights defender who advocates for Palestinian political prisoners' rights within Israeli prisons.
Ms. Jarrar was to be released on 1 January 2018. However, her order was renewed four times consecutively, twice for six months and twice for four months, ending on 28 February 2019. The continuous harassment of Ms. Jarrar is a stark example of Israel's systematic arrest of Palestinian political leaders as part of an ongoing Israeli effort to suppress Palestinians' exercise of political sovereignty and self-determination.
Ms. Jarrar is a Palestinian civil society leader who lives and works in the occupied West Bank city of Ramallah. She was Addameer Prisoners' Support and Human Rights Association's Director from 1994 to 2006. In 2006, she was elected as a Palestinian Legislative Council member and had been the head of the Prisoners Commission of the PLC since then. Ms. Jarrar was also appointed to the Palestinian National Committee for the follow-up of the International Criminal Court.
University Student: Layan Kayed
Ms. Layan Kayed was arrested on 8 June 2020 while crossing Za'tara military checkpoint with her mother. The Israeli Occupation Forces stopped their car, asked Layan for her ID, and then ordered her to step out of the car to search it on the spot. Ms. Kayed was informed that she was under arrest through a phone call with a Shabak (Israeli Security Agency) officer. The Israeli soldiers cuffed her hands, shackled her legs with iron cuffs, and seated her on a chair in an open area.
She was transferred to HaSharon prison to a section that holds both civil (common-law) Israeli prisoners and Palestinian political prisoners. Ms. Kayed was confined to a cell with twenty-four-hour camera surveillance and subjected to poor detention conditions. For that purpose of interrogation, Ms. Kayed was transferred, shackled, from HaShron prison to Ofer prison by Bosta, which started in the early morning and lasted up to evening. She was interrogated twice, in which her hands and legs were cuffed. The interrogation questions centered on her activism as a student unionist at the university.
As an apartheid regime, Israel prevents and oppresses students' attempts to put their fundamental rights into practice, including their freedom of expression and participation in political life. Such systematic violations are devised to intimidate Palestinian students into refraining from exercising their rights. Although international conventions and treaties safeguard these rights, the Israeli occupation authorities deny Palestinian students their freedom of conducting and participating in student and union activities.
Layan, a middle daughter of a family consisting of two brothers and three sisters, is an honor student. She enrolled in the Birzeit University sociology bachelor's degree program full of energy and persistence, with a 96 average in the General Secondary Education Certificate Examination. Once she completed the graduation requirements, Ms. Kayed could not experience the joy of graduation with her beloved ones as she was arrested before receiving her certificate that sums up a hard-won four-year academic journey. Ms. Layan is awaiting a sentence under the pretext of participating in student union activities.
Detention Conditions of Palestinian Women Prisoners
Of the 35 Palestinian women prisoners, 25 have already been sentenced, and eight are awaiting trial. 10 Palestinian women prisoners are sentenced with imprisonment for at least ten years or more, and eight are pending trial. Palestinian women prisoners are incarcerated in Damon prison near Haifa, which was founded during the British mandate in Palestine. Detention conditions in Damon prison can only be described as unfit for human habitation. Also, the Israeli Prison Services have placed an absolute ban on educational books despite some prisoners' attempts, to bring in university books to continue their education.
Currently, there are ten sick Palestinian women prisoners and six wounded. The Israeli Prison Services adopt a systematic policy of medical negligence regarding Palestinian prisoners. Above that, they deny Palestinian women, prisoners of cultural and gender-sensitive medical treatment, repeatedly dismissing their medical needs and disregarding their conditions through stalling medical tests and delaying diagnosis. Women prisoners note ill-treatment received at the hands of the prison doctors and nurses whose treatment is proof of Israeli policies' apartheid and discriminatory nature against Palestinian detainees.
Ms. Nourhan Awad was arrested on 23 November 2015, in which the Israeli Occupation Forces shot her four times, once in the left leg and three times on the right side of her stomach. She still suffers from gunshot wounds. The Israeli District Court in Jerusalem sentenced Ms. Nourhan, at the time she was wounded and a minor, to 10 years of imprisonment following the alleged stabbing attack.
Palestinian women prisoners are also subjected to other arbitrary policies, including solitary confinement, whether as a disciplinary measure or for reasons of state, prison, or prisoner's security. On 10 June 2020, the Israeli Prison Services claimed that Ms. Fadwa Hamada and Ms. Jihan Hashimeh had a confrontation with a female prison guard, consequently imposing a punishment of 72 days in solitary confinement at Al-Jalameh prison. Before they were transferred to Al-Jalameh prison, they were handcuffed with plastic wires for hours in a room in Damon prison. The two Palestinian female detainees were not told of the duration of their confinement and faced severe hardships while in solitary, as they were held in a small, unclean, and unsanitized cell with twenty-four-seven surveillance cameras violating their right to privacy. Most recently, Ms. Hamada was isolated for 106days in similar circumstances, in complete isolation from the outside world and other prisoners.
This policy of deliberate medical negligence is of even more pressing and imperative concern during a global pandemic. Mostly, the Israeli occupation authorities has failed to ensure the protection of Palestinian prisoners and detainees during the spread of COVID-19, as they continue to be subjected to harsh living conditions and lack of hygiene products, making it impossible to restrain the virus's spread inside prisons. Article 76 of the Fourth Geneva Convention affirms that prisoners and detainees shall enjoy food and hygiene conditions sufficient to maintain good health, further emphasizing that they receive medical attention required by their state of health. Article 85 requires the detaining power to provide adequate accommodation to safeguard its prisoners' and detainees' hygiene and health.