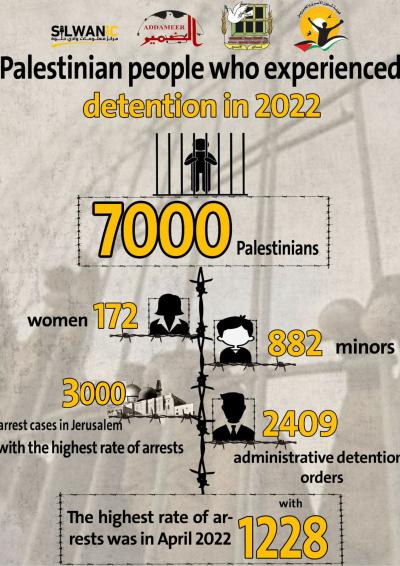 In 2022, the Israeli occupation forces arrested in total around 7,000 Palestinians, with April 2022 recording the highest number of arrests reaching 1,228 cases, followed by May and October 2022, with 690 cases. The number of Palestinians arrested from occupied Jerusalem remained the highest among other Palestinian cities, with more than 3,000 cases of arrests, including 600 cases of house arrests. Notably, around 106 Palestinians from the Gaza Strip were arrested, including 64 Gazan fishermen. The Israeli occupation authorities systematically utilized administrative detention to indefinitely hold Palestinians without charge or fair trial based on "secret information," issuing around 2,409 administrative detention orders during the year 2022 alone, including new orders and renewal orders as well.
There are currently 4,700 Palestinians held in Israeli occupation prisons, including 29 women, 150 children, five Legislative Council members, 15 journalists, and around 860 administrative detainees, including seven children, two women, and two PLC members. Moreover, there are 330 detainees who have spent more than 20 years in prison, 25 of them were arrested before the Oslo Accord, such as Kareem Younis and Maher Younis (imprisoned since 1983). Furthermore, there are 552 detainees who are sentenced to life imprisonment, the highest of which is Abdullah Barghouthi, with 67 life sentences. As for solitary confinement, 70 Palestinian prisoners were punitively put in isolation throughout this year, of which 40 are still held in isolation.
The Israeli occupation authorities blatantly violate international obligations related to protecting and providing care for Palestinian prisoners experiencing illness. The number of sick Palestinian prisoners in Israeli occupation prisons is currently around 600, with over 200 prisoners with chronic diseases and 24 prisoners diagnosed with cancer and other serious illnesses. Since 1967, with the death of Nasser Abu Hamid, the total number of Palestinian prisoners who have passed away in Israeli occupation prisons has reached 233—74 of whom have passed away as a result of medical negligence. Compounding their crimes of medical neglect, Israeli occupation forces continue to withhold the bodies of the now-eleven Palestinian prisoners who have been martyred.