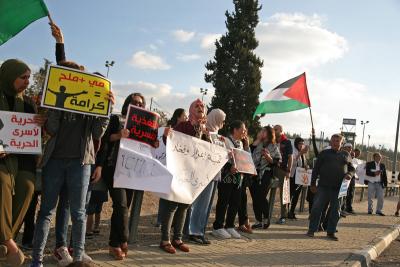 Addameer's attorneys visited five hunger-striking prisoners (Hussam Zahayqa, Murad Abu Sakout, Dorgham Al Araj, Mohammad Abu Sakha and Amjad Abu Latifa) in Eshel, Hadarim and Ela prisons on Tuesday, 23 May, 2017. On the 38th day of hunger strike, Palestinian political prisoners remain strong and determined.
The hunger strike was launched on 17 April 2017, Palestinian Prisoners' Day, by an estimated 1500 Palestinian political prisoners in Israeli prisons and detention centers. The prisoners have a range of demands, highlighting basic needs and human rights, including an end to the denial of family visits, the right to proper health care and medical treatment, the right to pursue distance higher education, an end to solitary confinement, and an end to administrative detention, imprisonment without charge or trial.
Following the visit, Addameer attorneys reported the alarming deteriorating health condition of hunger-striking prisoners, which continues to worsen. Striking prisoners reported incidents of regular transfer from one prison to another and into isolation sections, which resulted in a deterioration in the prisoners' health condition due to the lengthy transfer process.
Addameer's attorney Mona Naddaf said that in Hadarim prison, there are 120 hunger-striking prisoners and all of them joined the strike at its onset (17 April). The prison, which has 40 rooms, has been emptied of personal items, except for blankets, pillows, and one set of clothing. Prisoners informed the attorney that the Israeli Prison Service (IPS) has confiscated salt at the beginning of the strike and forced prisoners to drink from the tap rather than the usually provided drinking water. Furthermore, prisoners are banned from shaving their beards, cutting their nails, and washing their personal clothing and undergarments.
Addameer's attorneys also reported cases of daily violent raids on prison cells throughout the prisons, as well as strip searches aimed at breaking the will of hunger-striking prisoners. The striking prisoners' health condition is in severe deterioration. Prisoners have lost much of their weight and suffer from weakness, fatigue, difficulty speaking and walking, high-blood pressure, kidney pain, vomiting of blood, and chest pain. Several hunger-striking prisoners lost consciousness and have been transferred to hospitals in order to undergo medical examinations.
Prisoners informed Addameer's attorney that the prison library has been emptied of books and transformed into a clinic that has an IPS doctor and a paramedic. Hunger-striking prisoners said that the IPS does not provide them with sufficient medical examinations; only weight and blood pressure of each prisoner were examined.
Hunger-striking prisoners also reported that they are still boycotting the International Committee of the Red Cross (ICRC) due to its reduction of family visits.
As the hunger strike entered its 38th day, Addameer Prisoner Support urges supporters of justice around the world to take action to support the Palestinian prisoners whose bodies and lives are on the line for freedom and dignity. Addameer urges all people to organize events in solidarity with the struggle of hunger-striking prisoners and detainees. Addameer further calls on the diplomatic community to pressure Israel to immediately allow for hunger striking prisoners to have access to necessary healthcare and legal advisement.
Addameer further urges all political parties, institutions, organizations and solidarity groups working in the field of human rights in the occupied Palestinian territory and abroad to support the prisoners in their hunger strike and demand that their legitimate demands be granted. Addameer will continue to closely follow the prisoner's strike and provide regular updates on the situation as it develops.