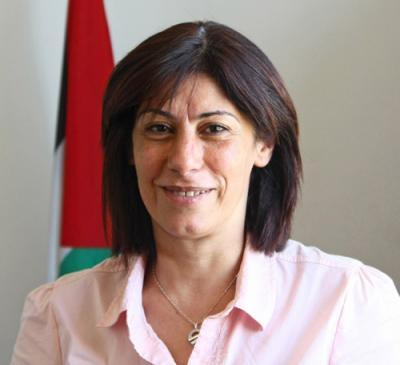 Today, Monday 1 March 2021, Ofer Israeli military court issued a ruling against Palestinian Legislative Council member Mrs. Khalid Jarrar. The ruling included a 24-month prison sentence, a 12-month suspension for five years from the day of her release, as well as a NIS 4,000 fine.
Mrs. Jarrar was arrested on 31 October 2019 following the Israeli occupation's campaign targeting dozens of Palestinian political activists and university students during the second half of 2019. Since then, through various media outlets, the Israeli occupation authorities spread false accusations against Khalida in a failed attempt to hold her responsible for a military operation in Ein Boubin in August 2019.
During today's hearing, the military prosecutor amended Mrs. Jarrar's indictment to limit it to her political role and work with the Palestinian authority. Further emphasizing that Mrs. Jarrar has no responsibility or relation to any military, financial nor organizational activities.
Also, the military prosecution acknowledged that such amendments were necessary due to the exhaustion of judicial procedures in the case against Mrs. Jarrar, bearing in mind the circumstances surrounding the investigation conditions of the main witnesses in the case. As well as Mrs. Jarrar's prolonged administrative detention during the period specified in the indictment. 
The Israeli occupation systematically targets Palestinian political activists. The military court's decision is evidence of the Israeli military judicial system's integral role in sustaining and feeding into the primary goal of establishing a comprehensive Israeli apartheid apparatus. In reality, Palestinian political leaders are routinely arrested and detained as part of an ongoing Israeli effort to suppress Palestinians' exercise of political sovereignty and self-determination.
Khalida Jarrar is a Palestinian civil society leader who lives and works in the occupied West Bank city of Ramallah. She was Addameer Prisoners' Support and Human Rights Association's Director from 1994 to 2006. In 2006, she was elected as a Palestinian Legislative Council member and had been the head of the Prisoners Commission of the PLC since then. Mrs. Jarrar was also appointed to the Palestinian National Committee for the follow-up of the International Criminal Court.
Addameer Prisoner Support and Human Rights Association emphasizes that Israeli military courts' illegality goes beyond the serious violations of the right to a fair trial. The basis of their establishment and jurisdiction itself is a grave breach of international standards principles. Addameer further urges the international community to abide by its responsibilities under international law and uphold its legal and moral commitment to end the prolonged Israeli occupation and apartheid regime over the Palestinian people and the immediate release of all Palestinian political prisoners.