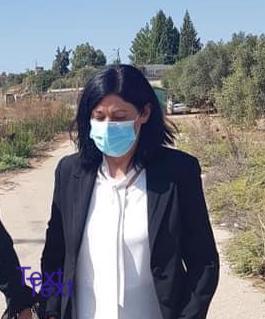 Today, 26 September 2021, the Israeli occupation released prisoner and Palestinian Legislative Council member, Khalida Jarrar, after nearly two years behind bars. Jarrar lost her daughter Suha two months ago and, in spite of demands and pressure from human rights organizations for her humanitarian release, Israeli prison authorities refused to release Jarrar to take a last look at her daughter and participate in her funeral.
Jarrar has been arrested several times, at times under an administrative detention order (without charge or trial) and at times under an indictment, the last of which was on 31 October 2019. A mere eight months after her release from 20-month administrative detention, Jarrar was arrested on the claim that she was a member of a "terrorist organization". Jarrar is a Palestinian parliamentarian, feminist, and is considered one of the most prominent Palestinian political and societal figures.
Addameer condemns what Jarrar and the wider population of Palestinian political prisoners have been subjected to from arbitrary arrests and ill-treatment. The Israeli occupation authorities violated her most fundamental rights by arbitrarily restricting her freedom and preventing her from bidding farewell to her daughter, as well as preventing her from bidding farewell to her father after his death in 2017, while she was also in Israeli detention.
Jarrar's release comes on the same day as an arrest campaign during which Israeli forces carried out five extrajudicial killings of Palestinians in Jenin and Jerusalem that amount to a war crime.