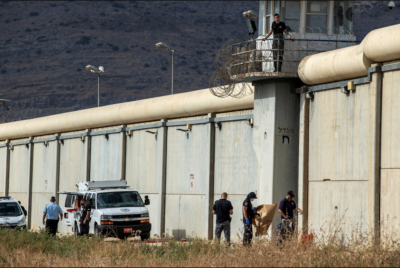 Photo from Al-Jazeera Mubasher website
On 23 Dec 2021 Israeli Prison Services (IPS) locked down all prison sections affiliated with Hamas prisoners, prohibiting them from their allotted yard down, and shut down Section 12 of Nafha prison, transforming them into cells of punishment. 
The lockdown followed an incident in which a Palestinian prisoner wounded one of the jailers in protest of IPS' physical assault of Palestinian female prisoners in Damoun prison. The assault on female prisoners took place on 14&15 Dec 2021, in which IPS guards beat female prisoners and forcibly transferred the Palestinian female prisoners' representative and her deputy to solitary confinement.
IPS transferred about 80 prisoners outside their cells and chaining them for hours in the freezing cold while beating the prisoners severely. The prisoner who injured the guard was severely beaten, leading him to be hospitalized. 
Three Palestinian prisoners were also hospitalized following the attack and transferred back to prison. While several other prisoners were transferred with to solitary confinement. In addition, IPS confiscated all of the prisoners' belongings, as well as all electrical tools from Section 12.
Addameer condemns the Prison Authority's assault on the prisoners and the imposition of collective punishments on them, by beating, positional torture, and isolation. Addameer calls on the Red Cross and the international bodies to assume their responsibilities and urgently intervene to stop the collective punishment against the prisoners—particularly the use of Israeli special forces—and counteract the blanket silence of information about the fate of the prisoners in Nafha prison.