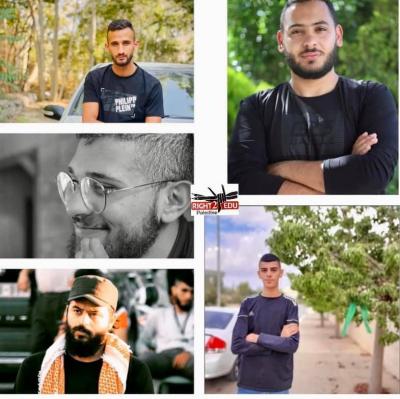 On Monday, 10 January 2022, afternoon undercover Israeli special forces supported by Israeli occupation soldiers stormed the Eastern Gate of Birzeit University shooting live ammunition at Palestinian students, wounding one and arresting five students. The attack represents a brazen escalation of the Israeli occupation and apartheid regime's systematic targetting of Palestinian students and educational institutions.
Upon the attack, Israeli Occupation Forces (IOF)—including undercover special forces—infiltrated the campus in a white van, targeting a student council organizational meeting held by over a dozen students, among them the heads of various student blocs. Undercover forces proceeded to shoot in the air and at the gathered students, shooting and wounding student Ismail Barghouthi in the thigh. Accompanying soldiers, alongside the undercover special forces, began arbitrarily arresting students, detaining the wounded student Ismail Barghouthi, Abdel Hafez Sharabati, Waleed Harazneh, and Qassem Nakhkeh. Ismail Barghouthi, who continues to be detained, was transferred to a hospital in Jerusalem for treatment for the gunshot wound. Later in the evening, two of the detained students, Abdel Hafez Sharabati and Waleed Harazneh, were released. Israeli occupation authorities continue to detain Ismail Barghouthi, Mohammad Khatib, who was transferred to interrogation at the Ben Yom Police Station in Jerusalem, and Qassam Nakhleh in Ofer prison, who sustained a broken leg injury during his arrest. The three detained Palestinian students are set for a court hearing before Ofer Military Court on Thursday, 13 January 2022, for an extension of their detention.
The violent storming, shooting, and arrest of Palestinian university students comes amid the Israeli occupation's escalatory attacks against Palestinian civil society, cultural and educational institutions, and Birzeit University in particular. Only one month prior, on 14 December 2021, IOF stormed Birzeit University at dawn, launching tear gas bombs, vandalizing the campus, and attacking university guards.
More still, on 11 January 2022, IOF attacked a march by Palestinian students and supporters condemning the Israeli occupation's attack of Palestinian students the day prior, assaulting protestors, launching tear gas bombs, and shooting rubber-coated steel bullets. The Palestinian Red Crescent reported 12 injuries thus far, including five wounded by rubber-coated steel bullets and seven wounded by tear gas.
Palestinian youth and students are systematically targeted as part of the Israeli occupation's protracted silencing campaign. Students at Birzeit University especially have been subject to systematic attacks, IOF raids, arbitrary detention, and torture and ill-treatment, all of which aim to maintain the Israeli occupation and apartheid regime over the Palestinian people. Beyond physical assault, many of Birzeit's students have been further subject to torture and ill-treatment during their detention and interrogation.
The violent harassment and targeting of Palestinian universities and students directly impede Palestinian's right to education, which is explicitly protected in Article 26 of the Universal Declaration of Human Rights and Article 13 of the International Covenant on Economic, Social, and Cultural Rights (ICESR). In 2021, the Israeli occupation arbitrarily arrested and detained more than a hundred Palestinian Students.
Addameer Prisoner Support and Human Rights Association strongly condemns the Israeli occupation regime's systematic targeting of Palestinian educational institutions and efforts to repress all forms of student expression and activism, along with the broader escalation of the systematic and widespread attacks on the Palestinian people's inalienable rights.