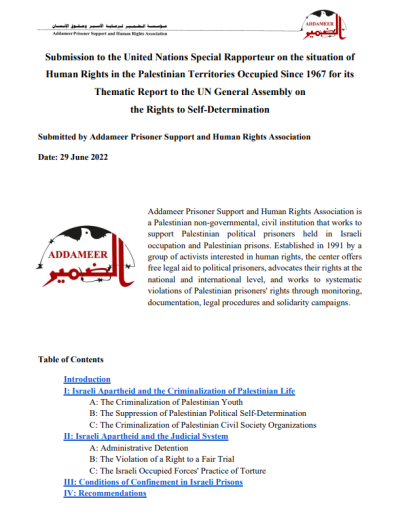 Addameer Prisoner Support and Human Rights Association submitted input to the United Nations Special Rapporteur on the situation of human rights in the Palestinian territories occupied since 1967 to contribute to the formation of a larger thematic report focusing on the status of the right of self-determination for the Palestinian people. Addameer joined fellow contributors from local and regional governments, national human rights institutions, human rights defenders, and civil society organizations to address the most grievous violations of the Palestinian People's right to self-determination and the ways in which the denial of the right to self-determination affects key aspects of life in the oPt.
In the Palestinian territory occupied by Israel, over five million stateless Palestinians live in an acute state of subjugation with no path to self-determination or a viable independent state. In the aftermath of the Nakba—during which 80 percent of the Palestinian population became refugees and dispossessed of their land and property—Zionist leadership installed a discriminatory apartheid regime in the newly established State of Israel in an attempt to legalize and legitimize the crimes committed against the Palestinian people.
The Israeli occupation and apartheid regime utilizes the fullest extent of its legislative, judicial, and executive powers to maintain control and subjugation over the people of Palestine. Addameer's report to the Special Rapporteur addresses Israel's ongoing obstruction of the Palestinian right to self-determination as exercised through its carceral and military apparatuses—interdependent arms of the Israeli apartheid system working in tandem to establish an "occupation in perpetuity" through the surveillance, detention, imprisonment, torture, and killing of Palestinians as part of the regime's settler-colonial project.
Specifically, Addameer's report touches on the role and development of Israeli legal and judicial systems as tools of the Israeli carceral and settler-colonial state; the criminalization of Palestinian daily life as authorized through a network of military orders, allowing Israel to incarcerate, detain, and/or deport people from all swaths of Palestinian society at will; the regime's abuse of administrative detention and its widespread violations of international human rights and humanitarian law; and the grossly inhumane conditions of confinement within Israel's prisons, constituting a public health and human rights crisis.
The report concludes with recommendations urging the international community to stand in solidarity with the Palestinian right to self-determination by calling for the end of over seven decades of Israeli oppression and apartheid rule. The United Nations Special Rapporteur will compile all submissions received to inform the creation of a larger report to be presented to the General Assembly in October 2022.
Full submission attached.