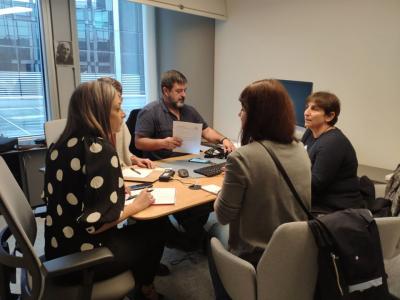 Addameer Prisoner Support and Human Rights Association, represented by the general director Ms. Sahar Francis, carried out an advocacy trip to the European Parliament in Brussels, to shed the light on the struggle of Palestinian political prisoner at Israeli prisons, and the systematic violations they are subjected to, such as, torture and arbitrary detention.
Addameer organized a four-day visit to the European Parliament in coordination with the  European Coordination Of Committees And Associations For Palestine (ECCP). In which, Sahar Francis addressed the increasing restrictions on the work of Palestinian human rights organizations, especially the recent raid on Addameer's offices in Ramallah, in which,  essential equipment, including computers, hard drives and legal archive, were confiscated by the Israeli army and have yet to be returned. In addition, Sahar addressed the main violations suffered by Palestinian prisoners, in 2019, such as, arbitrary detention, ill-treatment and torture, medical negligence and various other Israeli practices.
The trip included meetings with members of the European Parliament from various committees, groups and parties, such as the Committee on Relations with Palestine, Representatives of the Committee on Foreign Affairs, representatives of European Union states, and a member of the European Green Party in the Belgian parliament.
During these meetings, Addameer provided briefings on the struggle of Palestinian prisoners, especially on the recent cases of torture, administrative detention and hunger strike, and the crackdown on the Palestinian human rights organizations.
 Addameer called for a serious and effective discussion of these issues, in the EU Parliament and called on member-states to adopt effective measures to insure  Israel's compliance, as the Occupying Power, with its obligations under international law, and accountability for grave and systematic violations.