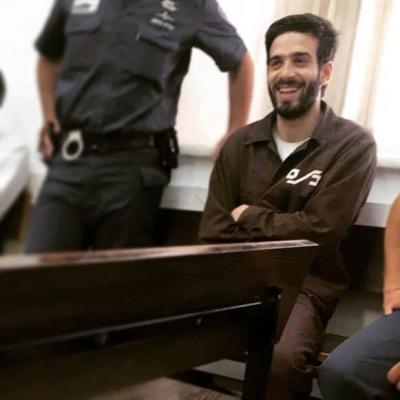 Following over a year and a half of being held without charge, Hasan Safadi, Addameer's media coordinator,  has been released from administrative detention.
Hasan was initially arrested on 1 May 2016, at the al Karameh bridge from Jordan, as he was returning from Tunisia where he had attended an Arab youth conference concerned with human rights.
Following his arrest, Hasan was immediately transferred to al Moskobiyyeh Interrogation Center where he endured a forty day interrogation period. During this time, he was deprived of sleep, placed in stress positions, was subject to long interrogation sessions, and was not given adequate food. From 12 to 22 May, Hasan was denied access to a lawyer and was not able to see his family.
On 10 June 2016, the Magistrate Court ruled for Hasan's release on a bail of 2500 NIS and a third party guarantee. This release never transpired, as the Israeli Minister of War, Avigdor Lieberman, signed a 6-month administrative detention order against him.Following his imprisonment, his administrative detention was renewed twice. Once on 7 December 2016, and then again on 8 June 2017.
Administrative detention is a process where an individual can be held indefinitely without charge, or being made aware of the reason  that they are held. It represents a grave breach of international law, and an amount to torture.These orders, which are based on 'secret' intelligence, are frequently used against human rights defenders, journalists, and students.
We at Addameer are all excited to welcome Hasan back. Addameer Field Researcher, Salah Hammouri, remains in administrative detention.
Both Hasan and Salah have been punished for having the audacity to stand up for the basic rights of the Palestinian people, and for seeking to expose the violations perpetrated by the occupation against the Palestinian prisoners. They have chose to stand by their beliefs, and what they see to be a moral path. For that, they will always deserve the upmost respect.