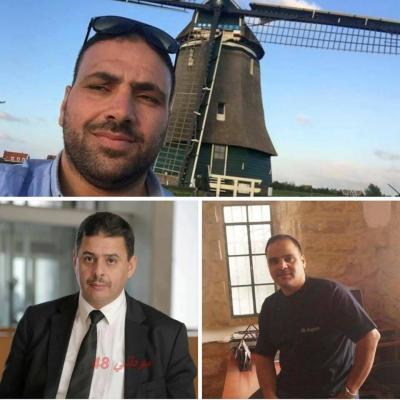 In the early hours of Monday 4 December 2017, occupation forces arrested three human rights defenders as part of an ongoing attack against those who speak out against the occupation. The three from this morning are all lawyers involved with the defense of Palestinian prisoners. They were Khaled Zabarqah from al-Lydd, in the territories occupied in 1948, Eyad Messk, who is the head of the legal unit at the Commission of Detainees and ex-Detainees Affairs, and Feras al-Sabbah, the director of al-Meethaq for Human Rights organization in Jerusalem.
The three human rights defenders were taken from their homes to an interrogation centre in Petah Tikva, and are awaiting a detention extension hearing. The detention extension hearings are a policy used by the Israeli forces to either start or extend the period of interrogation, or to buy time for the military prosecutor to file charges against Palestinians.
Israeli forces routinely target human rights defenders as part of a recently intensifying campaign against dissent. As part of this, they also arrested Abdallah Abu Rahma from Beli'n, near Ramallah,) on 20 November 2017. Abdallah is the coordinator of the 'Public Committee Against the Wall and the Settlements' in his village. He faced a hearing on 22 November 2017 in Ofer and was released without condition. However, the military prosecutor appealed for another hearing to be held on 26 November 2017. The hearing was postponed until 27 November 2017, and then postponed again to 6 December 2017 based on an order from the judge to open Abdallah's old files from his previous detentions. Abdallah was not given a list of charges, though accusations were made that he had taken part in the destruction of parts of the wall and organizing peaceful demonstrations.    
TheUN Declaration on Human Rights Defenders defines human rights defenders as individuals who play an important role in furthering the cause of human rights through activities such as the documentation of violations, providing support and assistance to victims seeking remedies. Palestinians who organize and participate in protests and demonstrations against the Separation Wall and settlements, such as Abdallah, are widely recognized as human rights defenders. In addition, these human rights defenders, exercising their right to resist an occupying force, are afforded certain protections under international law.
Human rights defenders face ongoing forms of indiscriminate and arbitrary punishment long after they have been released. Requests from them and their families for permits from the Israeli authorities are consistently denied, they face targeted persecution and intimidation, detention and questioning at checkpoints, defamation, and, in some cases, re-arrest. 
As the occupation attempts to silence voices of resistance, and to pacify an occupied population, Addameer calls on the immediate release of the three lawyers from the interrogation center, also on the occupying forces to cease its attack on human rights defender. 
Photo Credit: موطني 48