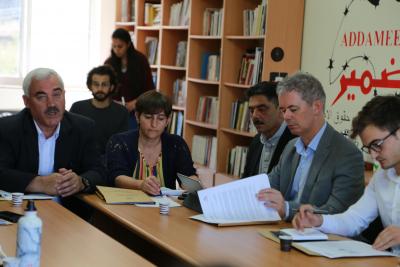 On Wednesday, 25 September 2019, the Palestinian Human Rights Organizations Council met with a number of embassy/consult representatives, international and local organizations to discuss the ongoing Israeli targeting to Palestinian civil society organizations. The meeting spoke in particular to the raid that happened to Addameer's office last Thursday. 
In the meeting Addameer spoke about the continues targeting the organization suffers from. This targeting comes in different forms; arbitrary administrative detention of the staff, travel bans for some of the staff, defamation, de-funding attempts, raids, and ongoing harassment of the organization's lawyers.
Furthermore, PHROC participating member, al-Haq, DCI-P, Hurriyat, and the Human Rights Commission re-assured the continues targeting and harassment of Palestinian human rights organizations and Palestinian human rights defenders. All of the organizations noted the recent escalation against them in an attempt to obstruct their work. They added, there is an immediate need to hold Israel accountable against those crimes and not to give any credit to the defamation campaigns led against Palestinian individuals and institutions working on defending Palestinian rights. 
Finally, PHROC members made a number of demands among them was requesting States to fulfill their obligation under the third state responsibility and pressure to hold the Israeli occupation authorities accountable to their ongoing crimes.