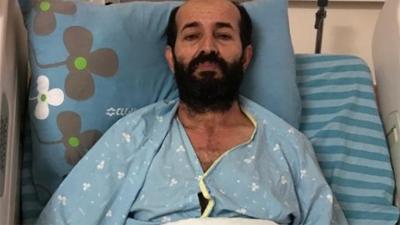 Mr. Maher Al-Akhras, a 49-year-old Palestinian administrative detainee in Israeli jails, is currently facing an imminent threat to his life at Kaplan hospital following the increased deterioration and severity of his health condition after 73 days of hunger strike. Mr. Maher announced an ongoing open hunger strike the day of his arrest, on 27 July 2020, in a quest to seek justice against the unfair four-month administrative detention order. Since then, he has been solely consuming water, refusing supplements such as vitamins or salt, and any other liquids.
On 23 September 2020, Adv. Ahlam Hadad, Mr. Maher's legal attorney, submitted a petition to revoke the administrative detention order, and in response, the Israeli High Court decided to "freeze" the order against Mr. Maher. The court explained that, at the moment, bearing in mind Mr. Maher's critical health status, there exists no "security threat" or the possibility of a future threat. The decision to "freeze" the administrative detention order does not in any way cancel the order or eliminate the risk of renewing it or even proceeding with the remaining duration afterward. It does indicate that Mr. Maher is not currently detained, and he is allowed visitation rights. However, it is an attempt to break Mr. Maher's ongoing open hunger strike and an intimidating tactic that aims to continue oppressing the detainee denying him any right to legitimately defend himself and seek justice.
Later, on 1 October 2020, a second petition was submitted against the administrative detention order, however, the court rejected the petition on the basis that the order is inactive at the moment, hence it cannot be revoked. It is evident that the intention of the Israeli military prosecutor, along with the Israeli Intelligence Forces ("Shabak"), is to keep Mr. Maher under administrative detention. Notwithstanding, the lack of clear evidence or conducting any serious investigations on the credibility of the allegations against him. In light of the court's persistence not to revoke Mr. Maher's unjust administrative detention order and the Israeli occupation authorities' intentions, Mr. Maher is still proceeding with his open hunger strike.
Following his arrest, Mr. Maher was taken to Hawara detention center, and as he announced his open hunger strike Mr. Maher was transferred to the cells in Ofer prison until he was transferred to Ramla Clinic prison. On 23 September 2020, as Mr. Maher began losing consciousness occasionally and suffered from health implications, he was transferred to Kaplan hospital. It should be mentioned that this is not the first time Maher Al-Akhras has been subject to Israeli arrests and administrative detention.  He was first arrested in 1989 for seven months, and later in 2004 for another two years. Afterward, he was detained in 2009 for 16 months under administrative detention and again in 2018 for 11 months in administrative detention.
The systematic and arbitrary use and practice of administrative detention by the Israeli occupation authorities have attracted widespread condemnation from local and international organizations as a violation of fundamental human rights. Notably, the United Nations Committee against Torture ("UNCAT") on 13 May 2016 called on the Israeli government to "take the measures necessary to end the practice of administrative detention and ensure that all persons who are currently held in administrative detention are afforded all basic legal safeguards." Consequently, the Palestinian Human Rights Organizations Council affirms such observations, and further calls on:
i.              Israel, as the Occupying Power, to immediately release Mr. Maher Al-Akhras who is currently under imminent threat to his life, halt all procedures and intentions to keep Mr. Maher in administrative detention and put an end to the systematic and arbitrary use of administrative detention against Palestinians;
ii.            The international community and all High Contracting Parties to the Fourth Geneve Convention tofulfill their obligations towards protecting human rights and enforcing the implementation of international humanitarian law, especially when grave breaches are being perpetrated in times of conflict and occupation;
iii.           The immediate intervention of the relevant United Nations ("UN") Special Procedure mandates including the UN Special Rapporteur on the situation of human rights in the Palestinian territory occupied since 1967, Mr. S. Michael Lynk; and the Working Group on Arbitrary Detention.
END




 

Palestinian Human Rights Organizations Council comprising:          

Addameer Prisoners' Support and Human Rights Association
Sahar Francis
General Director

Aldameer Association for Human Rights
Alaa Skafi
Acting General Director

Al-Haq
Shawan Jabarin
General Director

Al Mezan Center for Human Rights
Issam Younis
General Director

The Palestinian Centre for Human Rights
Raji Sourani
General Director

Defence for Children International
Palestine Section
Khaled Quzmar
General Director

Ramallah Center for Human Rights Studies
Khalid Nassif
General Director

Hurryyat - Centre for Defense of Liberties and Civil Rights
Helmi Al-Araj
General Director

Jerusalem Center for Legal Aid and Human Rights
Issam Aruri
General Director