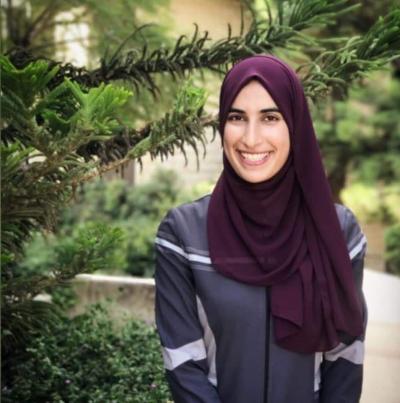 Name: Shatha Hasan Abdul Majid Hasan
Birth of Date: 17 May 1998
Age: 22 Years Old
Address: Deir as-Sudan, Ramallah
Marital Status: Single
Profession: Fourth-Year Student at Birzeit University
Date of Arrest: 12 December 2019
Prison: Damon Prison
Legal Status: Administrative Detainee
Detention and Interrogation
Israeli Occupation Forces (IOF) broke into Shatha Hasan's home in Ramallah around 2:00 am on Thursday, 12 December 2019. Once recognized, Shatha was subjected to a thorough body search. Her hands were cuffed in front of her body with iron shackles, as she was transferred to the Benjamin military camp. As Shatha set foot in the military facility, she was thrown, blindfolded and handcuffed, into a chamber for hours. Shatha was again transferred to the Ofer Detention Center and confined in a poorly lighted, bitterly cold, airless, coarse-walled cell without a bathroom.
Over around two hours at a stretch, the detainee was interrogated over student union activities to be then transferred again by bostato Hasharon Prison. Shatha suffered harsh internment conditions. The bathrooms used to flood the cells every time an inmate would take a bath—moreover, the room next to Shatha's housed civilian prisoners who never stopped making noises. 
Administrative Detention
On 15 December 2020, Shatha was tried before the Ofer Military Court, and her incarceration was extended for another 72 hours. The Military Commander issued an administrative detention order against Shatha for three months to end by 11 March 2020. This order can be indefinitely renewed on the grounds of her student union activities with the Islamic Bloc at Birzeit University.
During the confirmation of charges session, the military judge claimed that Shathahad been an active student unionist and connected to financial matters related to the Islamic Resistance Movement–Hamas. The claim was further asserted by highlighting the inseparability of organizational and military activities of unlawful associations citing the Israeli High Court verdict 6404/08, which states that 'The organizational and military activities of a terrorist organizational shall be regarded as integral and indivisible'. On such grounds, the judge confirmed the sentence for the entire internment period.
Once Shatha served her term, the Israeli occupation authorities extended the detention for another three months until June 2020, provided that the incarceration can be renewed sine die(indefinitely). However, Shatha was released after five months of arbitrary detention on 21 May 2020.
Student Union Activities and Military Resistance
As she is pursuing her undergraduate study, Shatha chairs the student council conference at Birzeit University. Providing a model of a strong Palestinian woman, Shatha aims to defend the rights of her fellow students.
It goes without saying that Israeli occupation authorities restrict any space available for the Palestinian people to express their opinion. For a long time, Palestinian organizations and their student arms have been considered "terrorist organizations" and banned by military orders. As Article 238 of Military Order No. 1651 stands, a hostile organization refers to '[a]ny person or group of persons aim to harm the security of the public, the Israeli army, or the establishment of public order in Israel or the area it controls'. Since 1967, the so-called Israeli Ministry of 'Defense' has banned more than 411 associations, including the main Palestinian parties, considering them as 'hostile', 'unlawful', or 'terrorist'. [1]The Palestinians are prohibited from exercising their right to political affiliation or freedom of opinion and beliefs. In Shatha's case, occupation authorities failed to charge her based on the suspicions directed at her. Therefore, they arrested her administratively without charge or trial in clear violation of the fundamental human right to political affiliation and freedom of opinion.
The definition of 'hostile organization' is intentionally left broad in order to ensure a successful suppression of Palestinians under the 'threat to security' alibi the Israeli occupation secures a loose margin to suppress the occupied people, in an effort to infringe freedom of expression and opinion and right to political affiliation.
The position of the Israeli occupation judicial system, constituted in the military prosecution and judiciary, on the inseparability of student activism and military action is a flagrant breach of International Human Rights Law. Especially concerning the right to political affiliation, union activism, including the right to hold opinions without interference, freedom to seek, receive and impart information and ideas of all kinds, regardless of frontiers.[2]This claim also undermines the democracy claimed by the occupying power, as it arbitrarily incarcerates students over student activism, seeking, by all means, to oppress, prevent and infringe Palestinian's fundamental rights protected by international conventions and agreements.
Furthermore, student union activism sits squarely within peaceful action and cannot be considered tantamount to military resistance. In this vein, Human Rights Watch Organization monitored and documented several peaceful cases of opposition to the occupation in which the IOF has dealt with as if it were non-peaceful cases aimed at inciting violence without evidence that the activities either caused violence or intended to. [3] If any, this showcases how IOF misuses military orders without consideration of how might the actual acts fall under the fundamental right to association and political affiliation.
Shatha and her Family
After a month of Shatha's detention, an IOF special squad raided her family home in Deir as-Sudan. They arrested her brother Abdulmajid, leaving the family to deal with the involuntary absence of two beloved family members. Moreover, the Hasan family has a bitter history of detention, in which Shatha's father spent around ten years of incarceration–mostly arbitrary administrative detention. Her mother also went through the experience of detention and interrogation.
 'I asked her if she felt cold,with a hand gesture and a glimmer of a smile, we understood how bitterly cold she was. 'Have you eaten?' my mother askedher. 'A little', Shatha answered. She often eats crumbs of food; 'a little' wouldn't be more than a bite. 'Have they given you your jacket', I wondered.'No, because it has a hoodie.' she responded. 'The prison is cold, isn't it? I asked. 'biting' she said.
With these words, Shatha's sister, Tasneem, described their first encounter on the trial day.
---
[1]Human Rights Watch: Born without Civil Rights: Israel's Use of Draconian Military Orders to Repress Palestinians in the West Bank, 32, 2019.
[2] ICCPR, Article 19.
[3]Human Rights Watch, ibid.