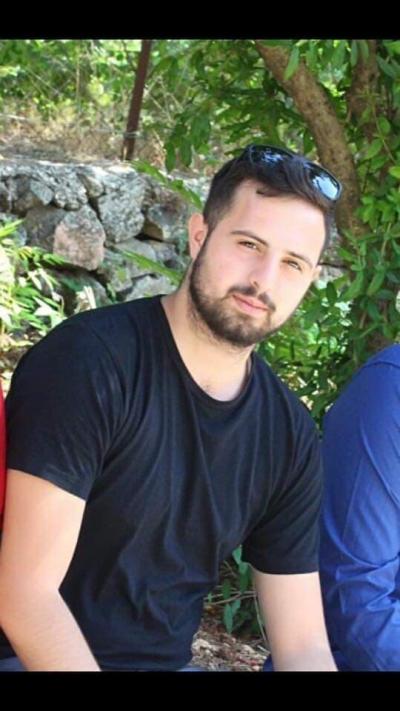 Ribhi Hasan Ribhi Karajah
Age: 24 Years Old
Residence: Saffa
Marital Status: Single
Profession: Final-Year Social and Behavioural Science Student at Birzeit University
Date of Arrest: 26 August 2019
Prison: Ofer Prison
Governorate: Ramallah and al-Bireh
Legal Status: Under-Trial Detainee
Detention History
Ribhi Karajah, a student at Birzeit University, was first arrested on 16 May 2017. The military prosecutor submitted a list of charges against him on multiple charges related to student activism. Karajah was sentenced to eight months in prison and a fine of one thousand shekels and was then released on 27 December 2017.
Current Detention
On 26 August 2019, the Israeli Occupation Forces (IOF), accompanied by military dogs, broke into Karajah's house and detained him at 2:00 that dawn. After breaking down the door of his house, the IOF barged into Karajah's room, tied his hands with plastic zip ties, blindfolded him and then proceeded to search his room. The dogs accompanying the forces attacked Karajah's father and bit his hands. The excessive use of violence terrorized Karajah's family, especially his five-year-old sister.
The intruding force conducted a field investigation with Karajah before roughly beating and shoving him to a military jeep. He sat on the floor of the vehicle, and the speedy driving jostled his body around until they reached a nearby military camp. Later, Karajah was transferred cuffed and blindfolded to Al-Moskobiyeh Detention and Interrogation Centre in Jerusalem.
Torture During Interrogation
After Karajah was transferred to  Al-Moskobiyeh Detention and Interrogation Centre, he was immediately moved to an interrogation chamber without being handed the standard Shabas(Israeli Prison Service) uniform. His hands were tied to the interrogation chair, and he was questioned for five days at a stretch without rest or sleep. The interrogators threatened to detain members of Karajah's family and his friends if he did not cooperate. Then, he was moved to a larger chamber and was informed that the interrogators received permission to use military interrogation tactics on him. For two whole days, Karajah was mentally and physically tortured by being harshly kicked, slapped, punched, and beaten on the outer thighs. He was also forced into many stress positions, including the banana torture position. He was sat on a stool with a blanket behind him on the ground as an interrogator sat on his legs; another pushed his body backwards, forcing his body into an arch. Maintaining this position for long periods of time caused severe pain in the abdominal muscles. Whenever Karajah collapsed due to the pain, the interrogators shouted obscenities at him calling him 'terrorist' and promising to leave him paralyzed or killed after the torture. Karajah was racked with excruciating pain from holding this position, especially in his lower back area.
The detainee was also forced into another stress position; he had to stand against a wall, and two interrogators stood on each side and pushed on his shoulders to bend his knees at a 45-degree angle. Another interrogator would stand in front of Karajah and put pressure on his knees to make sure he held the 45-degree angle. Furthermore, any time Karajah fell to the ground, the interrogators forced him upright again by digging their fingers beneath his jaw and chin to force him up. 
Moreover, Karajah had to hold a squatting position on his tiptoes with his knees bent for prolonged periods of time. His hands were forcefully lifted upwards to inflict more pain.Karajah was forced into another stress position where he was sat on a low stool with his bound hands placed on a raised table behind him. A chain connecting the cuffs on Karajah's hands was continuously pulled backwards and upwards to apply pressure on the shoulders as one interrogator pulled his arms back and another pinned his body in place.The interrogators also formed a coil from metal chains and then pushed Karajah to lie backwards on his back as the chains dug into his spine. An interrogator would sit on his chest while he was in the position to inflict severer back pains.
After the military interrogation, Karajah was questioned for an additional five days in which he was subjected to psychological torture in the form of threats ofe life sentence and promises to demolish his family's house. The interrogators forced Karajah to witness the interrogation of other detainees at Al-Moskobiyeh Detention and Interrogation Centre to break his spirit. Later, the interrogators started another round of military interrogation that lasted two days of the same tactics and stress positions. After the end of the second round, Karajah was interrogated for two more weeks where his only reprieve was two hours of sleep daily and the fleeting moments in which he was moved back to his cell for a meal.
Following these two weeks, Karajah was subjected to the third round of military interrogation and physical torture that lasted two days. After two days, he was interrogated again and then put in solitary confinement for almost 20 days before concluding his interrogation and referring his case to the military prosecution.
Just when Karajah thought his interrogation was over and that he would finally move to a prison cell, he was once again interrogated under the pretext of a different charge. Karajah spent 105 days under interrogation with 50 of these days being held in solitary confinement. After his interrogation, Karajah was transferred to Ofer Prison where he is still detained until now.
Legal Status
Right after his detainment, an order banning Karajah from meeting with his lawyer was issued and renewed around eight times. For 35 days, Karajah's lawyer was not allowed to visit him nor talk to him during the court dates where his detainment was extended. His lawyer was not also able to document the brutal torture Karajah endured during the long period of interrogation. Addameer lawyers filed two petitions to the Israeli High Court against these orders but were dismissed both times. Addameer lawyers also lodged multiple appeals against the extension of Karajah's detention, but they were all overruled except for one appeal that shortened his detention period by four days.
After the end of Karajah's preliminary interrogation period, the Israeli occupation authorities brought charges against him on 3 November 2019. His charges were later revised after he was interrogated for the second time.
Karajah's list of charges includes his affiliation with an unlawful association according to military orders, his student activism with the Progressive Student Front at Birzeit University, and a charge for "failing to prevent a crime" by not informing the occupation authorities about the intention of one of his friends to execute a military operation. 
Punishment for "Not Preventing a Crime"
The interrogation of Karajah for over 100 days punctuated by brutal physical and psychological torture for charges related to his activism on campus and for not reporting the possibility of an operation provides a clear example of the cruelty and tyranny of the Israeli occupation. Israeli interrogators often rely on the scenario of "the ticking bomb" to justify the abuse used to extract information from Palestinian detainees. However, Karajah's case refutes these claims since his interrogation was only related to past actions that had no relation to future operations. 
The charges against Karajah also indicate that the Israeli occupation authorities posit that every Palestinian is obligated to observe and analyze the intentions of his friends and acquaintances and then report back to the Israeli authorities. There is no proof that Karajah had first-hand knowledge about the alleged operation or that he had been involved in the planning. Still, he is being punished for failing to prevent a crime that he did not even know about!
Karajah's case is one of many in which the Israeli occupation authorities indicted a detainee for not reporting and preventing a military operation. Wafa Na'alwa, the mother of the martyr Ashraf Na'alwa, was sentenced to 18 months in prison. It was presumed that she knew about her son's intention to carry out an operation but did not report him to the occupation authorities. The Israeli occupation foolishly seeks to turn Palestinian people into 'informants' that report on the actions of their families and friends. A strategy that is enforced by arbitrarily punishing anyone who does not and sentencing them to years in prison.