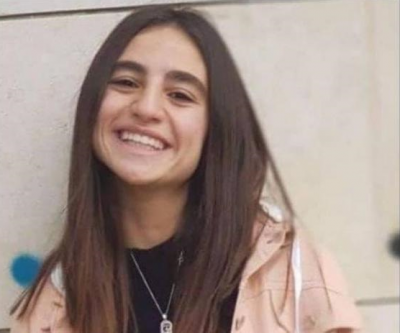 Name: Ruba Fahmy Muhammad Dar Assi
Date of Birth: 1 March 2000
Residence: Beitunya- Ramallah
Marital Status: Single
Occupation: Third-year Sociology student at Birzeit University
Date of Arrest: 9 July 2020
Prison: Damon Prison
Legal Status: Serving a 21-month sentence
Arrest and Interrogation
On 9 July 2020, Israeli Occupation Forces (IOF) stormed Ruba's house in Beituniya at 2 in the morning, wherein they began shouting at her father and demanding Ruba. IOF searched Ruba and announced her arrest without providing any reason for the arrest. Ruba was not allowed to say goodbye to her family or to wear a jacket. She was then handcuffed by iron cuffs with her hands to the front and blindfolded with a mask. Ruba was taken blindfolded and cuffed on a military jeep for a long-distance until they reached an area that she could no longer recognize. A military officer of the area tried to provoke Ruba, taunting that, "the handcuffs are big on your hands and very wide, and you are very small."
Ruba was placed in the open air until she was transferred the next morning to Ofer military camp, where she was confined to a cell that lacked basic living conditions, with no ventilation, a bed made of bricks, and roughly textured walls. 
After her interrogation, Ruba was transferred via the bosta to Hasharon Prison and Detention Center, where she was held in difficult conditions, due in part to the poor quality of the food, and the intentional delays by Israeli Prison Services (IPS) in responding to her basic requests for water and food. The cell she was held in had no ventilation or fan, and Ruba was only allowed to the yard for a period of 1-1½ hours. The yard itself was a small courtyard with a closed ceiling.
Since her arrest, Ruba underwent three COVID-19 tests, without ever knowing the results of the tests. Moreover, Ruba was forced to use the same mask since her arrest without changing, despite asking several times for a change, for which she was refused.
Ruba was interrogated about her activities with the Progressive Democratic Student Pole, her alleged participation in rallies, community campaigns, and stone-throwing. The military officer in charge of her interrogation threatened to keep her in prison until 2025.
Legal Status
Ruba's detention was extended by Ofer Military Court on 12 July 2020, until 21 July 2020 when the military prosecution submitted an indictment against Ruba that included charges relating to her student and union activism, as well as her membership in an "illegal" association under Israeli military orders (the Progressive Democratic Student Pole), and charges of throwing stones. The indictment laid against Ruba goes into minute detail on her participation in activities such as a book supplies fair, the hanging of flags and pictures of martyrs, selling books at discounted prices, along with food and drink on behalf of the "illegal" association. 
Nearly one year following her arrest, and following the postponement of her court hearings on several occasions, Ofer Military Court sentenced Ruba to a 21-month prison term, in addition to 14-months suspended over 5 years on the charge of membership in an organization deemed "illegal," and a 5-month suspended prison sentence for 5 years on the charge of attending a meeting of the "illegal" association, a 12-month suspended prison sentence for 5 years on the charge of throwing stones, along with a fine of 3,000 shekels.
Addameer's lawyers filed an appeal against the ruling, for which Ofer Military Court of Appeals issued a decision on 13 September 2021 rejecting the appeal and confirming Ruba's sentence of 21 months in prison, noting that the crimes for which she was convicted were "extremely dangerous to the security and warranted severe punishment." The appellate judge emphasized that the court of the first instance, Ofer Military Court, greatly reduced the detainee's sentence, stating that there was no room for further mitigation of the sentence. The military judge notes that despite the detainee's clean past, with the seriousness of the acts she committed, there was no room for the Court of Appeals to interfere with the ruling of the court of the first instance.
Selling Books and Stationaries...Dangerous Crimes
Israeli occupation authorities target their repressive policies against Palestinian university students by arresting them, assaulting them, and imprisoning them on charges related to their legitimate student and union activities. Such practices deprive Palestinian students of their basic rights guaranteed under international laws, charters, and conventions, most notably the right to freedom of opinion, expression, and association.
Despite the fact that student and union activity is legitimate and protected around the world, Israeli occupation authorities systematically deny Palestinian students the right to engage in such activities. Rather, they work to ban student groups working in universities, prosecute their members, and charge them with allegations relating to their work, and try them before military courts that lack any semblance of justice and even the most basic of fair trial standards.
The military judge plays a significant complementary role with the military prosecution. For it is not enough for occupation authorities to file purely union and civil charges against the students, but rather they must further emphasize the alleged "severity" of the charges that necessitate imprisonment for long months. Military judges fulfill this role by issuing long prison sentences with corresponding legal opinions for charges such as selling books and stationaries, participating in meetings, etc. The practice applied by military courts in convicting students for exercising their basic rights highlights the extent to which Israeli occupation authorities violate fundamental obligations and rights under international law. Moreover, it further signals the systematic and complementary nature of the Israeli occupation forces, military prosecution, and military judges, under the umbrella of the occupation authorities, which systematically suppress all civil acts by claiming that the seriousness of the activities impacts the security of the region.
The security-based justification serves to shift attention, deter, and eliminate any political, union, or social activity practiced by university students, amid the broader suppression of the Palestinian people, in all their different occupations, and preventing their right to self-determination and liberation from the occupation. 
Ruba's Childhood and Detention
Ruba was only a little over two years old when her family was harassed and her father, Fahmy Assi,  was arrested by the Israeli Occupation Forces. Her father, Fahmy, underwent the agony of arbitrary administrative detention for many years, and Ruba grew up at the doors of the Israeli occupation prisons waiting to visit her dad. Now, she, too, is arbitrarily detained and deprived of her basic right to complete her education, which now postpones the joy of her graduation for another two years as she continues to be imprisoned in Damon Prison.