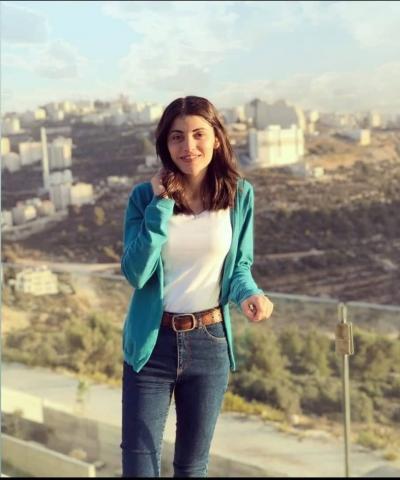 Name: Shatha Taweel
Date of Birth: 5 September 1999
Age: 22 years
Residence: Al Bireh
Marital Status: Single
Occupation: Fourth Year Birzeit University Student (Computer Science)
Date of Arrest: 2 November 2020
Prison: Damon Prison
Legal Status: Sentenced 14-months in prison
Detention and Interrogation
Israeli Occupation Forces (IOF), some of them masked, stormed Shatha's house in Al-Bireh on 2 November 2020 and, after verifying her identity, told her she was called for interrogation. Two female soldiers accompanied her to her room while she changed her clothes. A male soldier officer then came and commenced a field interrogation, telling her, "It's clear that the Pole" raised you well." The female soldiers handcuffed and masked Shatha, taking her to the military jeep, where a female soldier pushed her to enter and kept her sitting on the jeep floor for the duration of the transportation.
Shatha was taken to a place she did not recognize, where she was asked medical questions and had her temperature taken. They then arrived at another location, where she was put in a "container," blindfolded, and soldiers began shouting and singing around her while blasting songs at a loud volume. A female soldier put a mask on her eyes and kept her sitting in the yard for some time before taking her to the military jeep for transport again. Another female soldier grabbed Shatha's hair and kept moving it left and right during her transfer. According to her lawyer, Shatha felt that she'd also been photographed while her eyes were masked, against her will.
Shatha was subjected to violence and humiliation while being taken to the bathroom handcuffed, where a female soldier pushed her forward, hitting herself against the wall, as the other female soldiers laughed and mocked her, refusing to let her close the bathroom door.
In the early morning, Shatha was retaken to a dirty yard in Ofer Prison, thoroughly searched in a deserted room, and transferred to a cell in Ofer Prison. After about an hour, Shatha was transferred to interrogation, where she was interrogated about her student and union activities for about an hour before being taken back to her cell. Later, she was transferred again to interrogation, and this time a district officer interrogated her. When he did not receive the answer he was waiting for, he threatened that they would do to her what they did with her female acquaintance, relating to torture and ill-treatment of former female prisoners.
Afterward, Shatha was transferred via the 'Bosta' to Hasharon Prison, where she was isolated under 'quarantine' for 12 days, before being transferred to Damon Prison, where she remained during her detention and imprisonment period.
Legal Status
On 5 November 2020, Ofer military court ruled to extend Shatha's detention for seven days to allow the prosecution to file an indictment. On 11 November 2020, the military prosecution submitted an indictment against Shatha that included charges relating to her student and union activities. Shockingly, the indictment submitted against Shatha was identical to the indictment submitted against another detainee who is a student at the same university, charging Shatha with affiliation the same "banned" student union and holding the same positions and responsibilities as the former detainee held prior to his detention. Most notably, the indictment had the exact name of the detainee instead of Shatha's. Further, the indictment mentioned activities in which the detainee had participated in, despite Shatha denying holding the same position throughout her interrogation.
After arduous efforts by Addameer's lawyer, the military prosecution amended the indictment, which had charges that had been copied verbatim from the other detainee's indictment, and submitted an amended list of charges relating to her membership in the banned, leftist "Progressive Democratic Student Pole," her contribution to its management, as well as her attendance of meetings with the organization.
On 20 May 2021, after nearly seven months of detention and trial procedures, Ofer military court ruled that Shatha be sentenced to 14 months in prison and 12 months of suspended imprisonment for five years on the charge of membership in a "banned" organization. In addition, she was sentenced to four months of suspended imprisonment for five years and a fine of 3,000NIS on charges of attending a meeting of the "banned" organization.
The military judge justified his rule by citing Shatha's continued activity in the banned organization despite the arrest of her colleagues on similar charges, which means that Shatha is "fully aware of the seriousness of her actions" and that she continued despite knowing that her actions constitute a crime that may lead to her arrest. Addameer's lawyers appealed the decision, and the appeal was rejected on 19 July 2021, further confirming Shatha's actual sentence of 14 months of imprisonment.
Israeli occupation authorities released Shatha on 5 December 2021, following the length of her sentence.
Student Indictments Prepared by the Military Prosecution in Advance
Beyond systematically and arbitrarily prosecuting Palestinian university students for their legitimate student and union activities, Israeli occupation authorities further target them to the point of submitting indictments that are identical to those of other student detainees. Despite that Shatha continually denied the charges brought against her during interrogation, which was based on the case of another detainee, the Israeli military prosecution still prepared an indictment taken from previous indictments, contradicting reality.
Israeli occupation authorities seek to criminalize Palestinian students and imprison them for months in occupation prisons by various means and methods, even by fabricating charges and blatantly transferring them from another detainee's list. Such practices by the Israeli occupation regime exemplify gross violations of core fair trial guarantees. Notwithstanding, this occurs within a broader framework of the Israeli occupation's control and repression of the Palestinian people and preventing any action against the occupation, even if it is purely union work.
Palestinian Female and Male Students in the Face of Arrest
The Israeli occupation continues to target and prosecute Palestinian university students simply because of their engagement in student movements and other student and union activities. Further, it criminalizes any student union activity, activism, or movement work. In 2020, the Israeli military commander issued an order declaring the Progressive Democratic Student Pole, a leftist student bloc, a "terrorist organization," in flagrant violation of the right of Palestinian students to form and join associations.
According to Addameer's statistics, IOF arrested about 70 male and female university students in 2020, including six female students, nine secondary school students, and four graduate students. In the year 2021, until November 2021, IOF arrested 85 male and female students, including four female students, and arrested 13 secondary school students and four graduate students, among them two female graduate students.