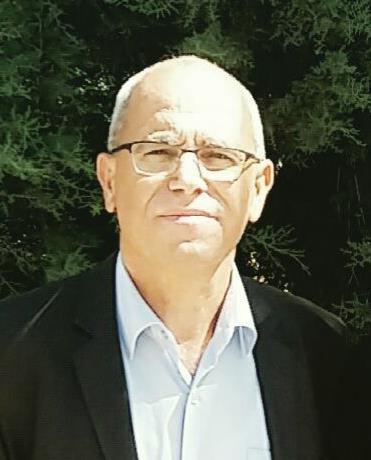 Date of Birth: 20 June 1970
Date of arrest: 9 September 2018
Residence: Saffa village (near Ramallah)
Marital Status: Married with four children 
Occupation:  Addameer's Legal Unit Coordinator
Place of detention: Ofer 
"I believe that every human being has opinions and positions and if it's not violating the law he can freely think and speak these opinions. I am a human rights defender who supports the Palestinian prisoners and I represent my opinions in the public media. My thoughts are not secret, they are public, and everyone knows them." --Ayman Nasser, addressing the Israeli court, 18 October 2012
ARREST
Ayman Nasser, the coordinator of Addameer's legal unit, was arrested by Israeli Occupation Forces from his home in the West Bank on 9 September 2018. He is currently being held without charge or trial in Ofer prison.
His wife informed Addameer that this morning, Sunday 9 September 2018, soldiers broke into the house at 2:00 am. They woke up Aymen's children and kept the entire family in the living room while they were searching the house. There were around ten soldiers inside the house and tens of soldiers outside the house.
Ayman's wife added, "they took all of our IDs and phones, and then they returned all of them but Ayman's. They also took Aymen and our two boys Ameen (20 years old) and Naji (18 years old) outside for interrogation. After half an hour, they allowed Ayman to say goodbye to us and to take his medication and they all left with him."
On Sunday, 16 Sep 2018, the Israeli military commander of the West Bank issued a 6-month administrative detention order against Ayman. This order will finish on 8 March 2019 but can be indefinitely renewed. 
PREVIOUS ARRESTS
Ayman was arrested on 18 September 2014 from his home in the village of Saffa near Ramallah and was placed under a three months administrative detention by means of a military order from the Israeli occupation that was renewed three times. Thus, he was released on 13 September 2015.
Ayman was arrested in 2012, it happened at 1:00 am on 15 October 2012 a large number of Israeli Occupying Forces (IOF) raided Ayman's home in the village of Saffa, near Ramallah. The raid lasted about 1.5 hours, during which time IOF used sniffer dogs to search each room in the house and confiscated Ayman's computer and mobile phone.
He was subjected to a brutal interrogation at Maskobiyeh interrogation center for 39 days during which he was during which he was subjected to lengthy sessions of intensive and harsh interrogation while being shackled to a chair with his hands behind his back. After the lengthy and brutal interrogation, Nasser was sentenced to 13 months in prison and received a 15-month suspended sentence for four years and was further fined 4000 NIS (1020 USD). He was finally released on 21/10/2013 and was rearrested last year. 
In addition to those two previous arrests, Ayman has previously spent six years in Israeli prison. He was arrested in 1992 and eventually released on 27 October 1997.
AYMAN'S EDUCATIONAL AND PROFESSIONAL BACKGROUND
At the time of Ayman's imprisonment in 1992, he had earned his high school certificate. Then, upon his release, he completed his BA in Social Work. In 2010, he also earned his Master's degree in Social Educational Psychology from al-Quds University.
Since 2008 Ayman was working with Addameer as a researcher in its documentation unit and has represented Addameer in many local human rights coalitions, including the Coalition against Torture and the Coalition against the Death Penalty. In 2015 Ayman became Addameer's legal unit coordinator.
He is also the Chairperson and one of the founders of the Handala Center in Saffa which was established 1999. The Handala Center is an educational, artistic and sports center that is based on the principle of voluntary work and serves all the residents of Saffa.
HEALTH CONDITION
Ayman suffers from a number of health issues including inflammation in his colon and back pain. Prior to his arrest he was receiving medical treatment by specialized doctors and is in constant need of medical attention.  
FAMILY
Ayman has been married to his wife Haleema for over 25 years. They have four children together, Ameen (20), Naji (18), Nadeem (15) and Mohammad (10). According to Ayman's wife Haleema, their children are "looking forward to seeing their father, a father who taught them the meaning of freedom and loving life."
Ayman is an extremely well-educated man, who is an avid reader with extensive knowledge about the cultural, social and political aspects of life. 
***
"Human rights defenders" are formally defined as persons who work peacefully for any or all of the rights enshrined in the Universal Declaration of Human Rights. Ayman clearly falls into the category, in that his activities are peaceful in nature and aimed at the promotion of human rights.
Addameer views Ayman's imprisonment as a deliberate violation of his fundamental freedoms and special protections provided under international law for human rights defenders, particularly freedoms of movement, expression, association, and peaceful assembly. 
Addameer condemns the Israeli occupation forces for arresting its legal coordinator multiple times over the past few years. This re-arrest of Ayman is a clear example of the occupation's policy of systematically targeting human rights defenders.
 ***
ACT NOW!
*Write to your own elected representatives urging them to pressure Israel to release Ayman Nasser.