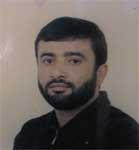 Date of birth: 20 September 1967
Place of residence: Dura village, south of Hebron.
Occupation: Nurse and ambulance officer. Ayed has been the deputy director of the Hebron Palestinian Red Crescent Society's ambulance and emergency services since 1989.
Marital status: Married and father of six
Place of detention: Ketziot Prison
Postal address: Ketziot Prison, P.O. Box 13, Postal Code: 84102, Israel
Follow Ayed's detention on
Ayed's mother died on 27 December 2010, months after being diagnosed with an aggressive malignant tumor. Despite medical documentation showing the severity of her condition, Ayed was repeatedly denied permission to visit his mother. After her death, he was also denied permission to attend her funeral.