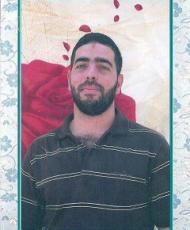 Name
: Ayman Issa Mohammad Hamdan
Date of Birth
: 27 March 1983
Date of Arrest
: 21 August 2012
Type of Detention
: Administrative Detention
Residence
: Shawawra, Bethlehem
Marital Status
: Married with 2 children
Education
: Student at Bethlehem University, unable to complete education due to frequent arrest.
Ayman's administrative detention order was renewed on 20 February 2013 for 6 months. This is the second extension since his arrest. He is currently on hunger strike as of 28 April 2013, in protest of his arbitrary arrest and detention.  
Arrest and Administrative Detention
On 12 August 2012, a large convoy of Israeli Occupying Forces besieged Ayman's home in the early hours of the morning and immediately arrested him without entering his house. He was taken to Ofer Prison and issued a six month administrative detention order two days later.
Ayman has been previously arrested several times. He was on administrative detention from 5 July 2002 until 20 August 2003. On 24 April 2004, he was arrested and sentenced to 30 months, and immediately after finishing his sentence, he was put on administrative detention for 11 months. Upon his release he had served 41 months in prison. He was again arrested on 9 April 2008 and sentenced to 33 months, the main charges revolving around his student activism at Bethlehem University. 
Ayman announced a hunger strike on 28 April 2013 in protest of his administrative detention. Since, the Israel Prison Service (IPS) has transferred him to several prisons, including Ramleh and Megiddo, as a punitive measure to pressure him to end his hunger strike. He has since been transferred back to Ofer.
Ayman is from the village of Shawawra near Bethlehem. He is married with two children, Issa (4 years old) and Mohammad (1 year old). He has seven brothers and five sisters. All seven of his brothers have been arrested and detained, and usually given administrative detention orders. Currently, two of his brothers are imprisoned by Israel. Ahmad was arrested on 5 May 2010 and has been in administrative detention for three years. He is currently held in Ofer. Mohammad was arrested in 2008 and is currently serving a six year sentence in Ramoun Prison.
All three of the brothers are currently denied family visits for "security reasons." His wife has only been allowed a permit to visit her husband once every six months.
Ayman's elderly father passed away on 24 April 2013. Despite his old age and failing health, he was only able to obtain visiting permits once every six months. According to the family, the prison administration did not allow the brothers to call the family to send their condolences after the death of their father.
Here is how you can help Ayman Hamdan.
Send Ayman letters of support to his postal address in prison:
Ofer Prison, P.O. Box 3007, via Israel
Write to the Israeli government, military and legal authorities and demand that Ayman Hamdan be released immediately.
Brigadier General Danny Efroni
Military Judge Advocate General
6 David Elazar Street
Harkiya, Tel Aviv
Israel

Deputy Prime Minister and Minister of Defense Ehud Barak
Ministry of Defense
37 Kaplan Street, Hakirya
Tel Aviv 61909, Israel
Fax: +972 3 691 6940 / 696 2757

 

Maj. Gen. Nitzan Alon
OC Central Command Nehemia Base, Central Command
Neveh Yaacov, Jerusalam
Fax: +972 2 530 5741

 

Col. Eli Bar On
Legal Advisor of Judea and Samaria PO Box 5
Beth El 90631
Fax: +972 2 9977326

 
Write to your own elected representative urging them to pressure Israel to release Ayman Hamdan.