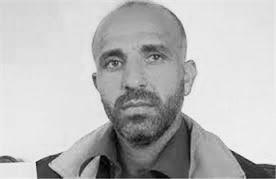 Name: Ayman Sharawna
Place of Residence: Dura al Khalil
Date of birth: 4/24/1976
Date of arrest: 31/1/2012
Place of detention: Ramleh Prison Hospital
Marital Status: Married with 9 children
UPDATE 13 June 2013 - Ayman's 8-month hunger strike ended on 17 March 2013 after a deal was struck in which Israel would deport him to Gaza for a term of 10 years. 
THE ARREST
At 2 am on the 31 January 2012, the IOF barged into Ayman's house and conducted a search, in which they destroyed many of his possessions for three hours before arresting him. The IOF also confiscated his personal paperwork and documents related to his prior release and his personal computer that his children use for school. Ayman was transferred from Etzion Detention Center to Ofer Prison before being detained in Ramon Prison in the South.
PREVIOUS ARRESTS
Ayman served ten years in the Occupation's prisons, before he was released in a prisoner exchange deal on 18 October 2011, in which 477 prisoners were released in exchange for the release of IOF soldier Gilad Shalit, who was captured by Palestinian resistance factions in 2006. Most of released prisoners had been convicted with long sentences.  
Ayman was previously arrested on 5 October 2002 and sentenced to 38 years. He was given a conditional release in the prisoner exchange deal; he was strictly prohibited from leaving the Hebron district, where he resides and required to attend a session with Occupation's intelligence every 2 months.  Ayman signed the provisions of his conditional release and adhered to them for the entire duration of his release until his re-arrest.
The occupation disregarded the signed agreement with the recently freed prisoners, and thus, on 31 January 2012, Ayman was again arrested without charge or trial, based on a "secret administrative file"  which states that he breached the terms of the exchange deal. Ayman and his lawyer were not allowed to access this secret administrative file or know the nature of his breaching of the contract.
The military prosecution in Ofer Courts demanded  that Ayman Sharawna  finish the remaining 28 years of his previous sentence due to the alleged violations of his conditional release. Ayman's defense does not have access to any of the evidence used against him, including his paperwork that was confiscated during his arrest. The military prosecution delays any proceedings in the defense's attempts to obtain these imperative documents.
HUNGER STRIKE
In response to the arrest and retrial without any legal justification, Ayman announced an open hunger strike on 1 July 2012, demanding his immediate release. Immediately, the Occupation's prison administration placed him in solitary confinement in Ramon prison, isolating him from the outside world. After one month on hunger strike, Ayman was transferred to Ramleh Prison Hospital due to the rapid deterioration of his health. From the beginning of his arrest he suffered from pain in his back and legs, and as a result of the hunger strike, he now suffers from kidney problems.
During Ayman's hunger strike, court hearings are still proceeding, but the prosecution has yet to disclose any of the charges against him, and sometimes deny family attendance by claiming that it is a closed and secret session.
AYMAN'S FAMILY
Ayman is married with 9 children, and during his nearly 10 year imprisonment, he was denied visits from his family, due to the Occupation's refusal to issue them permits to visit him.