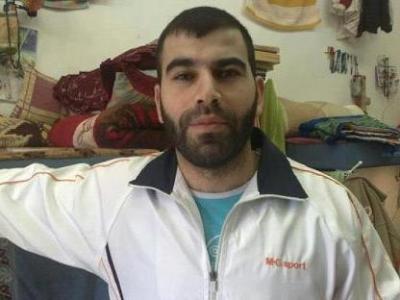 Click here for a PDF of Ayman's Profile. 
Name: Ayman Yousef Ahmad Abu Daoud
Residence: Wadi Al Hirya/Hebron
Date of Re-arrest: 13 February 2012
Date of birth: 10 January 1982
Prison: Isolation in Jalameh (Kishon) Prison
Age: 32 years old
Marital status: Married
Education: Student at Al Quds Open University
Profession: Shoemaker 
UPDATE 28 May 2013 – Ayman ended his hunger strike on 23 May 2013 after 40 days. His lawyer struck a deal with the IPS for him to be deported to Gaza for ten years in exchange for an end to his hunger strike. The deportation will be enforced three months after the signing of the deal.
Release in Prisoner Exchange and Re-Arrest
Ayman Abu Daoud was released in the prisoners exchange deal on 18 October 2011 after serving 7 years out of a 35 year sentence. A condition of his release is that he visit the Israeli-Palestinian Authority military Coordination Office (DCO) in Hebron every two months and "sign-in" as proof of his residency in Hebron, where he resides with his wife and children.
On 13 February 2012, 4 months after their release, Ayman and several ex-prisoners presented at the DCO to sign their names. Ayman entered the DCO and never came out.
At 2:30 PM, within an hour of Ayman's fateful DCO visit, the Abu Daoud family and their neighbors were surprised to find a large convoy of the Israeli Occupying Forces' (IOF) soldiers entering the neighborhood by foot and jeep to raid Ayman's home. During the raid, the IOF blindfolded and shackled Ayman's brother Ahmad, and forced him against a wall. Then, Ayman's family and their visitors were corralled into one room as the soldiers searched and ransacked the home. The family later learned that they were searching for any cash stored in the home. During the raid, the IOF confiscated more than 20,000 NIS. The officer in charge of the raid then confirmed to the family that Ayman was arrested at the DCO during his routine two-month appointment, based on the claim that he violated the terms of his release.
The raid was conducted in broad daylight in front of a number of children, including Ayman's, who still remember the minute details to this moment.
Interrogation and Charges
After his arrest at the DCO, Ayman was transferred to Jalameh/Kishon Interrogation Center and was interrogated while being denied lawyer and family visits for the first ten days of his interrogation. After 15-17 days of interrogation, Ayman was formally charged with distributing financial allocations to persons affiliated with a political party. Due to his status as an ex-prisoner released in a prisoner exchange, Ayman is subject to Article 186 of Military Order 1651, which allows for the military prosecution at Ofer Military Court to demand that he stand in front of a special committee who determines if he should serve the remainder of his previous sentence. Due to this law, Ayman faces a 28 year sentence based on his old charges.
Ayman Abu Daoud launched a hunger strike on 14 April 2013 in protest of his arbitrary re-arrest especially as he did not violate the terms of the agreement as claimed by the military prosecution. Furthermore, he is on hunger strike in protest of the prosecution's attempt to sentence him to the remainder of his previous sentence instead of trying and sentencing him based on the new list of charges and not the old ones.  
Upon launching his strike, Ayman was transferred from Megiddo Prison to isolation in Jalameh as a punishment. Ayman announced that he will continue his hunger strike until he is released.
Family
While Ayman was detained in Megiddo prison, he was visited by his father and mother regularly. However, his wife has only been allowed two visits. She last tried to visit him in April 2012 and was later banned by the IOF for "security reasons." Ayman is no longer allowed family visits since he started his hunger strike and was transferred to Jalameh Prison and put in isolation.
Ayman lives in Hebron, near his father, mother and six brother and four sisters. Ayman is married with two children, Mohammad and Qutaiba. Ayman has not suffered from any previous health conditions, although it is expected that his health will deteriorate during his hunger strike.
He is the brother of Raed Abu Daoud, a martyr of the second Intifada. Ayman's older brother Mahmoud is also detained in Israeli jails. He has been arrested three times, most recently on 2 September 2012. Mahmoud is is detained in Nafha during his latest 34 month sentence.