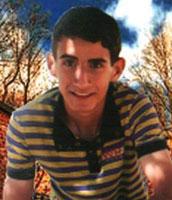 "On the way [to the detention center] the soldiers started beating me with a stick. They tightened the iron cuffs around my hands which caused me great pain. They also burnt my hands with cigarettes". - Emad Al-Ashhab
Date of birth: 2 January 1993
Age at arrest: 17
Place of residency: Hebron
Date of arrest: 21 February 2010
Date of release: 3 February 2011
Place of detention: Ofer Prison, section 13
Number of administrative detention orders: Four
Charges: None - Administrative Detention 
Total number of days spent in detention without charge or trial: 347
ARREST AND INTERROGATION
On 2 February 2011 Emad Al-Ashhab was released from Ofer Prison after spending 347 days without trial or charge in Israeli prisons and detention centers.
Emad was arrested when he left his family home in Hebron in the early hours of 21 February 2010 to accompany his father to Al Khan Al-Ahmar, a Bedouin area between the Israeli settlements of Maale Adoumim and Kfar Adumim. Emad had been regularly helping his father who works at an Israeli printing house after he dropped out of school a year and a half prior to his arrest.
At approximately 9:30 a.m. the bus carrying Emad and his father reached the Container Checkpoint located on the Wadi Nar road between Bethlehem and Ramallah. The Israeli soldiers manning the checkpoint were stopping every car that morning, checking everyone's identity cards and searching cars.
Eventually, the soldiers stopped Emad's bus. They asked to see all passengers' identity cards. After a few minutes they asked Emad to get off the bus and without providing any explanation, they took him to a provisional detention room located at the checkpoint. Emad's father waited three hours without being informed of the reasons for his son's detention. Each time he made an attempt to inquire about his son's well-being, the soldiers ignored his questions. Eventually, at approximately 12:30 p.m., Emad's father decided to leave the Container Checkpoint and continue towards his work to alert a human rights lawyer of his son's arrest.
Emad was kept, without food or water, in the provisional detention room at the Container Checkpoint until 1:00 p.m. During this time, he was not allowed to use the bathroom once. He was told to wait in a chair with both his feet and hands shackled. At 1:00 p.m., Emad was transferred to a different location but was not informed where. In an affidavit given to Addameer attorney Anan Odeh, Emad reported that during the transfer to the undisclosed location the Israeli soldiers covered his face with a woolen bag and beat him with a stick all over his body while both his hands and feet remained shackled. The soldiers also burnt his hand with cigarettes while they tightened the shackles around his wrists. From the first undisclosed location, Emad was then transferred to a second detention center, but again was not informed of its name or location. Later that evening Emad was transferred for a third time, and at approximately 7:00 p.m., he arrived in Etzion Detention and Interrogation Center near Bethlehem. At this point, he was allowed to use the bathroom for the first time all day.
Emad was held at Etzion for five days; during this period he was also taken to Ofer Military Base near Ramallah for interrogation sessions. Officers from the Israeli Security Agency (ISA) questioned him during these sessions about his political affiliations, but Emad denied all of the interrogators' suspicions. Under the Israeli military orders that govern the occupied Palestinian territory (OPT), membership in an organization - be it a political party or a charitable organization - that is declared illegal by the Israeli military commander is considered an offense and is classified as a "hostile terrorist activity".
At no point during the interrogation process was Emad accompanied by either his legal counsel or a parent, a right which the Israeli authorities routinely deny to Palestinian children arrested under the military regulations. On the fifth day of his interrogation, Emad was handed his first administrative detention order, informing him that he would be held without charge or trial.
Number of order renewals: Four
Emad's first administrative detention order was set for a six month period. At the judicial review of the order, the judge of the Military Court of Administrative Detainees in Ofer Military Base confirmed the order as drafted. Emad's legal counsel, Advocate Anwar Abu Amer, appealed the judge's decision. The administrative detention order was then shortened to two and a half months at the appeal hearing. However, on 6 May 2010, the expiration day of the first order, Emad's administrative detention was renewed for a further six months. At the judicial review hearing for the second order, it was shortened to a three month period ending on 4 August 2010. Adv. Abu Amer subsequently filed a second appeal, but it was denied. A few days before the expiry of the second order, Emad's administrative detention was renewed again. During the judicial review of the order on 4 August, the military judge confirmed Emad's administrative detention for a period of three months, setting his possible release for 3 November 2010. The order was then renewed for the fourth time which was set to expire on 4 February 2011. Finally, Emad was released from administrative detention on 3 February 2011.
DETENTION CONDITIONS & HEALTH CONCERNS
Emad suffers from Erb's Palsy, a partial paralysis of the arm caused by injury to the arm's main nerves following a shoulder dislocation at childbirth that requires ongoing rehabilitative therapy. When he was younger, Emad followed the therapy at a hospital, but, over time, his mother took over these responsibilities and even undertook special training in order to be able to massage his arm whenever necessary. This sort of specialized physiotherapy was not available at the prison's clinic and Emad suffered from pain in his arm as a result of his lack of treatment.
There is no special section for child detainees at Ofer Prison. Neither is there a special section for administrative detainees, who according to both international and Israeli law should be held separately from convicted prisoners. During his incarceration Emad was held in section 13 at Ofer and shared a room with both adult detainees who are awaiting transfer to their detention facility and convicted prisoners.
During the first three months following Emad's arrest, he did not receive a single visit from a family member. This situation is not unusual, given that Israeli authorities seek to isolate prisoners during the initial period of detention and, for this reason, typically do not issue visit permits. As the use of telephones is also not permitted for Palestinian "security" detainees, Emad had virtually no contact with the outside world apart from meetings with his attorney.
After his initial three months in detention, Emad has been able to see his father, 52, and mother, 44, only twice as family visits at Ofer prison are allowed only once a month. By comparison, the other Israeli prisons holding Palestinian detainees permit family members to visit every two weeks. During the last visit, which took place in July, Emad was also able to see his youngest brother, Ahmad, aged 10.
Administrative detention is a procedure that allows the Israeli military to hold detainees indefinitely on secret evidence without charging them or allowing them to stand trial. In the occupied Palestinian West Bank, the Israeli army is authorized to issue administrative detention orders against Palestinian civilians on the basis of Military Order 1591. This order empowers military commanders to detain an individual for up to six months renewable periods if they have "reasonable grounds to presume that the security of the area or public security require the detention." On or just before the expiry date, the detention order is frequently renewed. This process can be continued indefinitely.