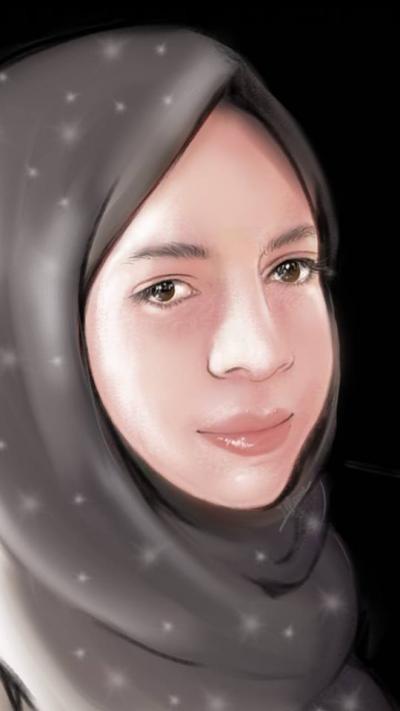 Name: Fida' Mohammad Yousef Da'mas
Date of Birth: 15/9/1994
Age: 24 years
Address: Beit Ummar/ Hebron
Social Status: Single
Career: a 3rd year student of accounting at Al-Quds Open University.
Date of Arrest: 29.5.2018
Prison: Al-Damoun Prison
Legal Status: Administrative Detention for 6 months
Current Arrest:
The Israeli occupation forces invaded Fida's house in Beit Ummar – Hebron on 29.5.2018 at around 5 AM. The occupation forces asked for her family members to be kept inside their own rooms. As Fida' mentioned to Addameer's lawyer, two female soldiers came into her room with the intention of strip-searching her, she refused, they pushed her against the wall forcefully and attacked her with their rifles on their left shoulder, this left her with grave pain. She immediately informed the officer of her refusal for get strip searched and after an argument he agreed on searching her with her cloths on. He then asked her to prepare herself for some questioning so she can be then released. They took Fida' to a military vehicle without informing her or her family after handcuffing her with plastic cuffs and blindfolding her. They also pushed her forcefully and she hit the bottom of the military vehicle.
Interrogation:
Fida' was taken to "Azion" detention center near Hebron, she was taken out of the military vehicle into the clinic where her blood pressure was taken and some routine questions were asked. They then put her in a room while still handcuffed and blindfolded for around four hours with soldiers present in the room trying to bother her by putting on very loud music and singing along to it. As Fida' mentioned to Addameer's lawyer, they only allowed her to use the restroom while handcuffed to the front by metal handcuffs even though she insisted on them being removed. She received the order for being transferred to the Ofer prison after she was thoroughly searched. She was transferred by Bosta[1] and then put in a metal barrack that had a small window and a metal seat, she was there for two hours before the beginning of the interrogation process. She was in one interrogation session for 7 hours with a break during lunch time. She was threatened, terrorized and cursed throughout the session which focused on personal Facebook posts of hers. After the interrogation session was over that day, she was transferred to the women's section at Hasharon prison.
Legal Status:
An indictment charge was issued against Fida' approximately a week after her arrest, it contained an article on social media, specifically Facebook. The military prosecution claimed that Fida' had an "extremist" Facebook account and that she shares material that encourages terrorism and violence. Her trials and questioning revolved around her written posts and images that she shared which the military prosecution considered to prove Fida's approval of the resistance forces and her appreciation for martyrs. The indictment also contained details of the amounts of "likes" and "shares" the posts had.
The military court sentenced Fida' to 95 days of actual imprisonment and 7 months with suspension of execution for 4 years after her release. The court said that the sentence came after examination of the military prosecution's and Fida's lawyer's claims and decided that the incitement it claimed was the minimal amount of incitement they recognized. They then said that this sentence does not have anything to do with the possibility of issuing an order for administrative detention against Fida' later on, which actually happened! This shows how the occupation's military prosecution deals with incitement charges, it is not satisfied by the sanctions that the court issues, it also uses administrative detention as an additional way of punishment. This practically is a misuse of administrative detention procedures, and a contradiction to the international humanitarian law.
Previous Arrest:
It is worth mentioning that Fida' was previously arrested on 28.1.2015 where she was arrested while walking near the settlement of "Azion". Occupation forces claimed she was carrying a knife. She was transported to the "Azion" detention center where she was interrogated in harsh conditions. She was threatened by telling her they were going to harm her brother who was arrested on the same day, which caused her psychological stress. After the interrogation was over, she was transported to the Hasharon prison, and the military court sentenced her to 6 months for carrying a knife.
Administrative Detention… on release day:
After the endpoint of her sentence, on the day scheduled for the release of Fida' 16/8/2018, the so-called military commander of the West Bank issued an administrative detention order for 6 months against her. During the confirmation session, the military judge confirmed that there were suspicions of Fida' managing an "extremist" Facebook page inciting violence. He claimed that the material given to him by the intelligence agency is wider than just posting said material, and that the information was confidential, meaning the lawyer will not be able to see it. The judge concluded that Fida' was previously arrested for possession of a knife and gave her a 6-month sentence. All this is said to indicate a risk in her release. They also said that the administrative detention period would be suitable and appropriate to reduce the danger and risk in releasing her. She is supposed to be released on 15/2/2019.
The defense lawyer appealed the decision to put her under administrative detention, but the judge rejected the appeal and claimed that the administrative detention decision depends on the seriousness of the detainee, and in the case of Fida' the danger is not in her incitement but in the reasons for her previous arrest which indicates current danger since her previous arrest did not deter her from remaining dangerous. The military judge also confirmed that her continued detention is being studied by the military commander, who determines the total period of detention. Fida's administrative detention is supposed to end on 15/2/2019 but this does not mean that she will be released on that day, as the administrative detention order can be renewed for an indefinite period.
Recently, before the end of Fida's first administrative detention sentenceon 11/2/2019, the occupation authorities renewed her sentence for four more months.
Freedom of opinion and expression… from a basic right to a charge
The occupation systematically, and through its military laws, seeks restricting the basic rights, even the ones insured under international covenants and conventions signed by the occupation state, of Palestinians in various ways. In the case of Fida', the occupation authorities have violated the right to freedom of opinion and expression. International conventions have guaranteed freedom of opinion and expression since the Universal Declaration of Human Rights and are enshrined in the International Covenant on Civil and Political Rights according to article 19 "everyone has the right to freedom of expression. This right includes freedom to seek, receive and impart information and ideas of any kind, regardless of frontiers, whether in written, printed, artistic, or other form."
The occupation authorities continue to try Palestinians on  charges of incitement according to military laws that do not conform in any way to their international obligations regarding the right to freedom of opinion and expression. The military prosecution of the occupation bases its decisions against Palestinians on the pretext of incitement in the West Bank using articles 251 and 199 of the Military Order for Security Regulations (Consolidated Version) "Judea and Samaria" No. 1651 of 2009.[2]
It appears that the right to freedom of opinion and expression in any form is prohibited and that the performer is subject to long-term arrest and detention.
Administrative detention… a punishment for the second time around
The principle that no one may be tried twice for the same act is a well-established principle of international criminal law and is a fundamental guarantee of fair trials, but it is not surprising that the occupation authorities violate the basic principles that have been established in most legal systems or in international conventions. Article 14 of the International Covenant on Civil and Political Rights states that "no one shall be subjected again to trial or punishment for an offence for which he has already been convicted or acquitted by a final judgement in accordance with the law and criminal procedure of each country." What happened with Fida' highlights the extent of the violation of the occupation of the various bases of basic principles adopted when the occupation state signed the International Covenant on Civil and Political Rights, where not only the military prosecution of the verdict issued against Fida', although it was the result of the deal with them, but confirmed however, this provision does not preclude the issuance of an administrative detention order against her. This indicates the existence of a secret file explaining the dissatisfaction of the judicial system with the period in which Fida' was imprisoned for and that the use of administrative detention is a means used by the occupation authorities to retaliate against the prisoner because of the military judge's doubt that these intentions constitutes a danger which necessitates keeping him in captivity.
The Fourth Geneva Convention and other international standards for fair trial procedures have emphasized the prohibition of the use of administrative detention as an alternative to trial, which emphasizes that administrative detention as used by the occupation is arbitrary and contrary to international laws and norms. Article 6 of Article 8 (2) of the Rome Statute describes war crimes as "intentionally depriving any prisoner of war or any other protected person of his or her right to be tried a fair and regular trial."
---
[1] Military car used for transferring prisoners.
[2] Under "incitement", the above articles detail the acts that condemn Palestinians as "instigators", which are summarized as follows:
He tried either to speak, or by any other act, to influence public opinion in the region, in a way that would harm public safety.
Has published publications in support, praise or sympathy for an enemy organization, by its acts or objectives.
Detect or publicize the identity of a hostile organization, through his actions, objectives or sympathy.
Declaring flags, displaying a symbol or symbols, playing or listening to related songs or a similar act, and clearly showing sympathy and public pride.