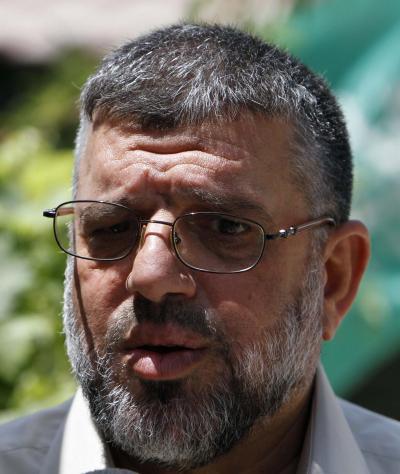 Last Arrest:
In the early hours of 13 December 2017, Israeli occupation forces raided the house of PLC Member Hassan Yousef in Betunia with the intent of detaining him. Shortly after his arrest, he was handed down an administrative detention order for six months which ends in June 2018. He had been free for a little over three months before he was re-arrested.
Previous Arrests / Administrative Detention:
PLC member Hassan Yousef has been a target of Israeli occupation forces since 1971 due to his community work, political engagement and organizing. The first time Hassan Yousef was detained was in 1971 when he was 16 years old. He had become a leader at a mosque in Ramallah the year prior to his initial detainment. Following this engagement with occupation forces, Hassan would be arrested more than ten times.
His next major arrest came in the early 1990s as a result of Yousef's political activity and affiliation to Hamas political party. This period of arrest culminated in his exile to Marej al-Zuhur, Lebanon for the year of 1992. In 2005, he was arrested and sentenced to 6 years in the occupation jails. Despite this fact, he participated in the Legislative Council elections in 2006 and won a seat as a representative for Ramallah and Al Bireh. Hassan participated in the elections as part of the Change and Reform Bloc which the Israeli authorities argued was affiliated to Hamas and was illegal according to military orders.
After Hassan finished his 6 years sentence, he became a target of the Israeli policy of administrative detention. Shortly after Hassan Yousef's release in 2011, he was given an administrative detention order which continuously got renewed for around two and a half years. After his release, Hassan was again detained in June 2014 and spent an additional year under administrative detention.
In October 2015, he was again handed down an administrative detention order from which he was only released on 31 August 2017. This order was renewed a total of 6 times. All of the time he spent in prison following 2011 was without charge or trial.
Thus, since 2005 and in the past 13 years, PLC member Hassan Yousef spent around 11 years in detention.
Health condition:
Hassan has several chronic diseases, including high blood pressure and diabetes. Being detained for over 20 years has taken its toll on Yousef's health, especially since  Israeli detention centers do not meet the relevant medical standards for people with such chronic illnesses. Additionally, in the past few years, Hassan Yousef has been suffering from vertigo with the cause being unknown despite the fact that a number of medical tests have been taken.
Legal Analysis:
In the occupied Palestinian West Bank, the Israeli army is authorized to issue administrative detention orders against Palestinian civilians on the basis of Military Order 1651. This order empowers military commanders to detain an individual for renewable periods of up to six months if they have "reasonable grounds to presume that the security of the area or public security requires the detention." The order must be reviewed before a court, whether it is a civil or a military court is determined by the individual's residency status as a Jerusalemite or a West Bank ID holder.  On, or just before the expiry date, the detention order is frequently renewed. This process can be continued indefinitely.
This practice of arbitrary detention is a grave violation of international laws and human rights standards, particularly articles 78 and 72 of the Fourth Geneva Convention, which states that an accused individual has the right to defend him/herself. This also violates Article 66 of the Fourth Geneva Convention and the basic standards of fair trial. 
Addameer believes Hassan Yousef's detention violates international fair trial standards since administrative detention orders are based on secret information. As a result, Yousef's legal representatives are unable to mount a genuine defense due to the fact that they are not aware of the details of the allegations against him that amount to his being a 'security threat'.
PLC member Hassan Yousef has been subject to a concerted campaign against him. After only four months following his release from prison, and his serving of two years under administrative detention,   he has been rearrested for a period of at least six months. Out of the approximately 20 years that he has served in prison, two-thirds of that time has been without charge or trial.
Family:
Hassan Yousef is married to Sabha Dar Khalil and has 3 daughter and 5 sons. Most of his children are married with only one of his sons still living with him and studying.
Palestinian Legislative Council members:
Despite the fact that, according to international law and Israeli courts, no one can be detained for their political opinions, Palestinian political leaders are routinely arrested and detained as part of an ongoing Israeli effort to suppress the Palestinian political processes – and, as a result, Palestinian political sovereignty and self-determination. In the lead-up to the Palestinian legislative elections of January 2006, this process focused particularly on members of the Palestinian Legislative Council (PLC). 
During the second half of 2015, the number of Legislative Council members in detention decreased to 5. However, this number increased to reach 10 members by the end of December 2017. Currently, there are 12 detained PLC members, the majority of them are under administrative detention.
The Israeli occupation forces have continued their persecution of Palestinian Legislative Council members since 2006, and arbitrarily incarcerate them following military trials, which lack fair trial standards, or after the issuance of administrative detention orders. It has also prevented a number of Legislative Council members from traveling outside of the occupied Palestinian territory. The Israeli occupation forces also revoked the residencies of Jerusalemite Legislative Council members, and forcibly deported them to the remainder of the West Bank, depriving them of access to Jerusalem.