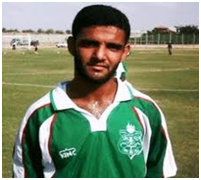 Date of Birth: 20 January 1987
Place of residence: Rafah Refugee Camp, Gaza
Occupation: University student and member of the Palestinian national football team
Date of arrest: 22 July 2009
Place of detention: Ramleh prison medical center
Date of release: 10 July 2012
Click
here
 to view this profile as a PDF.
On 18 June 2012, Mahmoud Sarsak ended his 92-day hunger strike upon reaching an agreement that he would be released on 10 July.
ARREST
Mahmoud Sarsak was arrested on 22 July 2009 by Israeli Occupying Forces (IOF) at Erez checkpoint while attempting to cross to the West Bank from Gaza in order to participate in a football match in Balata refugee camp. Mahmoud, who was 22 years old at the time, was a member of the Palestinian national football team and had obtained permission to travel through Erez checkpoint and enter the West Bank.
Following his arrest, Mahmoud was transferred to interrogation at Ashkelon. He was held in interrogation for a total of thirty days, during which he was questioned about alleged affiliation to the Islamic Jihad political party. No evidence was provided to elucidate these claims and Mahmoud rejects the allegations.
"According to his lawyer, during interrogation Mahmoud Sarsak was tied to a chair and kept sitting for long hours at a time in a stress position with his arms tied behind his back and to a pole in the floor—a practice known as shabeh. Mahmoud Sarsak's family were not notified of their son's arrest and whereabouts until two days after his arrest. […] Upon learning of his arrest, the family appointed a lawyer who was unable to see Mahmoud Sarsak for the first ten days because the Israeli Security Agency prevented him from doing so."
UNLAWFUL COMBATANTS LAW AND HUNGER STRIKE
On 23 August 2009, Mahmoud was given a detention order under Israel's "Unlawful Combatants Law." This law allows for Palestinians from the Gaza Strip to be detained for an unlimited amount of time without being charged or brought to trial. Under this law, detainees are issued a permanent detention order and are then brought before an Israeli District Court only once every six months for judicial review of their order. In practice, the Unlawful Combatants Law contains fewer protections for detainees than even the few that are granted under administrative detention orders in the West Bank. 
As per customary Israeli practice, Mahmoud would have obtained security-clearance from Israeli authorities prior to being granted permission to cross the Erez checkpoint. This raises serious questions about the validity of the alleged concern on the part of Israeli authorities that justifies his detention under the Unlawful Combatant Law. As in the case of administrative detainees, Mahmoud's detention is based on secret information collected by Israeli authorities and not available to Mahmoud or his lawyer. This practice violates international humanitarian law, which permits some limited use of internment in emergency situations, but requires that the authorities follow basic rules for detention, including a fair hearing at which the detainee can challenge the reasons for his or her detention. These minimum rules of due process have been clearly violated in Mahmoud's case, leaving him without any legitimate means to defend himself.
After nearly three years of detention without charge or trial, and as part of a growing movement among Palestinian political prisoners, Mahmoud launched a hunger strike on 19 March in protest against the latest extension of his detention. After launching his hunger strike, he was transferred to Ohalei Keidar prison on 8 April. He was then held in solitary confinement at Eshel prison until his transfer to Ramleh prison medical center on 16 April as a result of his deteriorating health.
At one point during his hunger strike, Mahmoud was promised that his detention would not be extended and he would be released on 1 July if he agreed to end his hunger strike. Since he insisted to have the agreement in writing, the offer was withdrawn. Mahmoud refused an Israeli proposal to deport him to Norway for three months and then return. He was not included in the final agreement that ended Palestinian prisoners' mass hunger strike on 14 May, either in its written or oral form. When he inquired as to the date of his release, Mahmoud was told that it will only be considered at the next date of judicial review for his detention, on 22 August.
During a visit with Addameer lawyer Mona Neddaf on 23 May, Mahmoud's health was in such grave condition that he could only speak with her for a matter of moments. Despite the urgency of his condition, the Israeli Prison Service (IPS) denied Mahmoud access to independent doctors from Physicians for Human Rights-Israel (PHR-Israel) until 6 June, his 80th day of hunger strike. This visit was only permitted after numerous petitions filed to the Israeli District Court. The IPS also refuses to transfer him to a civilian hospital for proper treatment.
Following the visit, the PHR-Israel doctor reported that Mahmoud had experienced extreme loss of muscle tissue and drastic weight loss. He had lost 33 percent of his body weight, from an original weight of 76 kilos down to his present weight of 51 kilos. He also suffered from frequent incidents of fainting and loss of consciousness, in addition to lapses in memory. The doctor further reported that Mahmoud was in danger of pulse disruptions (arrhythmias) that are endangering his life. PHR-Israel's independent doctor strongly recommended that Mahmoud be immediately transferred to a hospital, as he was at immediate risk of death. 
MAHMOUD AND HIS FAMILY
Mahmoud hails from an athletic family and joined the Rafah Sports Club when he was only 8 years old. Football quickly became his favorite hobby and he started playing with the adult team at 14 years of age, due to his outstanding skill. When he joined the Palestinian national football team as a center forward, he was its youngest player. Mahmoud also represented Palestine in football matches all around the world, including Norway, Turkey, Egypt, Qatar and Iraq. In addition to playing professional football, Mahmoud was also in his third year of university, concentrating in Information Technology Studies, before he was arrested.
Mahmoud's family consists of his father, who is 70 years old, his mother, who is 60 years old, his seven brothers and five sisters. None of his family members have seen him since the day he was arrested, as family visits for prisoners from Gaza have been denied since 2007. Mahmoud has been denied all requests for phone calls to his family.
This lack of contact has been particularly difficult for his family given that his father currently suffers from heart disease and is undergoing medical treatment in Egypt. Mahmoud has also not been allowed to receive any items from his family such as clothes and books, despite his family's continuous attempts to provide them to him through the International Committee of the Red Cross. Mahmoud's only means of communicating with his family has been through his lawyer and even these visits are not permitted on a  consistent basis. 
ACT NOW!
Here is how you can help Mahmoud Sarsak:
*Write to the Israeli government, military and legal authorities and demand that Mahmoud Sarsak be released immediately and receive adequate medical care.
Brigadier General Danny Efroni
Military Judge Advocate General
6 David Elazar Street
Harkiya, Tel Aviv
Israel
Fax: +972 3 608 0366; +972 3 569 4526
Email:

[email protected]

;

[email protected]

Maj. Gen. Nitzan Alon
OC Central Command Nehemia Base, Central Command
Neveh Yaacov, Jerusalam
Fax: +972 2 530 5741
Deputy Prime Minister and Minister of Defense Ehud Barak
Ministry of Defense
37 Kaplan Street, Hakirya
Tel Aviv 61909, Israel
Fax: +972 3 691 6940 / 696 2757
Col. Eli Bar On
Legal Advisor of Judea and Samaria PO Box 5
Beth El 90631
Fax: +972 2 9977326
*Write to your own elected representatives urging them to pressure Israel to release Mahmoud Sarsak and to put an end to such an unjust, arbitrary and cruel system of incarceration without trial.
For more information about Israel's Unlawful Combatants Law and administrative detention visit this section of our 
website
.