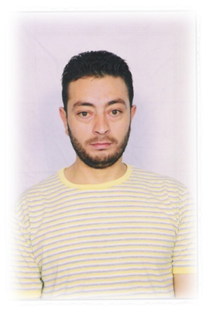 Date of birth: 16 July 1985
Place of residence: 'Arura, north of Ramallah
Occupation: Researcher
Marital status: Married with one child
Date of Arrest: 18 April 2011
Place of detention: Ofer Prison
Number of administrative detention orders to date: 3
Expected end of current administrative detention: October 2012
ARREST
Mohammed Suleiman was arrested on 18 April 2011 at 2:00 a.m. when Israeli Occupying Forces (IOF) soldiers accompanied by an Israeli intelligence officer arrived at his family home in 'Arura. Without presenting a search or arrest warrant, the soldiers announced that Mohammed was under arrest. Mohammed suffers from a blood disorder called thalassemia, which is genetic, and has resulted in anemia. During his arrest, the soldiers ordered Mohammed to bring his medicine with him, while his mother pleaded on behalf of his medical condition. When she asked the soldiers why they were taking him, the intelligence officer sarcastically replied that they wanted to take care of his health.
Mohammed was subsequently transferred to Ofer Prison, where he underwent the standard series of medical tests that prisoners receive upon admission. The prison doctor refused to admit him, however, arguing that he should be sent to a hospital because of the severity of his condition. Instead, Mohammed was transferred to Etzion detention center for three days, during which time he was taken to Shaare Zedek hospital to complete additional medical tests. After that, Mohammed was transferred back to Ofer Prison. Despite his medical condition, he was not taken back to a hospital for 18 days when he was finally transferred to Ramleh Prison Hospital. Mohammed spent 50 days in Ramleh hospital, but according to him, conditions at the hospital were no better than conditions at Ofer, and he preferred returning to Ofer where he shares a cell with his father, who is also currently detained.
ADMINISTRATIVE DETENTION ORDER
Mohammed was interrogated for only one day, on 21 April 2011, with interrogators accusing him of being active in Hamas, an allegation that he denies. A day later, on 22 April 2011, Mohammed received an administrative detention order for 6 months, due to expire on 18 October 2011. During the judicial review hearing, held on 28 April, the military prosecutor claimed that Israeli authorities had been collecting information for the secret file on Mohammed since 2009, but recently decided to arrest him when they received "more serious" information. They also claimed that he is a "military activist" but did not explain what this might entail or mean.
As with all other administrative detainees, Mohammed's detention was based on secret information collected by the Israeli Security Agency (ISA), available to the military judge reviewing his detention orders but not to Mohammed or his lawyer. Judge Shimon Ashoial refused to disclose any information from Mohammed's confidential file, stating that it would pose a security risk, and continued to claim that Mohammed had participated in military activities before his arrest. He then confirmed the full 6-month administrative detention order issued by the military commander.
Mohammed's lawyer decided to file an appeal against Mohammed's detention, insisting that the secret file contains information on an entirely different individual since it alleges that he is a Hamas member. In fact, Mohammed is widely known as a Fatah supporter, and was even elected in 'Aroura in 2009 as part of the Fatah party. Furthermore, he was a board member in the Fatah Organizing Committee, further evidence that he is not a Hamas member. Nevertheless, on 24 May 2011, Judge Nisim Srousi rejected the appeal, stating that the secret file contained "dangerous" information. During the hearings, Israeli intelligence officials and the military prosecutor made no effort to substantiate the suspicions against Mohammed. The judge's refusal to disclose information from Mohammed's file violates international humanitarian law, which permits some limited use of administrative detention in emergency situations, but requires that the authorities follow basic rules for detention, including a fair hearing at which the detainee can challenge the reasons for his or her detention. These minimum rules of due process were clearly violated in Mohammed's case, leaving him without any legitimate means to defend himself. Furthermore, Mohammed's case reveals the role of judges in the Israeli military court system as designed to give legitimacy to military orders, rather than providing an actual judicial review of each case. Mohammed's lawyer planned to bring an appeal to the Israeli High Court of Justice, but decided not to after being informed by the judge on 5 July 2011 that it would be rejected, further exposing the Israeli authorities' predetermination to keep Mohammed in administrative detention.
On 17 October, Mohammed's administrative detention order was renewed for another six months, due to expire on 17 April 2012. On 2 April, Mohammed's administrative detention order was renewed for another six months.
HEALTH
In addition to being denied his basic rights to due process, Mohammed has also been the victim of medical neglect since being in detention. He suffers from thalassemia and chronic anemia, which require him to have blood transfusions every two to three weeks, as confirmed by the medical report of the Palestinian Medical Campus and the doctors at the Association of Friends of Patients of Thalassemia in Ramallah. As a result of his frequent blood transfusions, Mohammed's blood contains high levels of iron, which has led to a sustained weakness of his heart muscle. Before his arrest, Mohammed therefore went through a daily process of intravenously injecting a medication called Desferal for 8 to 10 hours a day in order to remove some of the iron from his body. Without this, the iron excess would disable cell functions and cause a disruption in his hormonal functions, as well as loss of function in the heart, liver, and skin. For patients with this condition, it is vital to take Desferal on a regular basis. Mohammed also needs to test his kidney, liver, and heart functions every three months or whenever deemed appropriate by his doctor.
Since his arrest, Mohammed has been transferred every month to the hospital to receive blood transfusions. With regard to medication, however, Mohammed has irregularly been taking Exjade, an oral and much more expensive alternative to Desferal, since taking Desferal on a daily basis is a complicated and lengthy process that cannot practically be implemented in prison. The Exjade he has been taking was his own, and since he only had limited supplies, he has now asked the Israeli Prison Service (IPS) to provide him with this medication. The IPS, however, has refused to provide him with Exjade, instead insisting that he take another equivalent, but cheaper medicine or pay for the Exjade from his personal canteen account. As a result, Mohammed's family has to bear the financial burden of sending him Exjade every month. On 15 July 2011, Mohammed underwent medical tests at Shaare Zedek hospital that confirmed that he now suffers from an enlarged heart and liver, likely the result of his irregular use of Exjade.
It is Israel's responsibility to provide adequate medical care to all prisoners it has under its care. Article 91 of the Fourth Geneva Convention notably specifies that an Occupying Power is obligated to provide necessary treatment to administrative detainees free of charge. The inadequate treatment of Mohammed's condition and numerous additional cases of medical neglect reveal that Israel is in clear breach of these international standards.
On 3 April, after receiving another six-month administrative detention order and amid hunger strikes by other administrative detainees, Mohammed decided to stop taking his medication in protest of his ongoing administrative detention. He is also refusing to take blood tests at Ramleh Prison Hospital.
MOHAMMED'S FAMILY
Mohammed's family has been consistently targeted for arrest. His father was arrested on 16 October 2010, and is currently serving an18-month sentence at Ofer Prison. His father has also been arrested by the Palestinian Authority (PA) multiple times, sometimes being held for up to one month without charges. Following his father's arrest on 16 October by the IOF, the PA Preventive Forces came to his house to arrest him again. Finding that he was already detained in Israeli prison, the PA arrested Mohammed instead and interrogated him about his father.
Mohammed's uncle, Saleh Suleiman Al-Arouri, was arrested by the IOF in 1990 and imprisoned for 17 years, two of which were under administrative detention. He was released on 11 March 2007, but arrested again three months later on 22 June 2007. He subsequently spent another three years under administrative detention. On 30 March 2010, he was deported to Syria in exchange for being released from administrative detention. Mohammed's cousin, Asim Suleiman, was also arrested by the IOF on 2 May 2010 and, after being interrogated for 40 days, received an administrative detention order and is currently detained in Ofer Prison.
Even Mohammed's 70-year-old grandmother, Aisha Suleiman, has been subject to arrest and harassment. On 2 May 2010, Aisha was summoned by Israeli intelligence officials. She went to the meeting and was interrogated and threatened for an hour about her son, Saleh. The following year, on 23 May 2011, Israeli soldiers arrived at her house with army dogs. Alone in her small apartment, Aisha asked the soldiers what they were doing, and they replied they had brought a doctor with them to check up on her. When she responded that she did not need their doctor, they announced that they had come to arrest her. Declaring that she preferred to die rather than be arrested, she then sat down on the floor and refused to stand up and go with them. In spite of her protest, the soldiers lifted her up and forced her into the jeep, where she was then taken to Moskobiyyeh (Russian Compound) interrogation center. She was interrogated for the whole day and then released that night, following intervention from her lawyer. During the interrogation, soldiers threatened her and shouted at her, while she was forced to sit in a stress position with her hands behind her back.
Mohammed's wife gave birth to their first child, Suleiman, in the beginning of October. The entire family, except for his 20-year-old sister, is currently forbidden from visiting Mohammed and banned from travel outside of the country.
****
Administrative detention is a procedure that allows the Israeli military to hold detainees indefinitely on secret evidence without charging them or allowing them to stand trial. In the occupied Palestinian West Bank, the Israeli army is authorized to issue administrative detention orders against Palestinian civilians on the basis of Military Order 1651. This order empowers military commanders to detain an individual for up to six month renewable periods if they have "reasonable grounds to presume that the security of the area or public security require the detention." On or just before the expiry date, the detention order is frequently renewed. This process can be continued indefinitely.