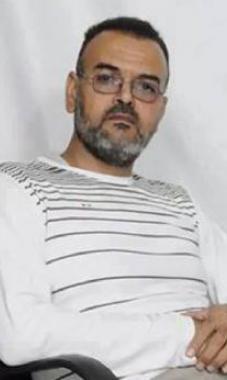 Most Recent Arrest:
On Friday 14/2/2014, Shukri Mahmoud Khawaja's family woke up in the middle of the night (at 2:00 a.m.) to the sound of loud knocking on their house door. Khawaja  woke up abruptly, shocked by the 15 uniform-clad military soldiers raiding his home and pointing their weapons towards him. His wife and children followed the soldiers into the room that they had let themselves into, only to be forcibly ushered to another room by two of the soldiers. These soldiers stayed put with Khawaja's wife and kids, keeping them put inside the room of their own house for two full hours. Meanwhile, the other soldiers took Khawaja with them away from his home and family and detained him.
Arrest Record:
Khawaja has spent a total of more than 16 years inside occupation prisons:
First arrest: 10/12/1992- Khawaja received a sentence of three years and two months. He was released on 11/1/1996.
Second arrest: 6/11/1996- Khawaja received a sentence of 9 years. He was released on 13/10/2003.
Third arrest: 24/6/2012- Khawaja received a sentence of 10 months. He was released on 2/4/2013.
Fourth arrest:14/2/2014 (Most recent arrest). Khawaja  is still in prison to this moment.
 Legal status
Mr. Khawaja's case is one of many illustrating how occupation forces use administrative detention as an arbitrary punitive measure. Initially, Mr. Khawaja received a four months administrative detention order. After completing the arbitrary detention order period (on 14/6/2014), however,  he was transferred to Moskobiyyeh interrogation center in Jerusalem where he was subjected to relentlessly harsh interrogation that lasted for 50 days. His interrogation coincided with a collective arrest campaign carried out by occupation forces after the disappearance of three settlers in Hebron; the IOF escalated their repression by conducting mass arrests targeting all Palestinians including leaders and political activists and issuing new administrative detention orders to a large number of Palestinian detainees.
In addition, the Israeli Prison Service imposed a number of  punitive measures against many Palestinian prisoners and detainees such as: denying their family visits, shortening their common-space time (fora), and using isolation confinement as a form of punishment—all of which were used against Shukri Khawaja.
On 16/12/2014, Mr. Khawaja was informed that he was being transferred to Ayalon prison isolation for at least a one-month period which was subject to renewal. His isolation order was renewed six consecutive times. Then in June 2015, he received another isolation order—this time for six months— that would keep him in prison until December of that year. However, his isolation was renewed yet again for another six months. According to the court, Mr. Khawaja is being continuously imprisoned and isolated because of the threat that he allegedly poses to the occupation state's security.
Health condition after interrogation
Due to the IPS's use of torture against Mr. Khawaja, he now suffers from problems in his back and left thigh. He finds it very difficult to bend his back and suffers from pain in the ears. While in Ayalon isolation, he had an X-Ray performed for his back, after which the prison doctors concluded that he needed to see an orthopedic physician.  However, as of 2/12/2015 when an Addameer lawyer visited him in Ramon isolation, Khawaja's specialist referral was not followed up on. Instead, he was only given painkillers to cope with his extreme and worsening pain.
The use of torture during interrogation
Mr. Khawaja informed an Addameer lawyer that he was subjected to the following torture methods for 50 days: 
 Banana position: when a detainee is forced to sit on a stool with their back bent backwards towards the ground. Their hands and legs are then shackled together under the chair, forcing the detainee's body into a painful banana-shaped position.
Shackling the hands behind the back: when an interrogator takes a detainee's hands, shackles them behind the detainee's back, then seats the detainee in a chair and shackles his/her/their leg to the chair's feet. The interrogator proceeds to force the detainee to raise his/her/their shackled  hands onto a high table behind them as the interrogator pulls and beats at the detainee's legs.
Tightening the shackles: when a detainee's hand-shackles are tightened  so firmly above their wrists (using a pair of pliers), that after a short while the detainee loses all sense of feeling in their hands completely.
Pressuring the thigh muscles: when a detainee is forced to sit in a squatting position with his/her/their hands raised upwards, thereby concentrating all of the body's pressure onto their thighs. The interrogators proceed to beat the detainee's legs and thighs while the detainee forcibly remains in this squat-pressure position.
All of these torture methods were collectively used against Mr. Khawaja, especially during a 4-day period (approximately 100 hours) of intense back-to-back interrogation. During this intensive torture period eac 'interrogation' session lasted for 30-45 minutes, throughout which he was denied sleep or any other sort of  break. Outside of that 4-day period, Khawaja's interrogation sessions lasted up to 12 hours per day. Mr. Khawaja was not allowed to see a lawyer until the last five days of his interrogation. A Red Cross representative visited him once. A doctor also visited him (during the 4 days of intensive interrogation), but did not examine him at all, only giving him painkillers
Torture is prohibited by all international laws and conventions, which define torture clearly, such as Article I of the Convention against Torture and other cruel, inhumane, and degrading treatment; the International Covenant on Civil and Political Rights; and the Universal Declaration of Human Rights. In addition, the joint Article (III) of the four Geneva conventions includes clear provisions that prohibit cruel, inhumane, and degrading treatment. Despite this international position on torture, however, the occupation forces consider it a permissible practice and authorize it under false security claims especially against Palestinian prisoners and detainees inside occupation prisons.
Isolation
According to the documentation unit at Addameer, 16 prisoners have been placed in isolation by orders from occupation intelligence. These isolated prisoners are currently distributed across a number of prisons such as Eshel, Ramon, Ashkelon, and Ramleh; and are part of a much wider use of isolation by occupation forces as a systematic disciplinary measure, aiming to break the will of Palestinian prisoners. By Israeli law, occupation courts can legally isolate prisoners for up to 6 months by themselves and up to 12 months with one other prisoner. Though these period limits are rendered meaningless by the court's legal ability to renew isolation orders indefinitely. In doing so, occupation authorities are placing themselves above international law by violating Article (119) of the Fourth Geneva Convention which states that disciplinary measures against prisoners should not exceed one month.
Yet, Israel continues to isolate prisoners, oftentimes without disclosing why. As was the case with Shukri Khawja, intelligence forces usually issue isolation orders for security reasons based on secret information that neither the detainee nor his lawyer can review. This denies the detainee's legal council the ability to form an appropriate and effective defense. Thus, court hearings  determining isolation orders are purely political, subject to decisions made by occupation security forces known for using isolation to cut off prisoners from any human contact, whether among other prisoners/detainees, their family, and the outside world at large.
During Mr. Khawaja's isolation period, the IPS transferred him between several prisons: initially holding him in Ofer, then moving him to Ayalon, and later transferring him to Megiddo's prison isolation. IPS transferred Khawaja a fourth time to Ramon isolation where an Addameer lawyer visited him on 2/12/2015. The use of repeated transfers by the IPS aims to prevent detainees from feeling settled, constantly keeping them on the move, which affects prisoners psychologically.  In addition to the transfers, detainees are affected by the conditions of the isolation prisons themselves. 
The conditions of the main isolation prisons the detainee was held in:
Isolation conditions at Ayalon prison: The isolation room is 3x3meters. It contains a toilet, a shower, a bunk bed (made of concrete) with a 2cm mattress, a small refrigerator, a coffee pot, a cooking pan, two cupboards and a television. Recreational time (fora) is in a 3x6meters space for one hour per day. 
Isolation conditions at Megiddo prison: The isolation room is 2.5x2 meters. It contains a toilet, a shower, a small refrigerator, a TV, a kettle, and a fan. The recreational time (fora) is from 2:00pm to 3:00pm daily. Rooms in Megiddo, especially isolation rooms, are particularly dire; iron blocks sealed against the windows prevent sunlight and fresh air from entering the rooms. The isolation section is underground.
Isolation conditions at Ramon prison: The isolation room is 3x4 meters. It contains a toilet, a shower, a 1x1m window sealed off by huge iron blocks. Recreational time is for one hour per day. Khawaja was isolated next to isolated criminal prisoners. Prison guards usually do not respond to inmates' request and if they do, it is not without making them suffer first.
Denial of family visits
Occupation forces usually limit the duration of family visits arbitrarily, sometimes denying the visits altogether—all of which violates Israel's responsibilities and duties as an occupying power under international law.  
Family visitation rights are clearly stated and guaranteed: by the Fourth Geneva Convention, The Standard Minimum Rules for the Treatment of Prisoners, the principles for the protection of all persons under any form of detention or imprisonment, the rules followed by European prisons, as well as the Convention on the Rights of the Child.
Mr. Khawaja's family consists of six members: his daughters Sajida (23 years old) and Saja (18 years old), his sons Mohammad (7 years old) and Omar (5 years old) , and his wife Mrs. Zahra Khawaja (38 years old).
Mr. Khawaja is currently in isolation and is being denied his right to family visits. His four children were only able to visit him once. His wife was not able to visit him since he was placed in isolation.  Though his 85 year old father has a visitation permit to see him, he was still unable to visit him for over a year and half.  
Family Testimonies
 "My father regularly asked about me and my studies, because when he was undergoing interrogation I was in the midst of my high school exams (tawjihi). Our psychological state was very difficult because we knew nothing about my father. However, when I succeeded and had a final result of 82%, I dedicated my success to my father considering this phase a phase of victory for us as a family."
-         Saja Khawaja (Shurki Khwaja's daughter), who is currently studying Economics at Birzeit University.
"The issue of prisoners should be highlighted, especially the issue of isolated prisoners. The case of Shukri Khawaja did not receive  appropriate attention despite the fact that it is a very difficult case, especially now that he is in isolated confinement."
-         A message from Shurki Khawaja's family