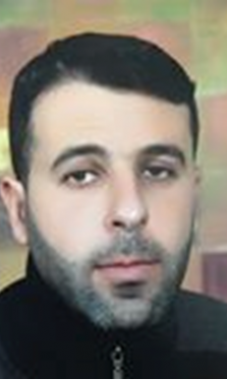 "We got married in 2007. We have been married for nine years; however, Thabet was only able to live with us for three years because of the continuous arrests. I gave birth to Yamen and Amal while he was in prison, and my daughter Mais was born the day her father was arrested." Rana Nassar  
Thabet Nassar has a diploma from Al-Rawda College in Nablus and works as a nurse in Rafidia hospital. He is a student in Al Quds Open University specializing in Health administration but his continuous arrests kept him from completing his degree to this moment.
Yamen requests to hug his father…
Thabet, his wife and children woke up to the sounds of weapons and explosions to find more than 40 Israeli occupation soldiers surrounding their home in Madama village near Nablus. The soldiers broke into the main door and raided their home. They forced the terrified children to sit in a separate room, and then they took Thabet to another room filled with soldiers. The intelligence officer started interrogating Thabet in the room while the rest of the soldiers continued to destroy the house properties including the children's rooms and toys.  
The soldiers used knives to rip the mattresses huge hammers to demolish parts of the house walls. They destroyed the family's memories part by part.  The hostility did not end there; the soldiers continued to cut down all of the trees destroying the garden. One of Thabet's children, Yamen (8 years old) approached the intelligence officer asking him to say goodbye to his father. The officer started yelling at the child threatening to beat him up if he leaves the room. The soldiers continued to destroy the children's rooms in front of them.   
The soldiers blindfolded Thabet, shackled his hands and took him without informing the family about the reasons behind the arrest or the place of detention. After two hours of ransacking his home, Thabet was taken to Huwara detention center near Nablus. On the third day, Thabet was taken to Salem Police station for interrogation. The interrogator immediately told him that he has an administrative detention order issued against him. Thabet was not surprised, as he had gotten used to hearing this sentence during his many previous arrests. The interrogator started asking him about his affiliation with a political party and military activities in addition to accusing him of incitement via Facebook, despite the fact that Thabet does not even have a Facebook account. Thabet denied all of the accusations and his interrogation session was very short and did not tackle many questions for the administrative detention order was already issued.
On the 15th of May 2016, Thabet's first hearing was held where his detention was extended for 72 additional hours to issue the administrative detention order; despite this, the prosecution did not need this much time because the order was already prepared and issued. Thabet received a six-month administrative detention order on the same day. He was transferred to Megiddo prison.
Thabet was only free for six months, during which he had an interview with the occupation's intelligence office and received many calls threatening to arrest him.
Thabet spent a total of 12 and a half years in Israeli prisons and detention centers, most of which were spent under administrative detention.  
Once again… without a charge or trial
The occupation's military commander issued an administrative detention order against Nassar starting from 18/5/2016 and ending on 8/11/2016 accusing him of being affiliated with the PFLP and claiming that he poses a threat to the security of the state.
The first judicial review hearing was held in Ofer military court on 23 May 2016 in the presence of the military judge Rafael Yamini, the military prosecution and the detainee's lawyer while the detainee did not attend.  In almost all of the hearings, the military prosecution confirmed Thabet's orders and claimed that he is involved in military activities within the PFLP without proving these accusation since Thabet's detention is based on a secret file. Thabet's lawyer reported that during his previous arrests, Thabet was interrogated and asked about military activities, confirming that his current detention is based on his previous ones.
Despite that, the judge claims that the information in the secret file is serious, dangerous and confirm Thabet's military actions. The judge added that Thabet was arrested many times and when he was released in September 2015, he immediately got involved again in PFLP military activities. Thus, the judge confirmed the six month administrative detention order clarifying that the nature of the activities he participated in is enough to issue an administrative detention order against him. Thabet's order was renewed for six additional months immediately after the original order ended.
Thabet Nassar's file confirms that the occupation authorities practice administrative detention arbitrarily violating all of the international laws and standards. The occupation forces resort to administrative detention when they fail to prove the accusations against a detainee. For example, if Thabet Nassar did pose a threat to the security of the state, why isn't he being clearly presented with any charges?
Thabet Nassar was denied fair trial and knowing the reasons behind his arrest, which is a form of psychological torture, in contravention with international standards.
The family is still waiting.
Thabet married his wife Rana in 2007. They have four children: Yamen (9 years old), Amal (7 years old), Mais (3 years old) and Ahmad who was not born when his father got arrested. Ahmad was born on 29/9/2016, in the absence of her husband again. Thabet's children keep asking about him and about his absence while Rana stays silent not knowing how to explain administrative detention to her young children. Thabet's parents used to visit him in prison throughout the years taking Yamen and Amal with them. However, this time he is being held in Naqab which is about three hours away from Thabet's home making it very difficult for the children to visit everytime. As a result, Thabet's parents take one of their grandchildren every few weeks.
His wife Rana says: "I feel bad for Mais for she is too young to go with her grandparents for such long distance, and she hasn't seen her father since the day of his arrest. She got too attached to him after he was released the last time. He spent 7 months with her and she got used to having her father around, so him disappearing suddenly without giving her a reason was very difficult for her to understand."
Rana is denied visitation rights for security reasons, making the situation more difficult for the family.