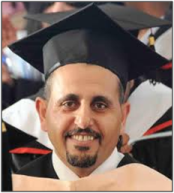 "Administrative detention has a beginning but doesn't have an end."  -Bayan, Walid's wife 
Date of Birth: 1 January 1969
Place of residence: Ramallah
Marital status: Married with two daughters
Occupation:Finance and Administration Manager for the Health Work Committees (HWC)
Date of arrest: 22 November 2011
Place of detention: Ofer
Number of administrative detention orders: 3
Date of release: 22 August 2012
Click
here
to view this profile as a PDF.
Walid Hanatsheh is a human rights defender who is currently in administrative detention. In his work as Finance and Administration Manager for the Health Work Committees (HWC), one of the largest community health service providers in the occupied Palestinian territory, Walid helps to provide necessary healthcare to over 500,000 beneficiaries.
ARREST
Walid was arrested on 22 November 2011, when Israeli Occupying Forces (IOF) raided his home at 1:30 in the morning. A large group of soldiers, accompanied by an intelligence officer and another man wearing a mask, arrived at Walid's building and surrounded it completely. They used black duct tape to cover the peepholes of all the apartments in the building, before knocking loudly on his door and entering his house. Twenty soldiers searched the house while the intelligence officer began to interrogate Walid. He was then detained without being given any reason for his arrest. This arrest is his fourth arrest by the IOF.
ADMINISTRATIVE DETENTION
Walid was issued an administrative detention order for 6 months on 30 November 2011. As with all other administrative detainees, Walid's detention is based on secret information collected by Israeli authorities and available to the military judge but not to the detainee or his lawyer. This practice violates international humanitarian law, which permits some limited use of administrative detention in emergency situations, but requires that the authorities follow basic rules for detention, including a fair hearing at which the detainee can challenge the reasons for his or her detention. These minimum rules of due process have been clearly violated in Walid's case, leaving him without any legitimate means to defend himself.
The confirmation hearing for Walid's administrative detention took place in two phases. In the first session, the military judge allowed Walid and his lawyer to be present in court with the prosecution. The second session was a closed session, during which Walid and his lawyer were not allowed to be present while the judge read the classified material on which his administrative detention is supposedly based. The judge claimed that this material contains trusted information that Walid is an activist in the Popular Front for the Liberation of Palestine (PFLP) and that administrative detention is the "only way to prevent the danger posed by the detainee." The judge referenced Walid's previous administrative detentions, which were also under the claim that he was active in the PFLP.
When the judge confirmed his administrative detention order on 1 December, Walid's lawyer filed an appeal, emphasizing that Walid is an employee in a humanitarian institution providing necessary medical services to many individuals and that his detention negatively affects his work and beneficiaries. He noted that Walid's previous arrests were also all based on classified material and vague reasoning and that there was never any proof or official charges made regarding his alleged PFLP activity. The appeal was rejected by the judge on 15 January 2012.
Addameer believes that Walid's detention is also connected to his work with the HWC and their support of the prisoners' hunger strike launched on 27 September. The HWC actively coordinated solidarity events and other support of the prisoners during their 22-day hunger strike. Furthermore, as the hunger strike was initially launched by PFLP members in prison, this affiliation may cast light on why Walid has been accused by the military judge of being active in the PFLP. Walid's case reflects the policy of arbitrary detention employed by Israeli authorities, and particularly the use of administrative detention as punishment for individuals when there is not sufficient evidence for an indictment.
Addameer petitioned the Israeli High Court for Walid's release, which had a hearing on 22 February. In the hearing, the High Court decided to shorten his administrative detention order by two months, so that his order would expire on 22 March 2012.
Despite this decision by the High Court, Walid's order was renewed on 22 March for four more months, to expire on 22 July. In mid-June, the military judge then reduced his order by one month, to expire on 22 June. Nevertheless, on 21 June, Walid was informed that his order would be extended for another three months. During the 25 June hearing in which the military judge would confirm this extension, his order was yet again reduced by one month. His last order was due to expire 22 August and he was released on that date.
PREVIOUS ARRESTS
Walid has been consistently targeted for arrest and administrative detention by Israeli authorities. He was first detained  in 1994, when he was interrogated for 30 days before being released.
His next arrest occurred on 18 May 2002 and he was subsequently held for three and a half years in administrative detention. On 27 June 2005, the military judge decided to cancel his administrative detention order, which was for 5 months at that time, but gave the prosecution 72 hours to object to the cancellation. The prosecution then submitted an appeal to the military appeals court, which was approved and the order was not cancelled. Walid's lawyer, Sahar Francis, submitted a petition to the Israeli High Court against this decision. In the General Prosecutor's reply to the petition, he stated that Israeli authorities were already planning on extending his administrative detention. He suggested that Walid be deported for two years as an alternative to his detention. Walid, his family and Addameer strongly opposed this proposal. The petition was dismissed by the High Court and Walid received a renewed administrative detention order for three months. Walid's lawyer filed an appeal, which was refused, and followed up with another petition to the Israeli High Court to release him. The High Court announced that there would not be another renewal of his administrative detention order after December, so the petition was pulled. Walid was finally released on 21 December 2005.  Walid's case again highlights the liberal use of administrative detention against Palestinians, wherein Israeli authorities claimed he was enough of a "security risk" to keep him in administrative detention in September, but then released him three months later.
Walid was arrested for the third time in 2009. From 12 January 2009 to 10 January 2010, Walid was again held in administrative detention.
WALID'S FAMILY
Walid's continuous detention has been extremely difficult for his wife, Bayan, and their two daughters. His wife has stated that she believes administrative detention slowly kills detainees and their families by separating and thus destroying them. She adds that his family cannot make any future plans because of his frequent detention. His daughters, Mais, 15, and Malak, 6, constantly ask why their father is never home and why he does not pick them up from school like the other kids.
In a letter dated 6 July 2012, Mais reacts to the torturous experience of her father's detention being repeatedly shortened and extended time and time again and pleas for assistance. Mais writes:
"From that moment, me, my sister, and my mom started to prepare for the reception on June 22nd. We started thinking of what were going to wear and which food my dad prefers and the way we are going to meet him in front of the prison and many other small details.
But this happiness was short. […] Israel extended my dad's detention by three more months. This is the reason I have lost all hope toward these courts. The problem is that the judge, himself, said that there was no new confidential evidence and there was no reason to keep my dad in prison. So why did they extend his time? I need an answer! […] I need a person to tell me when my father is going to be with us in order for me to know how to plan for my future. I can't plan anything because I don't have a specific day of being with my father, so can you help me?"
Walid's frequent arrests have prevented the family from being together during the most significant events in their lives. When Walid was in prison in 2002, his wife became seriously ill. Walid's lawyer used the medical reports in court so that he might be released to be with his wife during her illness, but the Israeli judge rejected the motion, stating, "The lives of the Israeli public are more important than Waleed's life or his wife's life." 
Walid's wife and daughters have been able to visit him once since his detention in Ofer. His wife recalled of the visit, "Before we went I prepared my daughters for what it was going to be like. I told them that they were going to see him behind a glass barrier. During the visit Malak kept kissing her father through the glass barrier. The Prison Administration refused to let her in to see her father without a barrier, claiming that they had a different day specified for children under the age of six to get in." As with all other family visits, Walid's family can only visit for 45 minutes and must speak with him by phone. Often the volume is too low, making it difficult to hear, especially with all the other visits taking place at the same time. Walid is originally from Dura near Hebron and his mother and other family members are denied family visits based on "security reasons". Even during his previous arrests, his mother has never been permitted to visit him in prison.
In addition to the suffering his detentions have caused his family while he is in prison, the IOF has also denied his family from living peacefully even while he is released. Walid's wife holds a Jerusalem ID card and therefore has to live in Jerusalem in order to maintain her residency. She has applied many times for Walid to also acquire a Jerusalem ID, but each time he is denied for "security reasons". This denial of residency as had a negative effect on the stability of the family, as Walid has also been refused permits to enter Jerusalem. He has also been prevented by Israeli authorities from travelling out of the country even to conferences and workshops related to his work at the Health Work Committees.
****
Human rights defenders are formally defined as persons who work peacefully for any or all of the rights enshrined in the Universal Declaration of Human Rights. Walid clearly falls within the category, in that his activities are peaceful in nature and aimed at the promotion of human rights in the health sector. Addameer views Walid's imprisonment as a deliberate violation of his fundamental freedoms and special protections provided under international law for human rights defenders, particularly freedoms of movement, expression, association and peaceful assembly.
Administrative detention is a procedure that allows the Israeli military to hold detainees indefinitely on secret evidence without charging them or allowing them to stand trial. In the occupied Palestinian West Bank, the Israeli army is authorized to issue administrative detention orders against Palestinian civilians on the basis of Military Order 1651. This order empowers military commanders to detain an individual for up to six month renewable periods if they have "reasonable grounds to presume that the security of the area or public security require the detention." On or just before the expiry date, the detention order is frequently renewed. This process can be continued indefinitely.
**** 
ACT NOW!
Here is how you can help Walid Hanatsheh:
Write to the Israeli government, military and legal authorities and demand that Walid Hanatsheh be released immediately and that his administrative detention not be renewed.
Brigadier General Danny Efroni
Military Judge Advocate General
6 David Elazar Street
Harkiya, Tel Aviv
Israel
Fax: +972 3 608 0366; +972 3 569 4526
Email:

[email protected]

;

[email protected]

Maj. Gen. Nitzan Alon
OC Central Command Nehemia Base, Central Command
Neveh Yaacov, Jerusalam
Fax: +972 2 530 5741
Deputy Prime Minister and Minister of Defense Ehud Barak
Ministry of Defense
37 Kaplan Street, Hakirya
Tel Aviv 61909, Israel
Fax: +972 3 691 6940 / 696 2757
Col. Eli Bar On
Legal Advisor of Judea and Samaria PO Box 5
Beth El 90631
Fax: +972 2 9977326
Write to your own elected representatives urging them to pressure Israel to release Walid Hanatsheh and to put an end to such an unjust, arbitrary and cruel system of incarceration without trial.