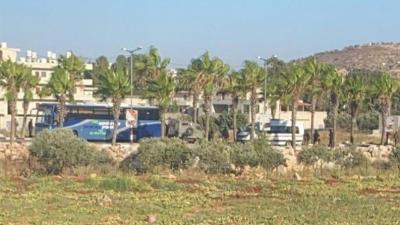 In the late afternoon on 14 July 2021, the Israeli Occupation Forces (IOF) launched a mass arrest campaign of Birzeit University students as they were returning by bus from the village of Turmus Ayya. During the operation, IOF stopped a bus of Birzeit University students who'd participated in a show of solidarity with a recently demolished family home in Turmus Ayya in the occupied West Bank, forcing all the students to exit the bus, violently search and physically assault them, and arrest over 45 Palestinian students. About 33 students remain in extended detention after the postponement of their military court hearing to Sunday, 18 July 2021. The violent arrest and targeting of Palestinian students, particularly Birzeit University students, aims to retaliate against their rights to freedom of movement and expression.
Palestinian youth and students are systematically targeted as part of Israel's protracted silencing campaign. Students at Birzeit University especially have been subject to systematic attacks, IOF raids, arbitrary detention, and torture and ill-treatment, all of which serve Israel's ultimate goal of maintaining its occupation and apartheid regime over the Palestinian people. Beyond physical assault, many of Birzeit's students have been further subject to torture and ill-treatment during their detention and interrogation.
The IOF's systematic raids and arrest of Birzeit's students clearly violate Israel's obligation as an Occupying Power to protect educational institutions. Furthermore, the harassment and targeting of Palestinian universities and students directly impede Palestinian's right to education, which is explicitly protected in Article 26 of the Universal Declaration of Human Rights and Article 13 of the International Covenant on Economic, Social, and Cultural Rights (ICESR).
This most recent arrest campaign of Palestinian students engaging in solidarity efforts further highlights the surveillance and targeting of Palestinian students, student mobilization, and expression. Arbitrary arrest and detention continue to be a key feature of the Israeli occupation's attempts to repress Palestinian mobilization and expressions of solidarity, particularly in recent weeks.[1] In turn, the mass arbitrary detention of Birzeit University students showing support for a Palestinian prisoners' family whose home was recently demolished by IOF as a form of collective punishment further elucidates the gross reliance of collective punishment against Palestinians in violation of absolute prohibitions under international law. 
Addameer Prisoner Support and Human Rights Association strongly condemns the Israeli occupation regime's efforts to silence and repress student expression and activism, along with the broader escalation of the systematic and widespread attacks on the Palestinian people's inalienable rights.
END
---
[1] See Addameer Prisoner Support and Human Rights Association's Recent Report:"Mass Arrests and Detention Amidst the Escalation of Israeli Oppression against the Palestinian People" https://www.addameer.org/media/4393