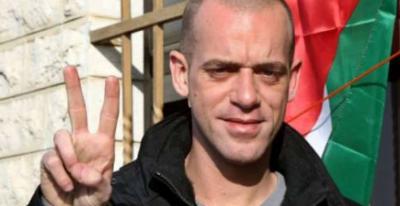 Today, 26 February 2018, the decision was taken by the occupation Minister of War, Avigdor Lieberman, to renew the administrative detention order of Salah Hamouri. His order has been renewed for four months, to begin on 28 February 2018. This means that Salah will continue to remain in prison till at least 28 June 2018, at which point he would have been in prison for ten months.
Despite the claim that Salah represents a 'security threat', Addameer maintains that Salah has been imprisoned as a result of his human rights promoting activists and his activism. As a documentation field officer, Salah's is responsible for meeting with ex-prisoners and detainees, and their families, to collect information regarding their detainment and the conditions in which they were kept. Additionally, Salah passed the exam for entrance to the Palestinian Bar Association three days before his arrest.
Due to the fact that his wife has been banned from entering Palestine, this extension of his imprisonment means that there will be another four months where he cannot see his young son. It means another four months where his family will be split across continents. Ultimately, Salah could just leave this all behind as he is a French national. Though this is why his sacrifice is all the more admirable. Despite the cost, he chooses to stay and struggle towards self-determination.
It is evident that closed door diplomacy has achieved little. The requests from French authorities have fallen on the deaf ears of the occupation.
We call on the occupation authorities to cancel their renewal and release Salah immediately. Additionally, the French and EU representatives must publicly condemn the illegal imprisonment of their citizen.