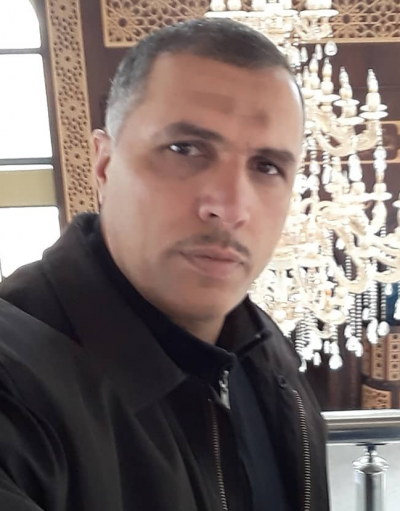 Name: Abdel Baset Ma'tan
Date of Birth: 8 February 1973
Age: 49 years
Residence: Al-Bireh
Marital Status: Married
Occupation: Retired Teacher
Date of Arrest: 25 October 2021
Prison: Ofer prison
Legal Status: Administrative Detention
Less than three months after his release from administrative detention, the Israeli Occupation Forces re-arrested Abedl Baset Ma'tan on 21 July 2022.and issued a six-month administrative detention order.
Previous Arrest
On 25 October 2021, Israeli Occupation Forces (IOF) violently stormed the home of Abdel Baset Ma'tan, screaming at his children and family before arresting him and transferring him via a military jeep to a nearby military base. Abdel Baset was tightly handcuffed with plastic ties, blindfolded, and forced to sit on the ground. He was then taken for a medical examination, still handcuffed, wherein Abdel Baset informed them that he suffered from colon cancer and was undergoing chemotherapy and had a chemo session close to the time of his arrest. IOF then kept him for over two hours inside a caravan in very cold weather. Abdel Baset was kept handcuffed even when he asked to go to the bathroom, and subjected to inhumane treatment.
He was later transferred to Shaarei Tzedek Hospital, where Israeli doctors reviewed the medical file he'd brought with him upon his arrest, and only asked him a few questions. Thereafter, he was transferred to Ofer prison, where he was interrogated for a short period about his activities in an organization deemed 'unlawful' under Israeli military orders.
Legal Status
On 28 October 2021, the Israeli military commander issued an administrative detention order against Abdel Baset for six months, without charge or trial, subject to indefinite renewal. During the confirmation session, the Israeli military prosecution alleged that Abdel Baset remains 'active' in Hamas and its organizational activities and that he poses a 'threat to the security of the region.' Abdel Baset's lawyer stated that he was ill with cancer and undergoing chemotherapy and requested the cancellation or shortening of the detention order in light of his grave health condition, further requesting to bring the detainee's medical file.
The Israeli military judge claimed that having reviewed the intelligence information from various sources, all of which indicated that his release would lead to a 'danger to the security of the region,' and that the "secret materials" against him indicate that he is an 'active' member in Hamas and its organization and that administrative detention is the 'only solution' to ward off the danger he poses. Yet, in light of his health condition, the military judge ruled to shorten the administrative detention order to three months until 31 January 2022.
In light of Abdel Baset Ma'tan's serious health condition, the Administrative Detainees Committee which organized and declared the collective boycott of Israeli military courts (see: here)[1] granted an exception to his case so that he may submit a petition to the Israeli High Court. Nevertheless, after reviewing the petition, the Israeli High Court ruled on 26 January 2022 that the administrative detention of Abdul Baset Ma'tan was legal, and, as such, there was no need for an intervention, thus rejecting the petition and keeping Abdul Baset in administrative detention for the entirety of the period.
Before the end of the first administrative detention order, the Israeli military commander renewed the order for another three months to end on 30 April 2022. The confirmation session was held on 1 February 2022, with the detainee boycotting the hearing, in which the Israeli military prosecutor again indicated that the detainee is still 'active' in Hamas, and that 'additional secret material' was obtained after his arrest confirming that he posed a danger. The Israeli military judge stated that he'd reviewed the confidential materials, which indicated the detainee's 'organizational activities,' but that it could not be disclosed to protect the source of the information and the Shin Bet's work would be harmed. The military judge further stated that Abdel Baset's case has precedence, pointing out that he was a former prisoner who had been arrested several times and ruled to confirm the detention order for the entirety of the three months.
Notably, this is not the first time IOF arbitrary arrest Abdel Baset Ma'tan. He was previously arrested twice and placed under administrative detention, without charge or trial,  one dating back to 2009.
Abedl Baset Ma'tan was released on 28 August 2022 after the end of his administrative detention. 
Abdel Baset…In the Face of Cancer and Administrative Detention
Abdel Baset Ma'tan has suffered from colon cancer for years and has been undergoing treatment for some time, remaining at imminent risk to his life due to the possibility of cancer spreading throughout his body. His latest arrest comes only 40 days after his return from a medical trip to Turkey.
Abdel Baset underwent surgery in 2018 to remove part of his intestines. Israeli occupation authorities prohibited him from traveling for two years, so he was unable to go to Jordan to complete his treatment. During his treatment, the doctors took the necessary pictures and biopsies, emphasizing the importance of continuous follow-up and the need to return to complete his treatment in January 2022. However, he was arrested shortly before and unable to complete his treatment.
Despite Abdel Baset's serious health condition, he was not seen by a specialist doctor to follow up on his health. He was taken to Ramleh prison clinic only days after his transfer to Ofer prison, where he underwent a blood test and they gave him medicine for cholesterol and some vitamins.
Still, Abdel Baset's health condition did not prevent Israeli intelligence from summoning him two months after his detention and informing him that his administrative detention would be extended if he did not cooperate with them, despite knowing that he needed urgent medical treatment. The Israeli intelligence officers also threatened to withhold the necessary medical treatment he requires.
Cancer Ravages the Bodies of Palestinian Prisoners
At least 19 Palestinian prisoners and detainees held in Israeli occupation prisons suffer from cancer and various tumors, including Nasser Abu Hamid, who suffers from lung cancer and is currently held in Ramleh prison clinic in grave health conditions.
The prison conditions in which Palestinian prisoners are held, compounded by the Israeli occupation authorities' systematic practice of medical negligence, lead to the infection of healthy prisoners with various diseases, in addition to the aggravation of the health conditions of sick prisoners in the absence of necessary medical care. The Israeli occupation regime's systematic practice of medical neglect, including the procrastination in providing diagnoses and/or treatment, has detrimental, long-term, and at times even deadly consequences, leading to the increase of prisoners' deaths in Israeli occupation prisons.
Between 2019 and the beginning of 2022, four Palestinian prisoners died battling cancer, as a result of deliberate medical negligence and the spread of the disease, including; Bassam Al-Sayeh, who suffered from leukemia, Sami Abu Diak, who suffered from gastric cancer, Sa'ad Al-Gharabli who suffered from prostate cancer, and Kamal Abu Wa'r who suffered from laryngeal cancer. Israeli occupation authorities
---
[1] The boycott, first announced on 20 December 2021 by all 500 Palestinian administrative detainees, commenced 1 January 2022, under the campaign 'Our Decision is Freedom… No to Administrative Detention.' The comprehensive boycott includes Israeli military courts at all levels, including courts of first instance, appellate courts, and the Israeli civil High Court. See: http://addameer.org/news/4662