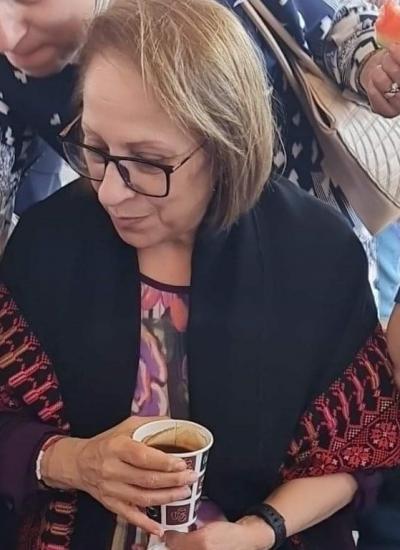 Earlier today, 3 June 2022, the Israeli occupation authorities released Mrs. Shatha Odeh after being sentenced by Ofer military court to 16 months of imprisonment. The court approved an early release request by Mrs. Odeh's lawyer, after finishing two-thirds of her sentence in Damon prison.
Notably, the nature of the charges brought against Mrs. Odeh primarily revolved around her leadership role in the Health Work Committees, deemed "unlawful" by an Israeli military order dated 22 January 2020. The arbitrary charges levied against her reflect an increasing brazenness by Israeli occupation authorities in clamping down on and criminalizing Palestinian human rights defenders and civil society organizations that challenge Israel's entrenched regime of settler-colonialism and apartheid and work towards achieving international justice and accountability. It also reflects an escalating policy by Israeli occupying authorities of criminalizing fundamental Palestinian human rights and services through allegations of terrorist links and a dangerous encroachment of the jurisdiction of the Israeli military judicial system over the occupied Palestinian territory.
On 12 August 2021, the Palestinian Human Rights Organizations Council (PHROC) and the Palestinian NGO Network submitted an urgent appeal to the United Nations Special Procedures on the arbitrary detention and harassment of Ms. Shatha Odeh.
Mrs. Shatha Odeh, 60, serves as the Director of the Health Work Committees (HWC), a leading Palestinian non-governmental organization that promotes health services for hundreds of thousands of Palestinians, and the chairwoman of PNGO, a coalition of 142 Palestinian civil society organizations. On 7 July 2021, Israeli Occupation Forces (IOF) stormed her house, deploying gas grenades and forcibly arresting her despite the lack of an arrest warrant or a confiscation order.