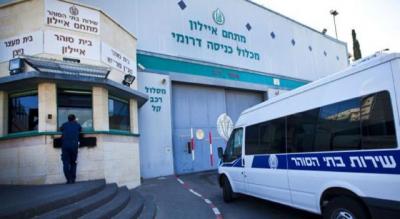 Addameer's lawyer, Samer Sam'an, managed to speak to the Palestinian prisoners put in quarantine at al-Ramleh Prison Clinic. The lawyer managed to speak via phone call with the prisoners after addressing the military prosecution and the occupation state prosecution regarding submitting a petition to the Israeli High Court demanding to contact, and know the conditions of the prisoners in quarantine due to the virus COVID-19.
According to the prisoners, who are, Ahmad Nassar, Qais Daraghmeh, and Ibrahim Awad, each of them are in a separate room and are not allowed to leave it entirely. They are given meals in the room but are not provided with water and only drink tap-water.
The prisoners also informed the lawyer that they were not tested the COVID-19 test yet. Their temperature is taken twice a day, and no other medical tests are made so far.
Those prisoners were transferred on Thursday, 19 March 2020, from Petah Tikva interrogation center to al-Ramleh Prison Clinic without informing them the reasons of their transfer. Only upon their arrival to the Prison Clinic they were informed that their transfer is due to their exposure to one of the workers at the interrogation center who tested positive with COVID-19.