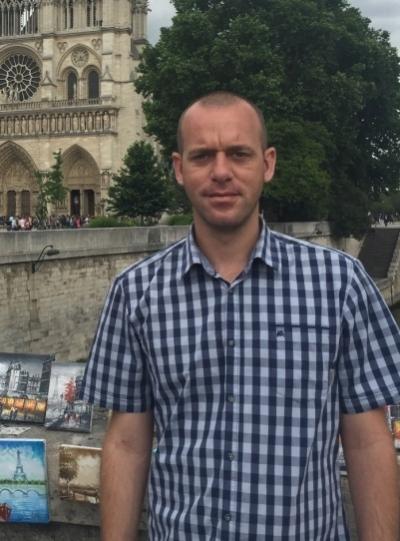 Last arrest and the revoke of his Jerusalem residency
Most recently, on 30 June 2020 Salah was arrested near Sheikh Jarrah health center while he was testing for COVID-19 in preparation to visit his wife and son in France, he was taken to Al Mascobiyyeh for interrogation. A request to extend his detention was approved for additional 8 days under the pretext of further investigations. Later, he was released under a number of conditions on 7 July 2020, including: an already paid bail of 2,000 NIS, an additional 1000 NIS guarantee, and an order to stop communication with a number of people for 90 days (the list of concerned persons has not yet been shared with him).
On 3 September 2020, Salah Hammouri was officially notified of the Israeli Minister of Interior's intention to revoke his Jerusalem residency, and was asked to challenge this intention by a written submission within 30 days, which would later be examined in order to issue a final decision on his residency status.
On 18 October 2021, the Israeli Interior Minister Ayelet Shaked officially notified 36-year-old Palestinian-French human rights defender Salah Hammouri of the revocation of his permanent residency status in Jerusalem based on a "breach of allegiance to the State of Israel." This decision comes after being approved by the Israeli Attorney General Avichai Mendelblit and Minister of Justice Gideon Sa'ar. The initiation of his residency revocation and forced deportation, pursuant to Amendment No. 30 to the Entry into Israel Law of 1952, comes on the heels of the Israeli apartheid regime's targeted harassment campaign against Salah Hammouri, a vocal Palestinian human rights advocate, long-time employee at Addameer Prisoner Support and Human Rights Association, and former prisoner.
In communicating the decision to move forward with residency revocation on the basis of "breach of allegiance," the Minister of Interior cites intentionally vague and broad allegations of "terroristic activities" and/or affiliation with "terrorist entities," based on withheld "secret information" withheld. The withholding of "secret information" mirrors the Israeli occupation's administrative detention practices, in stark violation of fair trial standards, which place Palestinians under indefinite detention based on secret material that cannot be disclosed to the detainees or their lawyers. To this end, she further cites recommendations based on his past history of arrests—most of which were under administrative detention, without charge or trial. Notably, the Ministry explicitly alludes to the notable escalation of permanent residency revocation of Palestinian Jerusalemites for "breach of allegiance," as exemplified by the case of Salah Hammouri, by stating that the decision was necessary "to deter others from breaching allegiance to the State of Israel."
Arrested while alone
Dozens of Israeli soldiers raided Salah Hammouri's house in Kufr Aqab on August 23 2017. Salah was alone during the raid as he has been living by himself since his pregnant wife was deported to France three years ago. The IOF took him directly to Moskobiyyeh interrogation center without giving him the chance to let his family know that he had been arrested. Salah's neighbor contacted his family who them informed his wife Elsa.
Continuous arrests
Salah is a French-Palestinian; however, his French nationality did not stop the occupation forces repeatedly arresting and targeting him. His first arrest  was in 2001 for five months when he was only 16 years old.
Following this, at the age of 20, he spent five months in jail under administrative detention in 2004. His third arrest was in 2005, where he was imprisoned for seven years. The French consulate intervened on this particular occasion and attempted to reach an agreement to release Salah. These negotiations resulted in Salah being offered a deal which would require him to leave to France for a period of ten years, with the ability to return to Jerusalem after that period, in exchange for his immediate release.  Salah rejected the deal and refused to be treated differently to any other Palestinian.
His lawyer tried to convince him that there is a possibility to reduce the deportation period to five years but he refused and decided to stay in prison, even if it meant receiving a ten-year sentence.
After rejecting the deal, Salah received a 7-year sentence.  During the last few months of his seven-year sentence, Salah was released as part of the prisoner exchange deal in 2011. Salah had three months of his sentence left to serve, which was a strategy of the occupation authorities where they chose prisoners that had nearly completed their sentences.
Repetitive targeting of Salah and his Family
Since 2011, the occupation forces have not allowed Salah to live in peace. They continued to target him even after he enrolled in university and started to regain control of his life. Salah graduated from law school and immediately enrolled in graduate school to complete a master's degree in human rights.
During this period he got married to Elsa Lefort, a French woman who came to live with him in Palestine.
Elsa's deportation to France
Persecution of Salah continued even after he got married, with the occupation continually placing barriers on his life. They gave Elsa a visitor's visa for 6 months only, and kept delaying a responsed to the Family reunification application Salah submitted in order for his wife to be able to live in Palestine. Ever since their marriage in 2014 the occupation authorities refused to renew Elsa's visa. As a result, she was not able to leave and visit her family out of fear of not being able to return to Palestine.
Elsa attempted to renew her visa many times with no luck. The Israeli occupation authorities answered her request by saying that Salah was released within a prisoners' exchange deal, which means he is blacklisted in all of the departments affiliated with the Israeli government.
In 2015, Elsa was able to get a one-year visa through her work at the French consulate in Jerusalem.  Because of that, Salah and Elsa decided to travel to France to visit her family before she gave birth to their first son. However, when she returned on 5/1/2016, she was held at the airport for hours before being told that she is denied entry and has to go back to France. Salah and Elsa appealed this decision immediately and the hearing was set for the next morning.
Elsa was detained in a room at the airport until the hearing. She was denied the ability to contact her husband or any of her family members, all of her belongings were confiscated, and she was not given any medical attention despite the fact that she was pregnant.
On the next morning, the judge rejected the appeal and Elsa was deported to France two days later. Salah's family reunification request was also denied at the same time.
Elsa has been denied entry to Palestine ever since, erasing the possibility of her, Salah and their newborn living a normal life as a family. Their son was born in France and, as a result of their because of their inability to live in Palestine, Salah has been travelling to Paris every three months in order to spend some time with his family. Following these visits, he returns home to live alone, far from his one-year-old son and wife. Elsa continues to wait for the day where she will be able to come back and live with her husband and son as a normal family.
Restricting Salah's movement
While Salah and Elsa were trying every means possible to reunite, the Israeli occupation authorities issued an order against Salah which stated that he cannot, under any circumstances, enter the West Bank. Such an order is issued by the area commander of the Israeli forces and falls under the "emergency measures" rule. Which means that the occupation forces do not have to explain or give any reasons for their decision.
Salah was banned from entering the West Bank for six months (from March 2015 - September 2015). However, the ban was renewed twice. This greatly impeded his ability to complete his degree at Al-Quds University and stopped him from completing his practical training to become a lawyer. Additionally, the ban did not only obstruct Salah's academic and professional career, it also destroyed his social life. He was unable to participate in any social events with friends and family members, such as weddings and graduations. Salah was also banned from going to his workplace in Ramallah or even visiting his family's home in Al Ram neighborhood, which lies directly on the apartheid wall. The ban lasted for a year and a half without explanation.
Salah's family is waiting
Salah is a French-Palestinian (holder of a Jerusalem ID) and is the oldest son of his Palestinian father and French mother. He has a brother (Amir) and a sister (Caroline). Salah and Elsa got married in 2014; they have a one and half year old son. His wife and son live in France. He had plans to visit them  at the end of august but, unfortunately, he was arrested before being able to travel.
Salah's life is one of constant hardship. His detention only increased the difficulty due to his not being able to see his wife and son. Now, he is also incapable of calling them, and seeing them in court or during prison visits. His son was used to at least speaking to his father every day. Now, faced with months of no interaction, he doesn't understand his father's absence. However, he makes sure to kiss his father's photo every night and draws pictures to send to the prison.
Elsa is currently leading a campaign in France calling for the French authorities to intervene and attain Salah's release. She has also participated in a number of activities and events to bring attention to Salah's case, and to urge the government to intervene. For Elsa, the hardest part of Salah's detention is explaining it to their son. 
She says:
Since Salah's arrest, I was able to talk to any official party or public political figures and even the president himself without any trouble, but the only moment I lose the ability to speak or act is when our son hold the phone and says "Papa", how can I tell him that I can't call his father. How do I explain to him why his father is not calling him five times a day. I always tell him that his dad loves him, sends him his love, and kisses but he can't talk right now. But I never know what he thinks about that.
Elsa added that their son also kisses his father's posters on the streets every time they walk by one.
Inconsistencies from the court
Salah was arrested on 23 August 2017, and his detention extension hearing was held on the same day with a decision to extend his detention for five additional days to examine his confiscated devices. Salah had another detention extension hearing on 27 August 2017. During this hearing, the prosecution failed to present a list of charges against Salah. As a result, the judge decided to release him under a number of conditions including: house arrest for ten days in a town called Reineh near Nazareth, a ban from entering Jeruslaem for 90 days, travel ban for three months, and a 10,000 NIS bail. This court decision was issued and Salah's father went to pay his bail immediately after the hearing ended. However, before they were able to finish all of the procedures, the prosecution issued a six-month administrative detention order against Salah.
An order confirmation hearing was held. The defense lawyer made arguments on the grounds of the ongoing and unjustified targeting of Salah since his release at the end of 2012. He explained that the occupation authorities justify every decision and every order issued against Salah by saying that he was released in "Shalit's" prisoners exchange deal without even mentioning that he only had three months of his sentence remaining. He suggested that Salah finishes his previous sentence (three months) instead of administrative detention. They were hopeful that this could potentially end the continuous targeting and violations imposed on Salah based on the claim that he is blacklisted for having been released as part of the "Shalit exchange deal".
The District Court's judge issued a decision that canceled Salah's AD order and returned the remaining period of his previous sentence. However, the prosecution appealed the judge's decision. The hearing was held at the High Court, which accepted the appeal, cancelled the decision, and returned the administrative detention order.
Administrative detention
The second confirmation hearing was held on 17 September 2017. Salah's lawyer confirmed the continuous targeting of Salah is unjustified and that he believed that the Israeli intelligence knew about his travel date (30 August 2017) and rushed to arrest him before.
He added that the prosecution used his previous sentence, and the fact that he was released in a prisoners' exchange deal, to prove to the court that he constitutes a threat. His lawyer also explained that the prosecution's claims that they have tried other methods to neutralize the apparent security threat, which included West Bank entry bans, was unfounded. He claimed that these were only strategic methods to control Salah and obstruct his academic, professional and social life.
As for the subject of administrative detention, the lawyer explained that Salah was arrested on 23 August 2017 and was only superficially interrogated twice; meaning that he was not asked about the charges or event they claim he was a part of. They only asked him ordinary questions about his job, studies and family.  It should be mentioned that Salah practiced his right to remain silent during the interrogation, They kept asking him about some devices they confiscated from his home without specifying what they were talking about or even showing him.
After actually agreeing to cancel the administrative detention order and restore the remaining period of the previous sentence, the judge decided to re-issue the administrative detention order and confirm it for 6 months. The judge stated that after reviewing the classified material, he concluded that there is a development in Salah's activities and that he has an impact in Jerusalem and the West Bank. Adding that his presence in the area may cause a significant security threat.
The Israeli occupation authorities use administrative detention against Jerusalemites extensively and without any clear reason. In Salah's file, there was no need to issue an administrative detention order, since his activity, according to the prosecution's claim, is restricted to the West Bank and Jerusalem. Therefore, they would have been able to deport him to a distant area such as Haifa (for example). In addition, the court did not reveal any information regarding the arrest, interrogation or the reasons behind them. This confirms the court hearings did not meet the international standard of due process, and did not grant the detainee or his lawyer their right to review the charges and build a proper defense.
Salah's file proves that the occupation authorities are monitoring Salah. and harassing him and his family as a means to pressure him in every way possible without any legal basis. This is evident in the vastly differing sentences that have been handed down to him during this current imprisonment.
Salah's administrative detention order is arbitrary by all standards; it is not based on any legal grounds, genuine information or reason. If there had been genuine legal basis, the authorities would have simply charged him. The goal is thus to deny him his liberty, prevent him from having any human connections with his family and to tighten the screws with the aim of, pushing him to move to France.
At AL-Naqab
Salah's arrest at this particular time prevented him from obtaining the proper certification to become a practicing lawyer, which he was supposed to obtain officially after taking the necessary oath at the end of September. He was also prevented from completing his higher education to acquire a second degree in law. Most importantly, he was denied time with his wife and son, which is something truly precious to him.
Salah Hamouri is currently held at Al-Naqab prison. He waits for family visits to see his parents and siblings, and is struggling to endure the pain of not being able to see wife and son.
He is currently banned from practicing his mission as a human rights defender; he is denied his right to be a father and a husband and to live normally. Salah Hamouri chooses to stay in his home country and live in Jerusalem despite all the suffering and even if it means his imprisonments, over living freely and comfortably away from his home, family and friends.