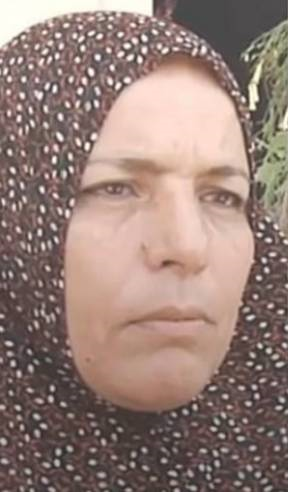 Name: Wafa Mahmoud Abdurrhuman Mahdawi-Na'alweh
Birth of Date:14 April 1965 
Age: 55 Years Old
Address: Shuweika, Tulkarem
Profession:House-Wife (Mother of six)
Date of Arrest:17 October 2018
Prison:Damon Prison
Legal Status:Undertrial
Arrest
On 7 October 2018, Israeli Occupation Forces (IOF), accompanied by military dogs, broke into the home of martyr Ashraf Na'alweh's mother, Wafa Mahdawi, in Shuweika near Tulkarm at 1:00 am. The squad bombed the main house door and barged inside Wafa's room. After searching and overturning everything inside the house, Wafa was subjected to a thorough body search, had her hands cuffed with iron shackles. Through it all, Wafa was bombarded with questions about her martyred son Ashraf. She was then moved to a military jeep without informing Wafa of her family of the destination. Wafa was transferred to an army base near the village of Jubara where she was left in the open until 7:00 am.
She was again thoroughly searched before being transferred to an interrogation center.
Wafa told Addameer's lawyer that this was not the first time her house was stormed and searched. A large number of IOF soldiers had previously stormed the house, claiming that her son Ashraf carried out a shooting attack. The home was ravaged, and many of the contents were confiscated. In addition, the force threw stun grenades, which burnt a piece of furniture.
Wafa also reported that IOF used to frequently raid her house and incarcerate all the family members, including her husband, daughters and herself, to be interrogated about Ashraf and his whereabouts.
Interrogation
After hours at the military camp, Wafa was blindfolded, had her hands and feet cuffed with iron shackles as she was transferred to the Kishon Prison. As Wafa set foot in the military facility, she was attended to the clinic for a blood pressure test and another body-search before being moved to a cell.
 She described the cell to Addameer's lawyer as anairless cell with coarse grey walls and dark reddish-yellow lighting with an air condition unit that was either set at very hot or cold temperature, for it needed maintenance as they claimed.
In the first week of her arrest, Wafa was interrogated twice for half an hour each time. The questions centered around her son Ashraf and his whereabouts, the information she had about him, and the operation that the occupation authorities claim Ashraf had executed.After interrogation, she was transferred to a collaborators' cell in Megiddo Prison for four days. Inmates –collaborators– kept asking her about Ashraf although she answered that she did not know anything about what had happened. 'Then I was transferred to a civilian section–aterribly cold cell ripped through by air currents from all sides', Wafa recounted. 
Legal Status
Over a month of arrest, Wafa was charged with failure to prevent the operation that the occupation claims her son had carried out. Israeli authorities asserted the claims that she either knew or was suspicious that her son was planning an operation. The military prosecution claimed that the mother 'was aware that her son possesses a weapon and mens rea, but she failed to prevent the offense'.
Notwithstanding, the court granted the mother release. But, the military prosecution challenged the decision, and the request was sustained. Wafa has been held in detention for nearly a year thus far. Another hearing is expected on 29 October 2019.
Collective Punishment against Martyrs' families
Israeli authorities have embraced a collective punishment policy against Palestinians since day one of occupation, violating all relevant international conventions and treaties. Article 33 of Geneva Convention IV on Civilians states, 'No protected person may be punished for an offence he or she has not personally committed. Collective penalties and likewise, all measures of intimidation or of terrorism are prohibited'. Arresting and charging Wafa for not acting to prevent an operation on the bases that she could have known her son's intentions to plan it showcases the Israeli occupation's determination to collectively punish martyrs' families for 'offences' they have not personally committed.
By the same token, IOF arrested Ashraf's father and brother for over a year. The former is still under detention for failing to report his son to the IOF. As for the brother, he was sentenced to one-year imprisonment for interrupting the interrogation and failing to report his brother and thus prevent an 'actus reus'. The military prosecution further challenged the verdict, and another year was added to the imprisonment period Amjad is supposed to serve.
The principle of individualization of punishment stands to be an inherent pillar of international and constitutional laws–that no person to be punished for an offense they have not personally committed or been an accomplice to. 
Such safeguard protects individual rights and freedoms against any arbitrary judicial or executive motions. The direct impact of punishment should not extend beyond the charged penalties, otherwise, become a tool for terrorism and repression.[i]In the same vein, the pain of punishment should not be inflicted upon other than the duly charged person–even their closet should be immune.[ii]This way, penalties turn into a collective punishment method. In the case of Wafa, the Israeli occupation authorities have punished her for an act she did not personally commit in an effort to punish the entire family due to an act claimed to be carried out by their son. 
Arrest aside, Wafa's children are not permitted to visit her under the pretext of security ban. Only Wafa's sister is allowed to visit her.
IOF uses collective punishment to repress and intimidate families of martyrs and prisoners as well as any Palestinian suspected of a violent resistance action against the occupying power. In its turn, Israel commits clear violations of international conventions and laws amid an inexplicable international silence.
---
[i]Al-Husseini, 'Ammar, 'Mabdaʾ Shakhṣyet al-ʿUqūba wa-Dawruh fi Taḥqīq al-ʿAdala al-Jināʾya' (Individualization of punishment principle and its instrumentality in criminal justice realization), The Islamic College University Journal, Issue 3, 6 (2009) 157.